How much do you know about water? Do you know how to find water or how to make water safe to drink when you are out on a hike or camping? How about finding food to eat out in the wild? If you can't say yes to all these questions then keep reading because I am going to share with you a subscription box that will have you answering yes to all these questions in no time.
Don' let the words subscription scare you. If you are new to the concept of subscription boxes, the idea is that every month you will get a new box full of activities to do with your girls. There are boxes out there that focus on everything from arts to STEM topics. And now there is one that I am really enjoying and its all about the outdoors. It is called the Think Outside monthly subscription program and it will teach your girls new outdoor skills each and every month. It is a year long program with something new each month to get your girls outdoors exploring nature.  No matter what month you sign up for this program your first box will always be the Intro Box / Pack building, then the second months box will correspond with the listed month. For example if you order by September 20th, you will receive the Intro Box in October, then the Animal Tracking Box in November. Then over the course of the whole year you will do each of the other outside boxes.  Below is example of order boxes will be delivered.
Intro Box / Pack Building (July) – Read my review of this box
Night Box / Stargazing (August) – Read my review of this box
Water Box (September) – That is this post 🙂
Fire Building Box (October) – Read my review of this box
Animal Tracking Box / Wildlife (November)
Knot Tying it all Together Box (December)
Repair Box / Paracord (January)
Shelter Building Box (February)
First Aid Box (March)
Weather Box (April)
Wayfinding Box (May)
Primitive Cooking Box / Nutrition (June)
---
Now onto my overview and thoughts on the "Your Water Box" In this post I will share with you:
Quick summary of how the Think Outside Box subscription works and what to expect 
My opinion of the "Your Water Box"
Price and any coupons or ordering discounts offered by the company for girl leaders
Think Outside Boxes Background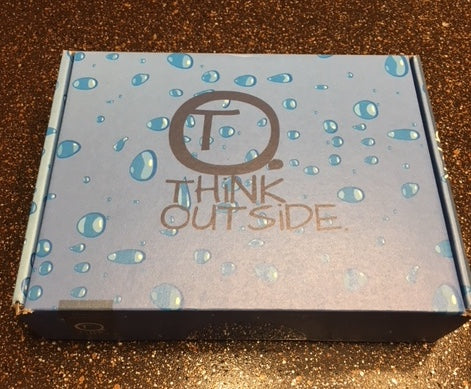 What is Think Outside Boxes? They are a great way to teach your girls new exciting outdoor skills each month. Each box focuses on a different topic from learning about the night sky, building fires, how to build a shelter, using first aid, and more. This post is going to focus on the "Your Water Box" which is everything related to water of course!
On the website they state these boxes are geared toward kids 7+. I would agree with this assessment and in regards to scouting I think these activities would be best suited for 3rd grade and up. If you have advanced 2nd graders that all can read well they maybe able to do activities as well. 
When you first sign up for the program the first box is always the same you will receive a backpack with a 16+ page resource/guided activity booklet and a few other pieces of outdoor gear to get you started. Then the following months will each focus on a outdoor topic, with 3 to 5 pieces of outdoor gear, a activity book and a really cool reference card set about the topic that the girls can refer back to when they need to use the skills again camp out after camp out.
It is so easy to get started all you need to do is subscribe to receive the boxes and shipping is free. Then just wait for the first box to arrive. Then get outside and have fun exploring the great outdoors using everything in the box.
Continue reading to the end of this post for pricing with some great discount opportunities exclusive to leaders like you and a complete list of which boxes you can expect to receive each month!
What I think of the Water Box?
I received my next box of the year long outdoor series. This box is called "Your Water Box" which is full of activities around the topic of water. Water is one of the most important resources you need to survive so learning more about this resource and different ways to use it to survive in the wilderness is very important. If you are like me and have no idea where to start when thinking about teaching this skill. This box has it all. Let me break it down for you…
Your Water Box
As soon as I opened the box I was impressed by the gear. It came with a waterproof pouch that is great because when you start working through the activities in this box you don't want to be worrying about your phone getting wet. Now your girls can have their phone with them to take pictures and not worry about water ruining them. They can easily be attached to a pair of pants or even to the next piece of gear, the dry bag. The dry bag in the box has so many uses and while working through the activities you will learn all about them because it does so much more than just keeping things dry. Then the last piece of gear is going to teach your girls the basics of fishing. Once you learn how to fish you will have the resource cards to clip to your ring to keep to help remember all the aspects survival fishing.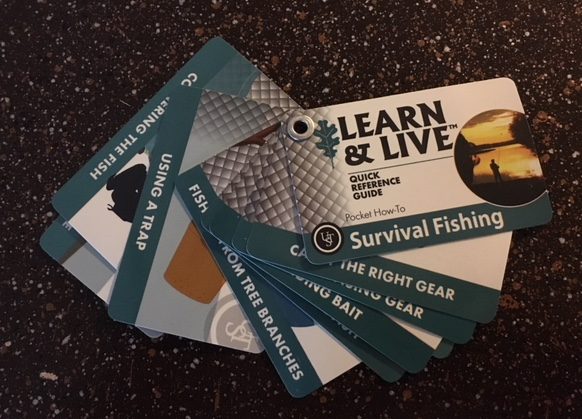 Fishing activities & survival fish reference cards
Fishing is a great way to get food when you are out in the wild. This program is going to teach your girls how to fish and how to use the equipment to catch the fish, If you have never used fishing gear before don't worry the booklet will show you exactly what you need to do.  The reference cards will help you fish to survive and it is a great activity to try with your girls so they are prepared if they were in that type of situation. I was impressed with how easy it was to follow the directions. I have never fished before so you are looking at a beginner here and this program has advanced me from beginner to feeling comfortable catching a fish.  I took my son and niece to our local catch and release fishing pond at the park. We used the fishing gear and purchased some bait and spent some time fishing. I didn't catch a thing, but it wasn't for the lack of trying. Kids had fun even if they didn't catch anything and learned more then they knew before we went. I know we will try again and now have the gear and knowledge to do it.
So what is the benefit of this box?
When your girls are done with the activities in this booklet they will have a better appreciation for water I can guarantee that. I know for my child now he turns off the water in the sink as quick as possible because he tells me we need to help conserve energy. This box has a number of pretty fun hands on activities to show your girls how to purify their own water, determine how much water they need each day, learn how to find clean water, create their own water filter and of course learning how to fish.
How Much Does It Cost? 
Now that I have shared how great these kits can be for your troop I know the big question is how much do they cost and can I afford it for my troop. I first want to mention you can cancel at anytime, so if you plan to go for it but your troop decides they can't afford it or need to stop for other reasons you can cancel. 
Here are a few options for purchasing
The company is offering a great deal to leaders like you. As troop leaders the cost of supplies can be hard. If you have been reading along on the blog and would love to get in on some of these amazing activities THINK OUTSIDE has to offer they now have a bulk subscription offer if you purchase 6 or more boxes shipped to the same address they are only $25 per month/box plan. To get the bulk pricing, sign up here.  For 2-5 orders to the same address, you can get them for $29.95 per month/box plan. Use code FAMILY5  at check out here.
The first option is what I would recommend almost 99% of the time, but if you just read this email and was like I really want to do these activities but the troop funds are just not there right now. Start with one, order one subscription for your troop. Of course you wont have enough gear for everyone, but you can improvise maybe if you have a troop of 6 girls buy two subscriptions and put them into groups of 3. Do activities together as group keeping gear with troop rather than each girl. Again this is only if the price for each girl is just is to much.
So what is my final opinion?
This is the third box of this program and I have learned a lot of outdoor skills that I didn't know 2 months ago. So I would recommend this program to your troop, but I would also recommend this to anyone who has no clue where to begin when it comes to being outside, I am a adult and like I said earlier have learned so much from this months box.  In summary I highly recommend this subscription series for your girls.
Check out these kids survival kits and children emergency kits great addition to all your outdoor fun with troop.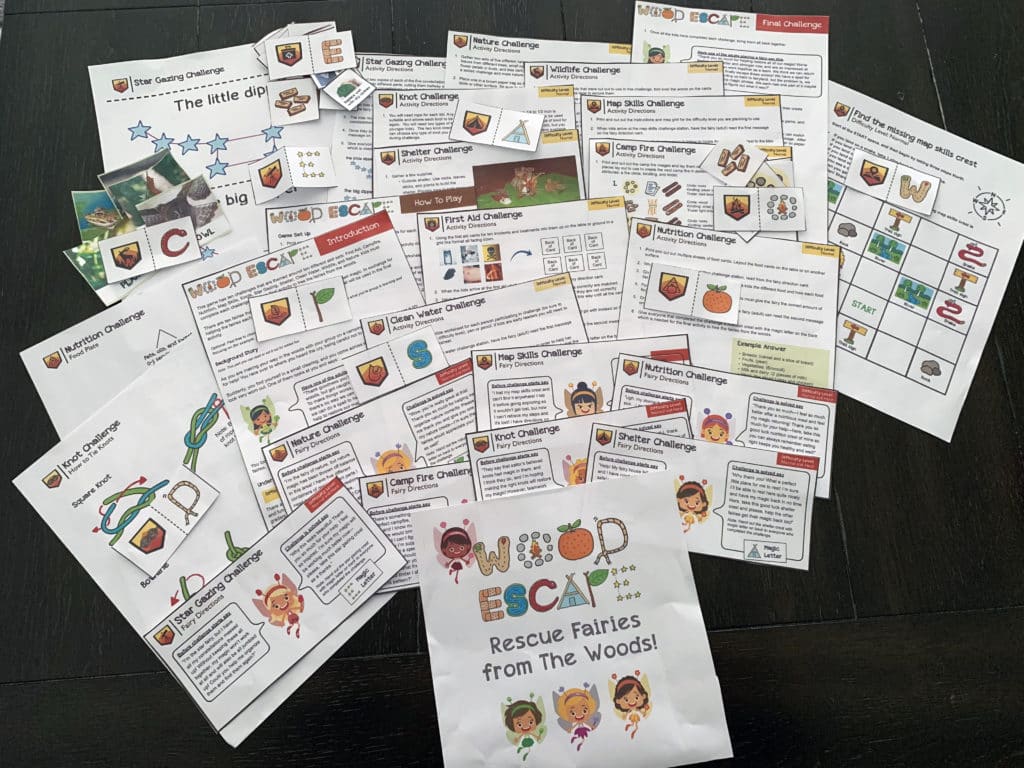 This game has ten challenges that are themed around ten different skill sets: First Aid, Campfire, Nutrition, Map Skills, Knots, Star Gazing, Shelter, Clean Water, Wildlife, and Nature. Girls must complete each challenge and do a final activity to free the fairies from the woods. Get your copy of this game now.
If you are looking for some great outdoor games check out these 20 camping games to get you started.
Outdoor Artist Opportunities
Enjoy every minute being a leader and continue to inspire your girls!