If your looking for ideas to make your meeting more fun while discovering how to think like a product designer, you have come to the right place. Using some of these activities below to teach your girls how to create their own product.
Below are a few ideas to get you started.
I partnered with CodeSpeak Labs, which specializes in computer science education for kids, to bring you these resources.  Some of the ideas shared have been used with 4th and 5th graders outside of scouting and they loved them!
Product Designer Activity Booklet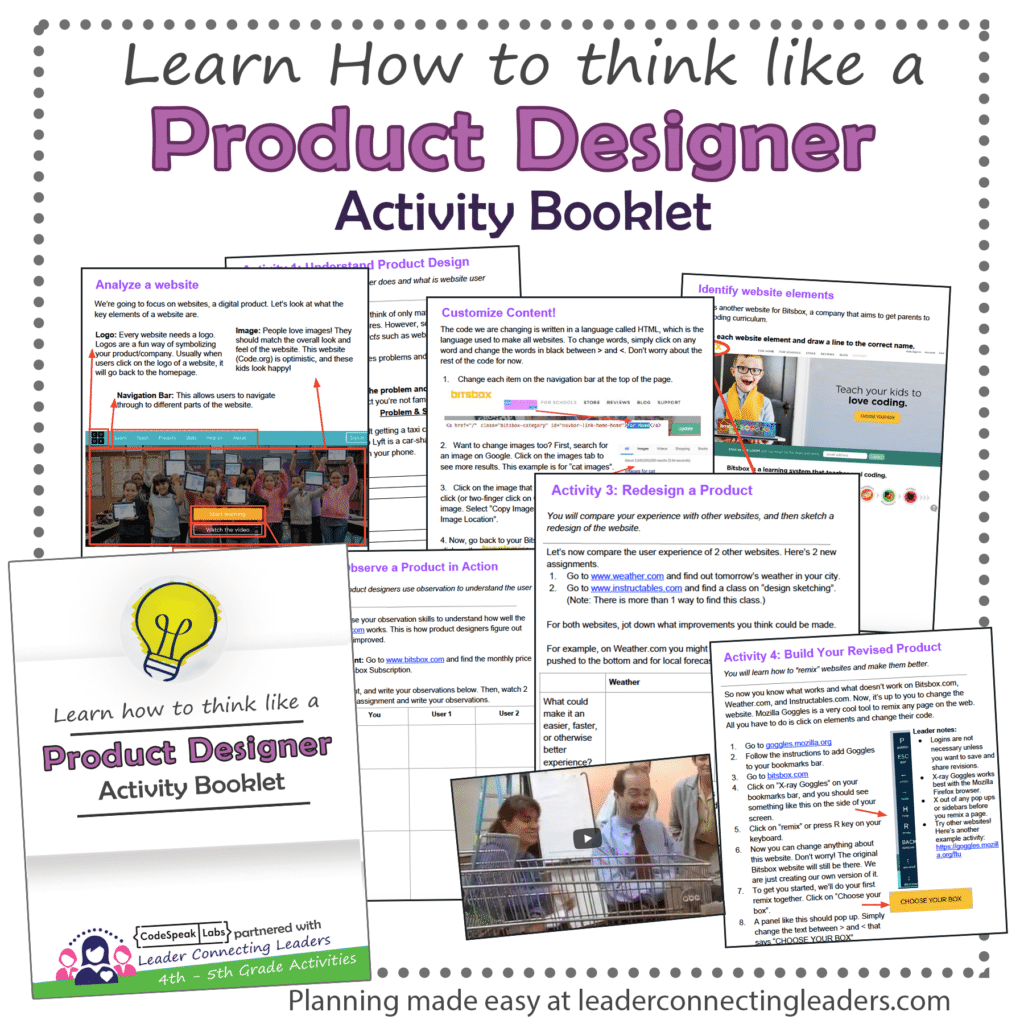 Activity Booklet with engaging exercises that teach girls how to analyze what makes a good product and how to design their own, just like a professional product designer! These activities include doing user interviews, analyzing web-based products, and building a web-based prototypes. With step-by-step activities, you can't ask for a easier way to run your meeting. Learn more and get yours today!
Be sure to also checkout these other activities your girls will love:
---
Other Fun Activities To Try
Watch How Professionals Product Designers Do It
IDEO is one of the most famous product design firms in the world. In this ABC Nightline video, girls will get to see the step-by-step process that IDEO product designers go through in order to design a product: in this case, re-designing a shopping cart.
The video came out in 2009, and it's really fun to see how many of the features of the redesigned shopping cart are now incorporated in many stores like Whole Foods.
After watching this 8 minute video, your group can discuss:
What were the key steps in the IDEO design process?

What did the designers learn from their observations?

How did those observations translate into design features?

What would you change about the design of a shopping cart, and why?
Re-design a wallet Like a Product Designer
This activity comes from the team at IDEO (see detailed instructions here), so it's a great follow-up to the design video.
"The Wallet Project is a 90-minute (plus debrief) fast-paced project through a full design cycle. Girls will pair up, show and tell each other about their wallets, ideate, and make a new solution that is "useful and meaningful" to their partner."
The great thing about re-designing a wallet is that it's easy to make a working, physical prototype using household materials. You can use paper, tape, markers, fabric scraps, stickers, etc. Girls will learn that there's no one "right" answer when it comes to design– it's really about understanding your user and creating something that works for them.
Be a Product Designer and Remix a common game
Another design activity that will appeal to girls who like crafts is remixing a common board game.
Take any common board game you happen to have (you can also use several games and have 3-4 girls work on each one.)
Follow these steps:
Play the game, as it is designed, following the instructions. If it's a long game like Monopoly, you don't have to finish a whole game; just play enough so that the girls remember how the game works.

Discuss what the girls liked and didn't like about the game, and what parts were confusing or less fun.

Re-design the game so it's more fun, difficult, collaborative, etc– the girls can decide! Have them re-design at least some of these elements:

How the board looks (you can use post-its or paper/tape to temporarily modify the board, e.g., creating new "properties" on Monopoly)

How players interact with each other

How players make progress or go backwards

How the winner is determined

Play test the new version of the game– did the re-design have the intended impact?
Make Something with a 3D Printer
3D printers are super trendy right now, especially among Maker spaces. You can order one on Amazon here, or you could use one at a local Maker space or school that has one already.
What's awesome about 3D printers is you can create tangible, 3D prototypes of designs. You can also download other people's designs from the internet, modify them as you like, and then print them out. It prints using PLA filament, so you're basically printing in plastic.
You can make things like mini figurines, bracelets, dice, avatars for board games, puzzle pieces, and so much more!
If you don't want to spend the money to buy equipment, our Activity Booklet has step-by-step instructions with activities that don't require anything besides an internet-connected computer.
What do we do after your girls complete the activities?
Well of course give them the badge to display proudly on their vest, they earned it!  Additionally If you are like many leaders we want to award our girls when they complete something even beyond just the patch. One great way to show achievement is with a certificate. Don't worry you don't have to make them, I found a resource that has done all the work for you and all you have to do is print them and customize the certificates with each girl's name, badge or award earned, date, and troop leader.  Editable certificates perfect for awarding girls after earning a badge.
More Resources For You Beyond This Site
I get asked a lot what other resources are out there on the internet for Leaders.  I have done some digging over the years and have used many of the resources myself. I compiled a list of some great companies that sell patches, programs and also other bloggers offering amazing resources that may fit your needs even better than my site did.   Checkout what I found.