If your looking for ideas to make your meeting more fun while discovering just how to set sport goals and what to do to practice and then to achieve them, you have come to the right place. Using some of these activities below your girls will learn how to set goals and reach them through a number of fun activities and games!
Below are a few ideas to get you started.
Practice with Purpose Activity Booklet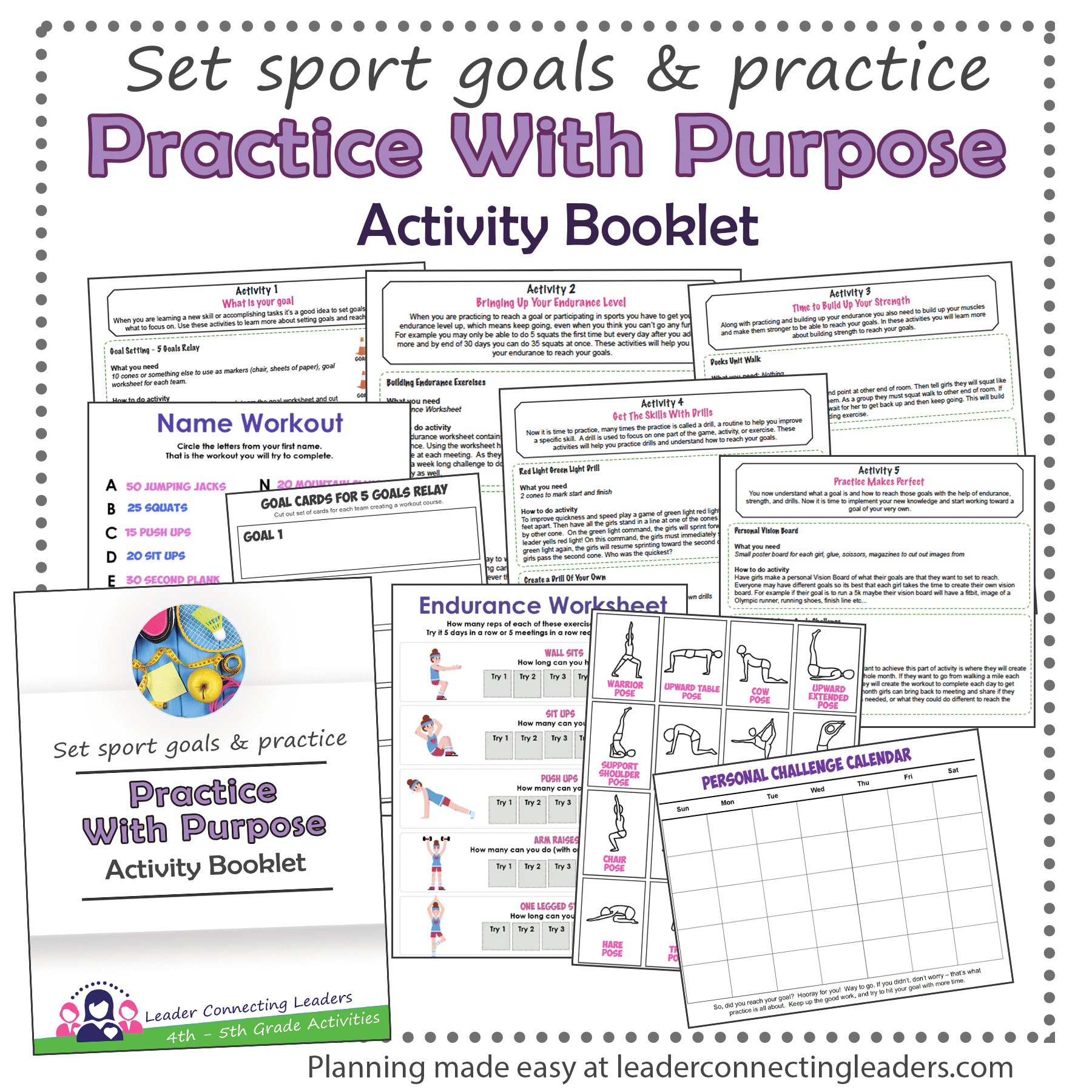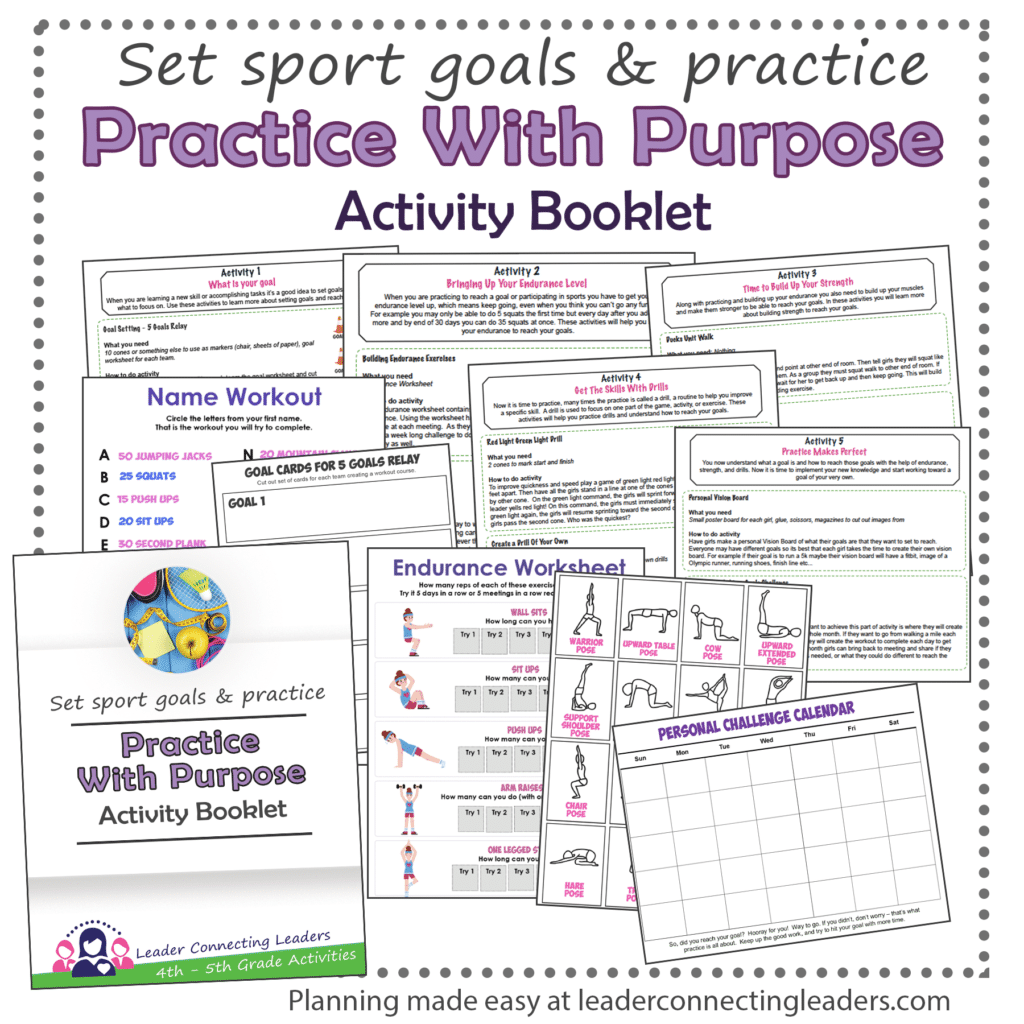 Before jumping into some ideas, do you want to skip all the planning? If so, use this Activity Booklet that will help your girls set goals and achieve them just like professional athletes who are not professional by chance. They practice and practice to get better at what they do. With this booklet you will do fun activities to improve your skills in whatever type of sport or activity you want to get better at. With step-by-step activities, you can't ask for a easier way to run your meeting. Learn more and get yours today!
Be sure to also checkout these other activities your girls will love:
---
Other Fun Activities To Try
Setting Goals For Walking or climbing stairs

Did you know that setting goals will help keep you motivated to achieve what you set out to accomplish. One idea is to think about a walking goal compared to how many steps or stairs it takes to do something.
For example
Inside the Statue of Liberty, you can explore the museum in the pedestal and then begin the climb to the crown. The climb itself is 354 steps can you make that your goal?
The Eiffel Tower has 108 stories, with 1,710 steps. can you make that your goal?
There are 898 steps to the top of the Washington Monument. can you make that your goal?
Fun and Fit Exercises

While working on the activity booklet for this badge I came across this amazing PDF with a pile of games and activities to both help girls set goals, but also learn more about why and how to do so. It also has a number of activities to help them build strength and their endurance while practicing to achieve their goals. Check out the pdf here. 
Exercise Flash Cards
If your looking for a way to get your girls exercising and building endurance to reach the goals they are setting for themselves. This 52 double sided deck of cards comes with everything you need to know about a pile of different exercises the girls can try as a group. They will practice basic exercises to increase their strength, build endurance, you can turn them into drills to get them ready to set and reach the their fitness goals.  Get your game now to play with your troop.
Warm up and Cool Down Workout

Here is a warm up and/or cool down video to do before and after any workout. It is perfect for your girls.
If you don't want to spend the time planning, our Activity Booklet has step-by-step instructions with activities that don't require any planning other than gathering supplies and printing booklets.
What do we do after your girls complete the activities?
Well of course give them the badge to display proudly on their vest, they earned it!  Additionally If you are like many leaders we want to award our girls when they complete something even beyond just the patch. One great way to show achievement is with a certificate. Don't worry you don't have to make them, I found a resource that has done all the work for you and all you have to do is print them and customize the certificates with each girl's name, badge or award earned, date, and troop leader.  Editable certificates perfect for awarding girls after earning a badge.
Continue to learn more about being fit
To continue with this topic it is a great time to teach your girls how to stay fit and healthy through games, worksheets and activities and focus on what matters: Staying Fit. Here are 6 great ideas to get you started or purchase the activity booklet that makes planning easy. Click here to read more
More Resources For You Beyond This Site
I get asked a lot what other resources are out there on the internet for Leaders.  I have done some digging over the years and have used many of the resources myself. I compiled a list of some great companies that sell patches, programs and also other bloggers offering amazing resources that may fit your needs even better than my site did.   Checkout what I found.