Have your meetings with your troop gotten a bit… stale? Do you find yourself spinning your wheels on how to make things new and interesting? Of course, my blog is full of activities and ideas about how to make time with your troop more fun and engaging, but today I wanted to focus on a method that's more specific to your own troop.
I've compiled a list of people that you could bring into your troop meetings to make learning feel new and exciting for your girls that can hopefully spark some ideas for you about how to get your troop out of a rut and help learning feel fresh and fun again!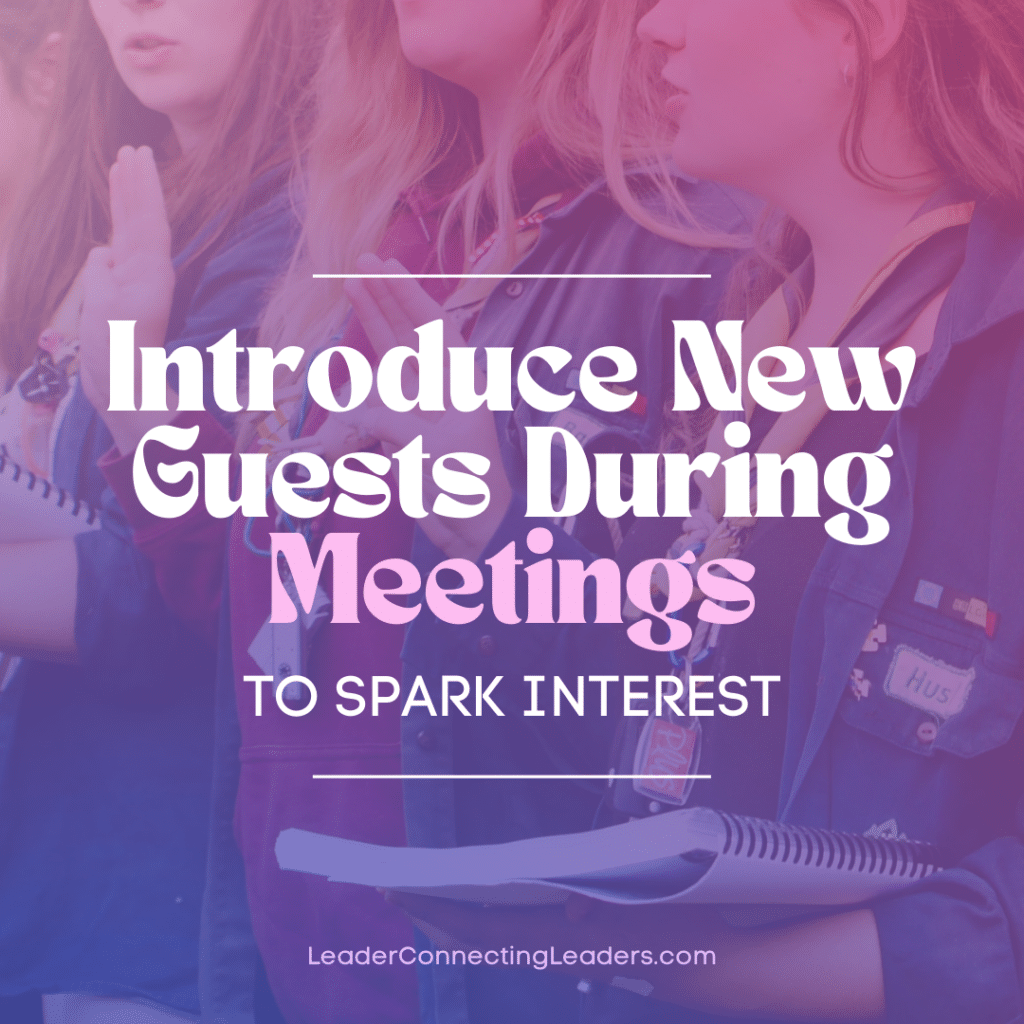 Bring in Parents
Sometimes, when you're leading a troop, you can get nervous to ask parents to chip in. You might even forget that it's an option to bring them into your meetings, or feel like they might be too busy.
I have personally found that bringing troop members' parents into a troop meeting creates a positive experience for everyone. While you can have some events that are "parent and girl scout" family-style events, you can also learn about your scouts' parents to see what relevant experience they have.
For example, if you want to learn about different countries, see if your scouts' parents want to talk about their cultural backgrounds. Why learn about Russia from a book if some of your students' parents are Russian citizens? I have a lot of resources for learning about other countries on my site that pair excellently with learning from a scout's parent.
This can also apply to special interests. For example, if you're learning about art and your scout's parent has an Etsy shop, why not bring them in? Not only do my scouts love meeting and learning from each other's parents, the parents love getting a chance to share their passion with kids. It's a win-win!
Bring in Career Role Models
Many girl scouts don't have lots of interaction with people in career fields they might want to enter when they grow up. The best way to pique girls' interest about different options for their future is to bring in experts that correlate to your troop's interests.
Introducing your scouts to real-life professionals that do things they might be interested in is a powerful way to show them they can do anything they set their minds to. It might even make it more memorable if you can take a troop trip to wherever those professionals work. You could coordinate field trips to places like a newsroom, doctor's office, art studio, restaurant, or any other place that can increase your girls' natural desire to think about their futures.
Pictures and stories from events like these are very appealing to potential new girl scouts as well. If you market your troop as a fun way to meet people of higher skill levels in fields your girls are interested in, you're more likely to get new members, which certainly makes things more exciting.
Bring in Badge-Related Specialists
Earning badges doesn't have to be boring or dry. One effective way to get your girls more invested in things like building robots, practicing first aid, or learning to become environmental champions is to bring in professionals who are the perfect match for that activity.
If you can't get someone to come in person, you can seek out online resources that are related to the kinds of activities you're doing. For example, if you're learning about the supreme court, you could find videos of justices from the political parties your girls identify with. You can also coordinate a zoom interview with a professional in a particular field and ask them questions you've prepared in advance, and let your girls ask away as well!
Many adults love to share their special interests with kids, and bringing them into your troop meetings is a fun, memorable experience for everyone involved.
Bring in Other Troops
What better way is there to give your girls a taste of the wider girl scout community than to create multi-troop, collaborative girl scout events? We all know these have been less possible in recent years, but now that the world is returning to a sense of normalcy, you can arrange large girl scout events that will remind your girls that their troop's girl scout experience isn't all there is.
When you and another troop leader put your heads together, it's even easier to come up with a fun activity that's perfect for the age levels of your girls. My friends and I have had the best time creating perfect troop events filled with unique experiences that created a feeling of girl scout sisterhood among our scouts. Check out my themed party guides for easy event planning!
In summary, anyone you can bring in to enrich your scouts' experience can be a real asset to your troop. Make your troop meetings and events fresh and fun by inviting parents, career role models, badge-related specialists, and other troops. The fun your scouts have at these events will raise their excitement levels, give them fun memories together, inspire them about their futures, and help them feel ready to take on new challenges.
Comment below if you've had fun guests at your troop's meetings and events to give other troop leaders fun ideas!
Enjoy every minute being a leader and continue to inspire your girls!