Winter is a great time for indoor shenanigans, and who doesn't love immersive experiences? If you and your girls want to have a fun event but want to stay indoors, trying out a murder mystery game can be so much fun. It's an exciting way to get festive and exercise your creativity, and your scouts are sure to remember it for years to come.
One of the best parts of this experience is that it's customizable. For example, you could also create a murder mystery party that can be conducted via Zoom call if your scouts will be traveling but you still want to celebrate together.
There are different approaches to creating the event. Some Girl Scout leaders might want to plan everything out on their own, and others might allow their girls to play an important role in planning. While you can't let your girls see any spoilers, they can be active participants in planning things like costumes and set design if desired.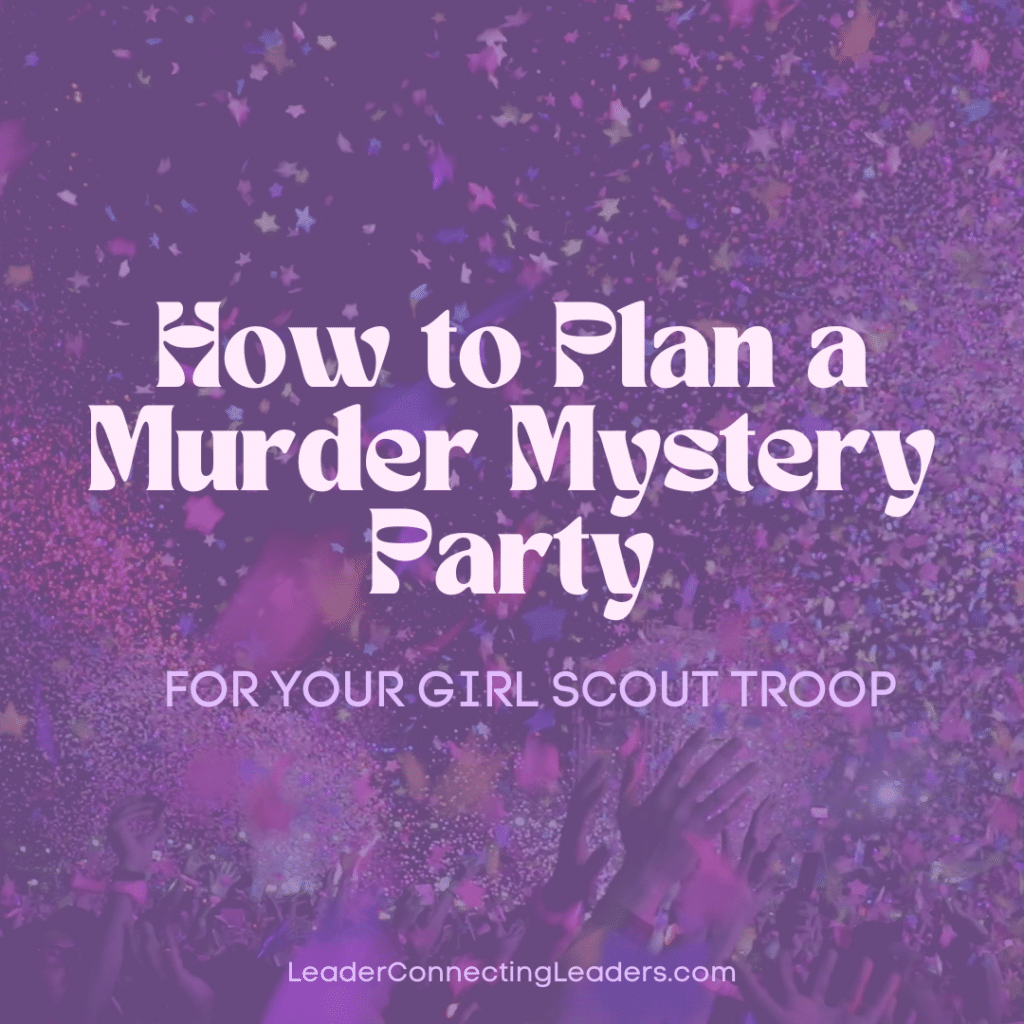 These are all the things you need to plan leading up to the event:
The Script
Writing the script can be a lot of fun! You can get inspiration from mystery themed novels and even tie in inside jokes from your troop. The goal of this script is to give your host instructions about how to lead the event from start to finish. We've had a fantastic time planning events with immersive stories that incorporate special personal touches and built-in hints!
As far as perspective goes, you can decide if you want the characters to all be regular people who get sucked into solving a mystery, or you can make it similar to detective shows– some of the scouts will be cops who interview suspects.
Mystery games provide great opportunities to guide your scouts in using their detective skills. Depending on the age of your scouts, you can include red herrings to make it more difficult or add hints to make it easier.
Setting
Every good murder mystery has to have an intriguing crime scene. Use your imagination here! It could be a secluded island, a mansion during a violent storm, or at the Girl Scout Cookie warehouse with thieves stealing Girl Scout cookies! The world is your oyster.
In the real-world component of your game, you can decorate your meeting space to match your theme, and hide pieces of evidence around the room to let your girls gather tangible clues that will lead them to victory.
Characters
If you've ever played Clue, you know that fun characters can really make a game more interesting. As the leader, you will need to create a cast of characters that enhance the excitement of the setting you've chosen.
You can have great fun with developing character names. They could be puns, names similar to your girls' names, or themed names (for example, if your setting is like Lord of the Rings, they could be elf names). Again, there are entire worlds of possibilities! The names and personalities of your characters can really set the tone for the event.
Killer
All murder mysteries need a killer, and it is very important to set things up so your girls can't sense the solution from the outset. Your killer will need a motive, a backstory, a name, and a method of killing the victim.
if you have young girls, of course you will need to make this aspect age appropriate. With teenage girls, you can have more mature themes, but it's important to remember they're still young and think of their parents' preferences for content they consume.
Costumes
An important part of planning the event is that you will need to let your scouts know whether they should come in certain costumes, or if you will give them costumes and props upon arrival. You can find amazing costume suggestions on Pinterest and other sites that go along with your theme.
This can be customized to your troop. For example, if you know your girls love a good period costume or don't love dressing super girly, take that into account. To make it even more fun, you can have your girls vote on a theme beforehand, and then decide who has the best costume while at the event. If you want to have a blast brainstorming different costumes get each girl a costume planner notebook and create full length costume ideas to share with group.
No Planning Required Printables
If you read all the ideas above and you are like wait I have no time to create challenges or mysteries. No need to fear here is some booklets right from this website planned and ready to go. These are not murder mysteries but they are mysteries to solve.
If you still don't see what you are looking for, I recommend going over to Etsy and browsing through the pages and pages of murder mystery printables you can print for you troop and be ready to go in minutes.
---
Need more ideas for a mystery party? Check out all these ideas on my mystery party ideas board on Pinterest.
Following all of these steps will help your murder mystery parties be a great success. It's hard work to create a detailed event like this, but it's a great way to bond with your scouts, exercise creativity and problem solving, and develop lasting memories.
Need help with planning your next party as well? Check out my site for ideas on how to throw the best themed parties for your troop.
Enjoy every minute being a leader and continue to inspire your girls!
Purchase this wonderful illustrated book from Amazon.