I have wanted to write this post for a long time, but kept putting it off. Then 2020 came and Corona hit and we as leaders are having to adjust what troop meetings and events look like.
But if you have been coming to my site for a long time now you know how many of my posts are still great year after year. So even if timing isn't great for this. I want to share with you all an idea that many of you may have never tried with your girls. And if you got creative even with the way things are now, maybe you could plan a virtual camping experience where everyone does this with their families and takes pictures and brings back to a virtual troop meeting to share! NOTE please check rules of your council or organization sometimes beach camping isn't allowed
Even if you can't do this now, start planning ahead 2021 summer is only a year away, and let's hope things will look different by then.  Don't worry I have a FREE beach bingo game you can use at your virtual meeting that is all about the beach even if you can't go there right now.
So let me jump in, most girls probably have had the opportunity to explore nature and camp as a troop in the woods, in a tent or a cabin. What's less common, though, is beach camping. Taking your troop on a beach camping trip is an excellent teaching opportunity to explain the three layers of the ocean, how lakes are formed, difference between salt and fresh water, water wildlife and so much more.
Still not convinced beach camping is for you? Just imagine those waves crashing in the background as you sing campfire songs or the cool ocean/lake breeze as you sip your morning coffee and prepare breakfast for the girls.
Lets Jump Into Planning Your Beach Trip
Get a Headcount & Assign Roles
First things first, get a list of the girls who will be attending the trip. This will dictate where you go, how many spots to reserve, plus how much food and supplies you'll need. Having a meeting with fellow parents to dole out roles may help make the trip easier to plan. Some useful roles include preparations for: food, drinks, snacks, tents and gear, fire, medical supplies, and games.
Pick a Location & Reserve the Campsite
There are so many beach locations to choose from—it can be hard to know what you're looking for. It also depends on your location. Are you close to an ocean or a lake with a beach? I would recommend if you're leading a troop of less experienced campers or younger girls to start with a trip close to home. Make the girls feel comfortable, as it may be some of their first times away from home. Now if you are a adventurous group of girls maybe a bigger trip further away is just what your girls want.
Next, you'll want to reserve your campsite. Believe it or not many places wont let you just pop a tent on the beach anywhere you want. So that will take some research to find a place that lets you camp right on the beach. And when you find a place remember the sites do fill up fast, especially in peak season, so do this as soon as you can. If you're able to, consider weeknight camping so you can reserve more than one spot at a time.
Choose Your Activities
While there are a ton of typical camping games to choose from, you may want to consider your location to leverage some educational opportunities and fun. There are a number of unique ways your girls can explore their surroundings in a way they wouldn't during a beach camping trip.
Sandcastle competition
This is one of my all time favorite activities to do at the beach. You can get some amazing castle building kits right from Amazon.  The one I recently purchased and used at beach with my kids had 13 different pieces plus a bag to carry them in. The price was great to, you could even get them as gifts for each girl. Sand Castle building set
Beach volleyball
Seashell scavenger hunt
Do you need more ideas for your trip?
Beach Bingo and more printable beach activities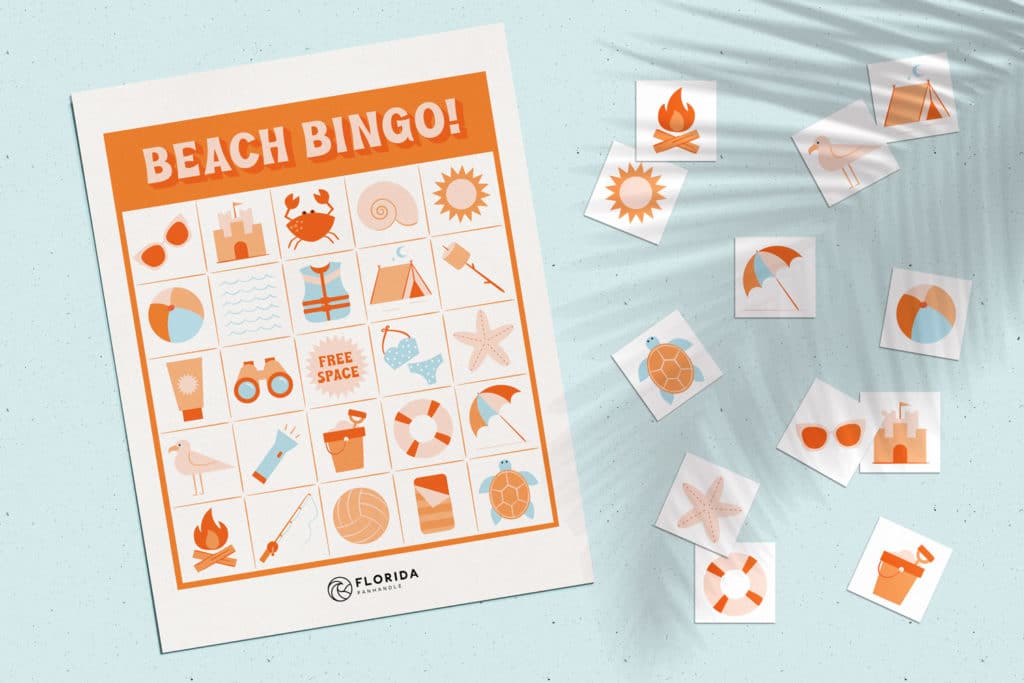 If you can't make it to the beach you can bring beach activities to your meetings virtually.  I got the chance to talk to one of the writers for the Florida Panhandle blog and they put together some great activities you can print right away and use. I am so excited to share them with you all as well. There are 5 different ones. My favorite is the Beach Bingo, great for every age level, because who doesn't like playing a game of bingo? Download printable.
If you want to check out the other 4 beach printables check them out here: printable beach activities. 
Add Badge Activities to Your Troops Outdoor Adventures
If your girls love being an artist then add some outdoor artist activities to your trip. Here are some ideas to help earn a few badges along the way
Teach & Practice Beach Safety
It's important to explain the difference between pool swimming and beach swimming to the girls before embarking on your trip. Explain how tides work, and what a rip current is. It may be scary, but it's important to keep the girls aware as they set out for their overnight trip. It's also useful to talk about common beach critters they might find and review the proper space you should give animals in their natural habitat.
Depending on the age and rules your council or organization have you may prefer to stay out of the water all together.  Lastly, remember to keep the girls engaged on the trip by encouraging them to participate in setup, meal prep, and cleanup.
Once your plan's in place, you're nearly ready to go! Get a packing list ready and send out a final email with details about pickup, drop off, and the daily agendas. Don't forget the sunscreen!
I hope you and your girls have a fun and memorable time at your campout.