As many of us continue to try to find new and exciting ways to run meetings and events virtually. I wanted to share some great ideas to have a virtual trivia event with your girls.
Set aside the planning all together and let me host your Trivia Party Night
I partnered with CodeSpeak Labs who will host a live Trivia Party great for troops, service units, or families! We'll play games, physical challenges, trivia quizzes, puzzles, and more.
The trivia party is a 1 hour live event where a CodeSpeak Labs instructor will host your event, via Zoom video conferencing.  There is no minimum or maximum number of people invite family, host a service unit event, or just a family night at home.  We will schedule based on your groups need.
The theme will be STEAM and coding, but you do not have to have any coding experience or completed any other STEAM badges or workshops to enjoy this event. It also makes a great addition to STEAM activities you are doing with your group. 
Sign up for a trivia night with your troop now!
Play a Drawing Game With Whole Troop
One of my favorite games to play virtually with family, friends and recently co-workers as we are all remote is a fun game called Skribbl.
It is super easy to set up a private room, then just send link to everyone on zoom meeting and everyone can join in for the fun. If you have more than 12 people you would have to set up multiple games, I would suggest doing breakout rooms in zoom for that so conversations happening over zoom make sense to everyone. You will each take turns drawing a word. So if given the word fork you would have to draw it and everyone else playing has to write in chat box what they think the word is. If they guess it they gain points. This is played in three rounds where everyone gets chance to draw and you can set the time for each round for drawing so plan out the time according to the number of people playing.
Start playing this free game now!
Name that Meme
This is a fun way to get to know each other a bit better as well has have some laughs.
What does Meme really mean? A meme is a concept or behavior that spreads from person to person. Examples of memes include beliefs, fashions, stories, and phrases. In previous generations, memes typically spread within local cultures or social groups.
Set up and play: This will take a little prep work. Ask everyone to submit a funny picture of themselves, something that would be meme worthy. You can use zoom features if you want, or use a tool that keeps everyones responses anonymous such as Fun retro, you can set up a free board and share link with all the girls. Whaat you will do is share screen showing the first picture. Then give everyone time to come up with a meme to go with picture and submit it either through free path or through comments in zoom. Then have everyone vote on what meme label is best. After meeting you can put together the memes with winning message and send out to whole group.
If you love idea of MEME games, checkout the card game "What did you Meme?" It could be adapted to be virtual as well. Or if your meeting, can be played while social distancing with no problem.
How to plan and host your own trivia night
If you love planning everything then here is a resource that gives you everything to throw a Zoom Trivia Night plus there are a pile of free downloadable templates to get help you along the way!
Printables you will get with this guide
Trivia Night Instructions and Editable Questions Sheet
Trivia-Themed Zoom Background
Team Answer Sheet
Virtual Prize
Virtual Trivia Night Planning Guide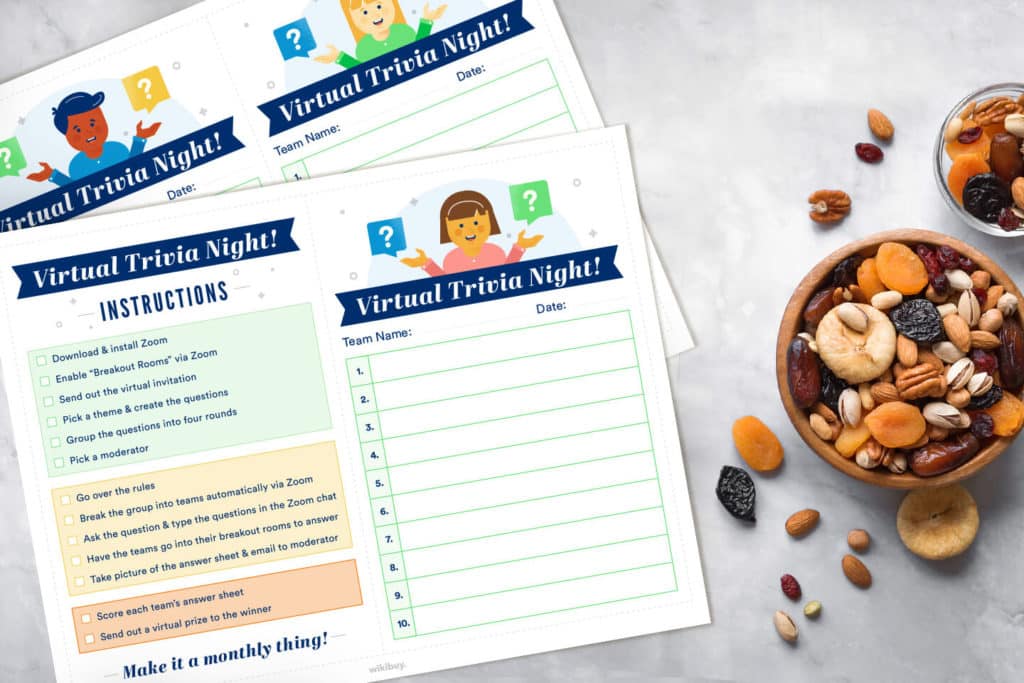 Enjoy every minute being a leader and continue to inspire your girls!