Over the years as a leader I have put on a number of different types of Easter parties complete with Easter egg hunts, crafts, and games. Today I want to share a few ideas you can incorporate into your party this year with your troop.
Easter Egg Hunt Options
I started getting bored with the typical Easter Egg hunts so today I wanted to share with you a few ways I have mixed up a Easter Egg Hunt at my events.
Typical Easter Egg Hunt
My troop has done the typical Easter Egg Hunt year after year. Hide a lot of eggs. Give each girl a bag and have them collect as many eggs as possible. Sometimes with candy in them sometimes the eggs each represent a different type of candy or treat.
Follow Directions Easter Egg Hunt
This type of hunt requires a little extra planning ahead. You will make a number of different cards with tasks. Such as
Find 5 red eggs.
Find 3 eggs and give them to someone else.
Find a large egg and a small egg.
Walk backwards to find 2 yellow eggs.
Hop on one foot and find 4 eggs.
And the list can go on
Then lay all these cards face down on a table somewhere near where hunt is located. On go everyone must go pick up a card read it and complete tasks. Once complete pick up another card and continue this until all the eggs have been found.  You can have the girls flip the cards back over and mix back in pile after they have their tasks to complete so another girl can pick up that card.
Night Time Easter Egg Hunt
A fun activity that has gotten very popular in our area is a night time egg hunt.  It's a lot of fun and will make for memorable night. I will give you some ideas but you can be as creative as you want to make your egg hunt unique.  Since safety is a huge concern you will need extra adult volunteers. Parents and guardians should also be asked to stay at the event.
Supplies:
Plastic eggs

Items to put in eggs

Bucket/bag for each girl

Flashlight for each girl and adult volunteer
Instructions:
Prior to the hunt you will need to find a place that is safe and can controlled by your adult volunteers.  It doesn't have to be a huge area. You should be able to see all kids and adults at all times. If you don't have a safe area outside it can be moved inside to a large area.
Place candy, money, numbered papers, etc. in the eggs and hide prior to your girls arriving.

Make sure every girl has a working flashlight prior to the start of the egg hunt.

 Check to see if everyone has a bag or basket.

  Tell your girls the rules after all your girls have arrived. Example: how many eggs they can pick up, what is in the eggs, etc.

 Place the girls evenly around the egg hunt area.  

  Tell them they can't turn there flashlights on until you say go. (younger kids may need help turning it on)

If you set a limit on how many eggs they can pick up they need to get out of the egg area once they've met the limit.
There are so many ways to make this hunt fun.  We had a blast at our hunt. I hope you and your girls have a great time.
Spring and Easter Bingo, Card and 4 Corner Game Activity Booklet
You will enjoy playing three fun games with your girls. With the 4 corner game your girls will be running from corner to corner burning off a lot of energy. Then play the card game included in the packet where the girls will use their minds to find and match cards. Lastly the bingo game which no matter your age everyone loves playing bingo. Learn more and get your game booklet to play with your girls.
Egghead Craft
Spring is right around the corner, so I thought this egghead craft would be a fun to make. It is simple and inexpensive. My girls really enjoyed making it and watching it grow.
When we did it we decided to color the eggs first, then crack them open and create the egghead craft. Our troop was large so we created the cups of colors for the girls to pick the color they wanted for their egg using a Easter egg dye kit. Once the eggs dried then we broke them open to finish making the craft.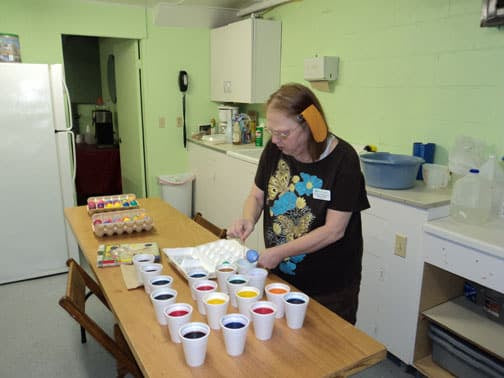 You will need the following supplies:
One egg per girl (Have some extras in case they break)
Egg dying material (you can buy Easter egg kits)

Markers or paint

Bowl of water

Cotton balls or planting dirt

Grass seed

Small plastic cup or small container, to hold the egg upright

Bowl

Paper towels
Instructions:
Optional First Step: Coloring the outside of egg using a Easter Egg coloring kit.

Once dry break the top of egg and pour out all of egg into a bowl.

Rinse egg out with water and dry the outside shell.

Use markers or paints to draw a face.

Dip 1-2 cotton ball into a dish of water and place inside of the egg or you can use dirt in egg as well.

Sprinkle grass seed on top of cotton ball or dirt covering with a light layer of seed.

Place egg shell in a cup or container and sit it in a window sill
The grass will start to grow in a couple of days to look like hair.  My girls were so excited when the grass started growing. Some even used scissors to give their egghead a haircut.
Here is a quick video covering how to make this craft… 
More Games and Activities
Be sure to check out 12 Fun Easter Party Games and Activities For You And Your Troops where I share a pile of other great ideas I have done with my troop over the years.
Still need more ideas checkout some of my Pinterest boards:
Fun Patch Ideas
Tale of Adventure & Mayhem Scouts are sure to Love Fun Patch
Enjoy your Easter party!