Being part of the Girl Scout sisterhood during the holiday season is an amazing way to have community, and with the turn of the new year, it's a great time to start planning a party to show your gratitude for all the fun you had last year, and set goals together! Parties are so important to make meaningful connections and help your girls build their people skills.
There are lots of ways to celebrate a brand new year, and I can help you come up with an amazing idea your girls will love!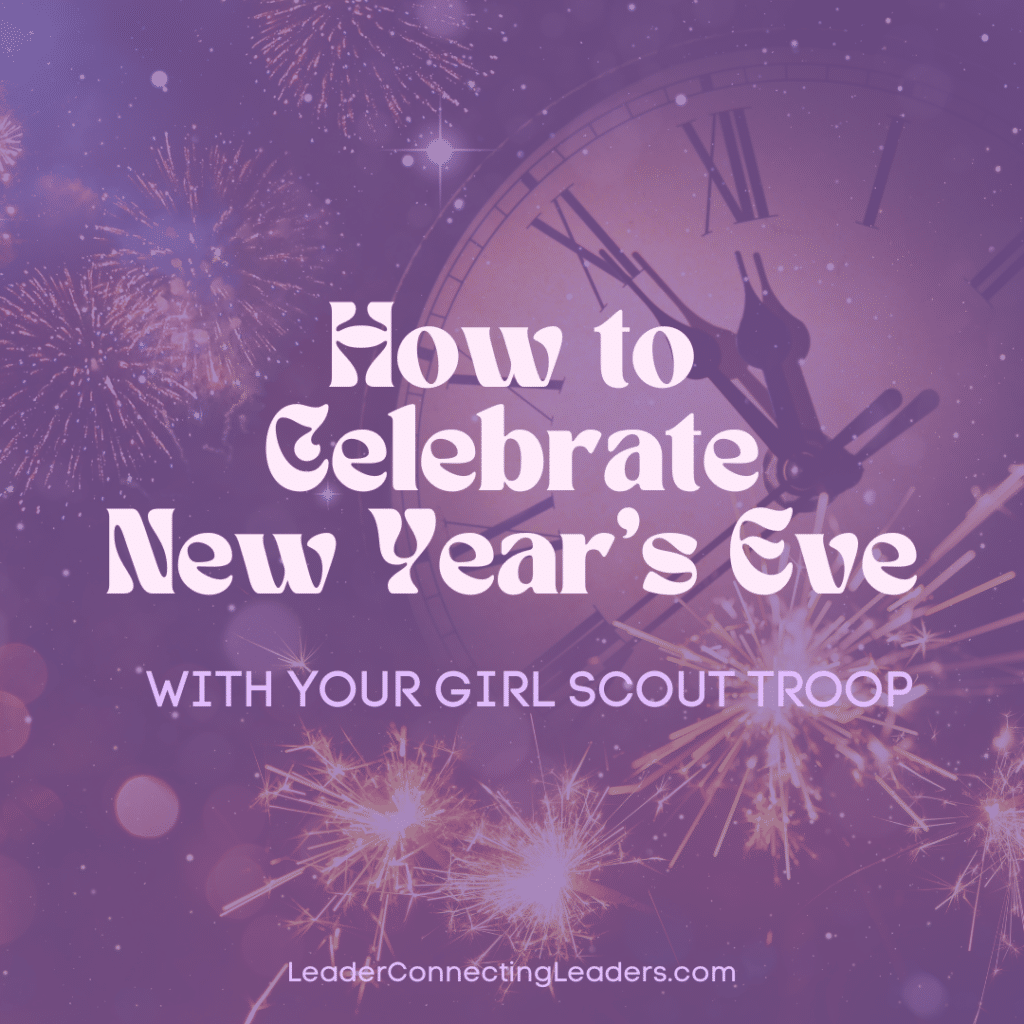 Sleepover Events
While it's freezing cold outside, it's good to plan indoor invents. Most Girl Scout members love a good sleepover. If you have adult volunteers who are open to making this event happen, give your girls' parents a date night by planning a sleepover party they won't forget!
If this idea appeals to you, you can base the event details on what your girls love the most. There are so many different activities you can use to help Girl Scouts at a higher grade level build memories and make progress.
During the sleepover, you can work on a fun patch, do some of your scouts' favorite activities, enjoy a social media challenge, enjoy delicious snacks, or even try different Girl Scout cookie flavors like thin mints, shortbreads, or a new cookie flavor, and so much more. If you don't have much time to plan, you could make it a movie night. Those are well-beloved activities with my girls!
Field Trip
Not everyone can make a sleepover event work. For example, a lot of younger girls are too young for a sleepover, and some parents don't allow their children to have sleepovers. If you're in this position, don't worry! There are plenty of other options at your fingertips. For example, a great way to celebrate the end of one year and beginning of the next is to plan a fun winter event on a day of your choosing.
At this time of year, it can be tough to decide on a setting, but if you look around, you can find a fun place for a field trip! Your troop could go sledding at a local park, build snowmen together, try snow tubing or skiing, or visit a local museum. There are so many ways you can make the New Year season exciting for your girls.
New Year's Resolution Event
If you're looking for something you can do in your usual meeting space, I have the perfect idea for you. Girl Scouts of all ages can benefit from learning how to set goals during troop meetings. Having a New Year's Resolution event can teach them essential life skills they will remember for the rest of their lives.
You could frame this option in any way you want. For example, the resolutions could be goals for your troop or goals for their personal lives like higher grades, healthy habits, or making new friends. You can help the girls brainstorm new interests they'd like to explore like music, technology, money management, or leadership skills.
If you set troop goals, you could make plans for how to welcome a new girl or manage your funds better. If your scouts are interested in finding a charity or faith partner to help make the world a better place, you can do some research on what your local options are.
If you need other ideas about what kinds of goals you can set, keep an eye out for my blog post about how to set troop goals for the new year. No matter what you want to focus on, make sure to teach your scouts to set SMART (Specific, Measurable, Attainable, Reasonable, Timely) goals. This will make them much more likely to actually improve the lives of your girls!
Try a vision board activity with your girls. If you are not sure how to put on one of these on check out all the details of how to put on a vision board party with troop.
Conclusion
No matter how you choose to celebrate, your girls will be filled with Girl Scout pride as you enjoy an event of your choice. You can even let your girls help plan the event if they'd like. All that matters is that you have a good time together and build your relationships. The closer you are, the better the new year will be for your troop!
Enjoy every minute being a leader and continue to inspire your girls!
Purchase this wonderful illustrated book from Amazon.