As spooky season approaches, you might be wondering if you should celebrate Halloween with your troop, and how to do so. Some leaders have a difficult time thinking of a fun way to celebrate. If this is your first time trying to celebrate Halloween in your troop year or you've done it so many times you're not sure how to mix it up, I've got some ideas for fun activities you can incorporate in your fall girl scouting endeavors.
While they aren't exactly ground-breaking ideas, if you haven't tried them with your scouts, these new experiences could be a special way to bond and enjoy your time together as a Girl Scout family.
---
Host a Halloween-Themed Party
What is more fun than a Halloween party? Whether you have older girl scouts or you work with younger girls, any group will love a fun festive gathering. Besides being a fun activity for your scouts, it's also the perfect way for troop leaders to take off their "professional" leader veneer and bond with their girls.
There can be lots of variations on this idea. For example, you can host a spooky campfire that involves Halloween candy. If you don't want to source candy or don't have it in your budget, you can let your girls know in advance that they should save some of their Halloween candy to share, and use it for the party. This especially works if your area does trick-or-treating before October 31st.
You can also join with a different Girl Scout troop for this party. If you don't have a great space to host the party, another leader might have connections to a better place for you to meet in. Special places like a farm or a campsite can add some excitement to the event. Joining your Girl Scout troops for this event will help your scouts make new friends in their own grade levels and get an idea of what other troops look like.
Themes I have done you can learn more about
---
Have Fun with Costumes
If you want to incorporate some festive fun into your normal meetings, you can encourage your scouts to dress up for a normal meeting. You can determine a theme in advance to add a little extra challenge to the activity. There are several ways you could practically carry this out. Here are some examples:
One fun way to encourage teamwork is to encourage your girls to come up with a group costume, and all dress up as the same thing together. For example, if your girls choose "police officer," you can make matching detective badges and ask each girl to come in dressed in black pants and a white shirt. You could also choose to dress up as a living Pinterest board, and help the girls select different Pinterest posts they might want to emulate.
Halloween costume contest
If your scouts like to get competitive, a fun contest might be a good idea. You can let the girls' creativity go wild, or choose a prompt like "cave man clothes" to help them narrow their ideas down, and then have your troop volunteers act as judges and announce a winner.
---
Community Service Projects
If you'd like to celebrate Halloween by giving back, you can join in seasonal community service projects with your troop. Some charities have Halloween-themed outreaches like free trick-or-treat events, and others have regular seasonal projects like handing out warm socks and sleeping mats to help the homeless prepare for winter.
If you have a hard time finding neat fall community service opportunities, you can create your own as a troop! There are definitely ways you can incorporate a fall fundraiser for charity or even hand out some hot chocolate or other warm treats on a cool day. There is no limit to the ways you and your girls can serve others during the chilly fall months.
First Baby Born Service Project
This is something I did with my troop a few years back. Just like you will sometimes see the first baby born in the new year will win a prize. We did the first baby girl born at our local hospital on October 31st. This child would be sharing Juliette Gordon Lows birthday. We collected baby supplies and made several gift baskets. We also included a Daisy journey book and a cute outfit that said "Future Daisy Girl Scout". We asked the hospital to let us know who was first born, and ask them if they would be interested in receiving our gift baskets. We ended up with two large baskets and 3 bags full of baby supplies to donate! After the mom and baby came home from the hospital, we made arrangements to take all the baby baskets to their home. The mom was so excited and the girls felt great getting to deliver the gifts to the mom and baby.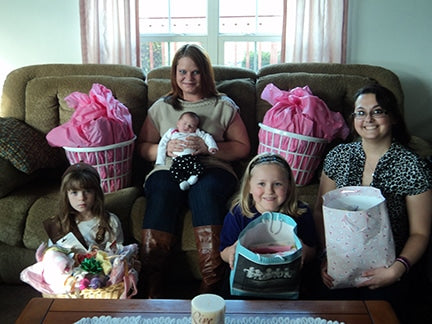 ---
Activity Booklets Great for the October Event
Feel free to let your imagination run wild as you consider how you'll celebrate Halloween with your troop! I love to help leaders brainstorm about what their girls would enjoy most. If you have more fun, fall-themed ideas that other leaders might enjoy, comment down below to share your favorites! When you're part of the leader connecting leaders community, you never have to plan your activities alone.
Enjoy every minute being a leader and continue to inspire your girls!