The holiday season is one of the best times to be in Girl Scouts! Whether this is your first Girl Scout Christmas with a new troop or you're looking to mix up your troop plans for 2022, this blog post will help you narrow down how to celebrate Christmas with your troop.
One of the most enjoyable responsibilities of a troop leader is helping young girls build memories from a young age. Planning festive troop activities can help your girls have positive associations with their Girl Scout experience for a lifetime!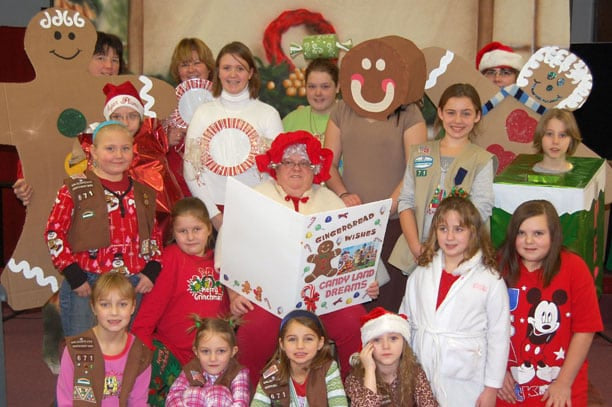 Christmas Party
Deck the halls for your Christmas party! If you bring some snacks, Christmas cookies, and games to your troop meeting, it can quickly transform an ordinary day into a significant memory for your scouts.
You can ask your scouts what their favorite Christmas cookies are (besides Girl Scout cookies), and bake them before the party to make it extra special. A simple game like Christmas trivia can liven up the event without too much preparation needed in advance.
Check out some of the Christmas Game Activity Booklets from Leader Connecting Leaders to help make planning the party easy!
Household Gift Exchange
There are a lot of families who struggle financially during the holiday season, and asking your girls' parents to purchase a present for a gift exchange could put them in a tough or uncomfortable situation. But that doesn't mean you can't do a gift exchange at all! One of the purposes of Girl Scouting is to learn creativity and innovation.
Your girls don't need to buy commercial products to create magical Christmas memories. A great way to circumvent the money issue is to host a white elephant gift exchange where girls bring items from home that might make good gifts, like books, candy, or age-appropriate toys, or create homemade gifts. You can also put a fun twist on it by having them bring silly gifts– that can really take the pressure off an otherwise stressful gift exchange.
If you do want to host a standard gift exchange to celebrate Christmas, you can try some group money-earning activities and use those troop funds to purchase the gifts and spread some holiday cheer. This would work best for scouts who are in high school who can arrange their own fundraisers.
Christmas Crafts
If you work with younger girls, crafts might be the best way to celebrate Christmas together. You can find lots of Christmas crafts online or create your own ideas that will really let your scouts shine! There are so many Christmas tree-themed crafts and ways to create easy homemade Christmas decor, like ornaments or magnets.
I have a Christmas craft on my site that I think you will love– thumbprint reindeer Christmas ornaments! All you need for this easy craft is brown paint, paintbrushes, pens, red cardboard, scissors, satin ribbon, Elmer's glue, red markers, black markers, and a colorful cupcake holder or white cardboard, and you will be ready to go.
Christmas Caroling
What is more symbolic of the holiday season than singing a Christmas carol? No matter what grade level you work with, go with your Girl Scout troop and bring some Christmas cheer to people who need an extra dose of hope and joy.
If you are creative, you might be able to tie this exercise into a music badge if your scouts are concerned about being productive. I love when I can accomplish two goals in one, and tying badges in can help show your girls how to achieve their goals while having fun!
You can Christmas Carol for a cause as well my girls sung in front of a Save A Lot to collect food for food pantry. This was a big success!
Give Back
The holidays provide many beautiful opportunities to give back to the people around you. There are so many ways to join a service project with community organizations or religious organizations. If you want to take it to the next level, you can help your girls plan a Take Action project.
While many kids associate celebrating Christmas with receiving gifts, it's also the season of giving. It's important to teach your troops that they can have a great time making other people's lives better instead of their own. They might be surprised how much they learn from the experience.
So, which one will you pick? When it comes to Christmas activities, you can't go wrong. Stay tuned for more Girl Scout activities as we move into the New Year!
Enjoy every minute being a leader and continue to inspire your girls!
Purchase this wonderful illustrated book from Amazon.