It's the new year, and everyone is trying to carry out their goals to improve their mental health, overall health, and personal development. While you might have experience with building healthy habits in your personal life, you might need some extra help figuring out how to make your Girl Scouts experience better than previous years.
Last year, we talked about New Year's Resolution Ideas for your Girl Scout troop. As a troop leader, it's your job to cast a vision and carry it out from January 1st through the end of the year.
If you want successful New Year's Resolutions, the key is not to create them in the first place, it's to follow through with them. That's where a lot of people fail– the execution step. It can be a bit out of your comfort zone to actually take your thoughts and put them into practice, but these steps can help you get farther than you ever dreamed!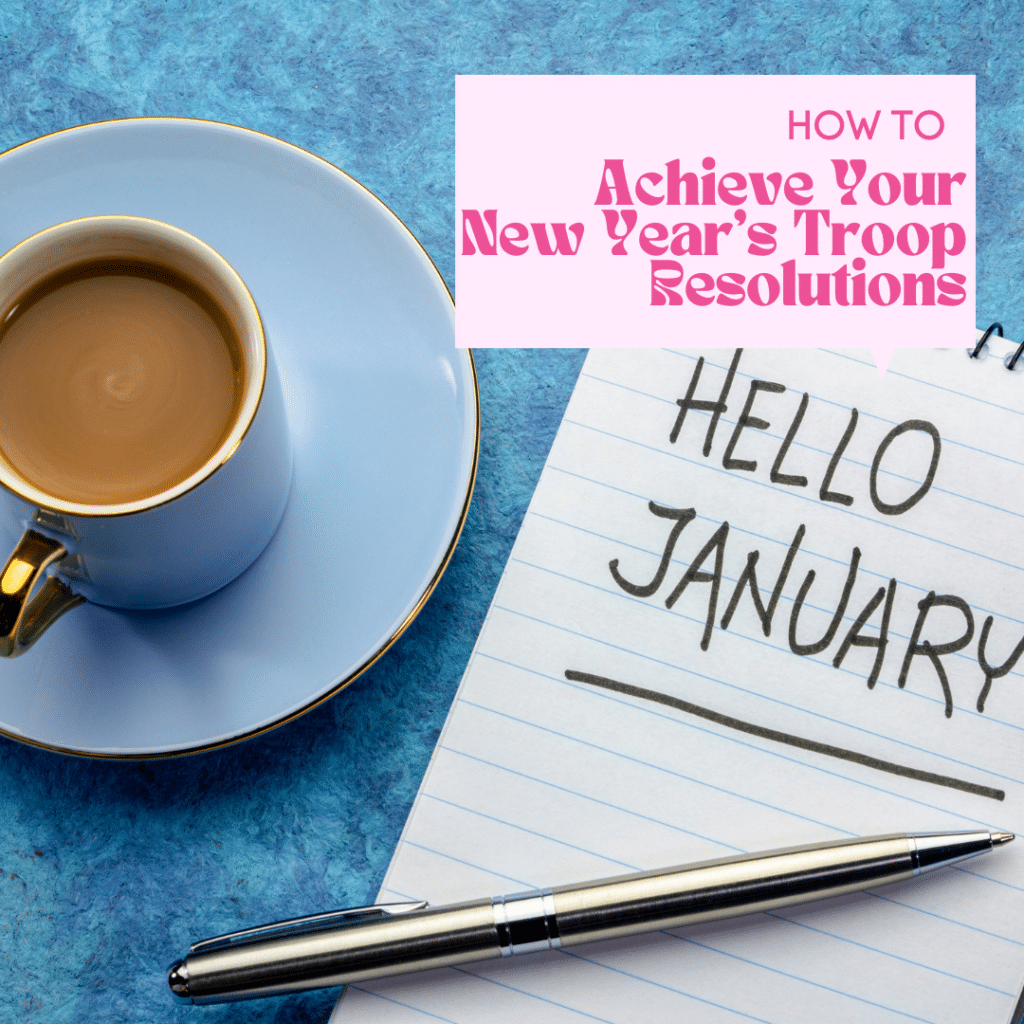 Make a Plan for Your New Year's Resolutions
The first step of achieving all of your new goals in the coming year is to clearly plan them out. If you read my old posts about how to set goals, you know that one of the main points was to set SMART goals. That means you have a timeline in mind and specific milestones that you can check off as you go. If you don't see yourself carrying them out piece by piece, they might be unrealistic goals.
The best way to make your goals happen is to make an action plan of how you will execute them– make sure you have enough money, volunteers, and other practical implications so that your goals will be doable. Even the most ambitious goal means nothing if you don't follow through and commit to positive change.
Create Structure
The most important thing when it comes to carrying out your plan is having the structure in place to help you get stuff done, even when you don't want to. For example, if you want to spend less time on administrative work from week to week, you'll need to take on new systems. Things like to-do lists, a year-long calendar, or delegation are tangible resources that can provide the structure you need to follow your step-by-step plan.
The goal is to make it as easy as possible for you to accomplish any task you need to do throughout the year. The more hurdles you can knock out ahead of time, the smoother things will go.
Get New Year's Resolutions Accountability
The next step is to find an accountability partner. Many people benefit from having someone to help them stay on track and cheer them on. Yours could be another troop leader, a family member, or an adult volunteer who knows your goals and can help you stick to them.
If you're trying to accomplish long-term goals on your own, slow progress can get frustrating. Having support behind you on a regular basis can really keep your motivation going long-term and make your goals feel bigger than yourself. Plus, involving other people means you'll have others celebrating your wins and helping you during your slumps.
Mix it Up!
If what you've tried in the past to achieve your goals didn't work, you might need to take a different approach, and the only way to get rid of a bad habit is to create a new habit in its place. For example, if the last time you tried to stay on top of your emails, you just told yourself to try harder to check them, maybe this time you can get an app that sends you reminders and helps you answer your emails, or get an administrative assistant who can help out.
Making long term changes can be impossible if you're just trying to white-knuckle your way through. You'll have to make some changes and give yourself a fresh start to make 2023 one to remember.
Hopefully this article will give you some fresh ideas on how to reach the finish line on your New Year's Resolutions. Keep in mind that knowing all of these tips and tricks isn't enough to change your troop. You have to put hard work into each step to see the results you dream of. I promise, it's worth it! Feel free to share your own strategies and victories with goal-setting in the comments! When one of us wins, all of us win!
Enjoy every minute being a leader and continue to inspire your girls!