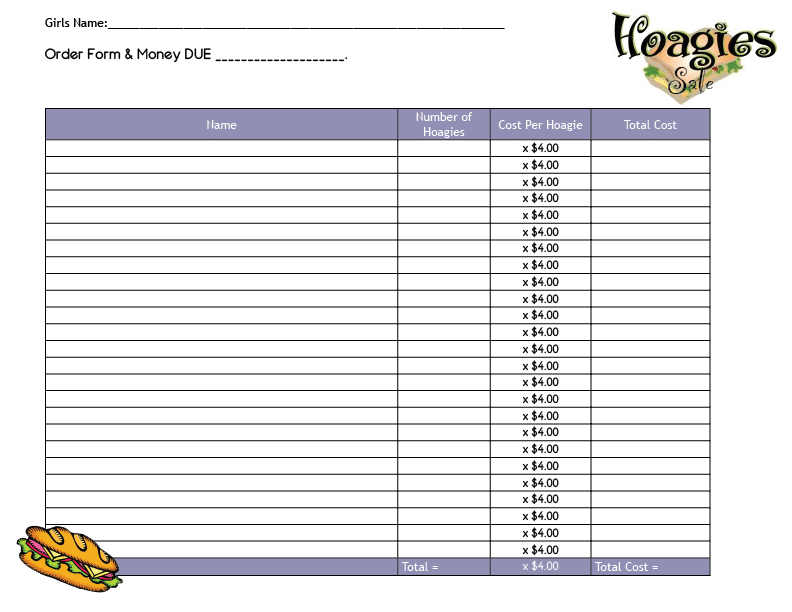 Hoagie Sales are a great fundraiser for a troop and the best part any age can do them. We were able to locate a company that we could order all the supplies from, but there have been other times we just purchased supplies on our own going through stores such as Sam Club, and other larger bulk stores.
Our girls sold the hoagies for $4.00 and run it for 2 weeks. Then turn in order forms and we purchase supplies and get together the following week to put together. The most recent sale we sold 336 hoagies and made $625 dollars. Which is a pretty good profit. The girls came together and made the hoagies.
What is on the Hoagies:
Ham
Pepperoni
Salami
Two types of cheese
In a separate baggies Lettuce, Onion, Tomato and container of sauce.
When we all got together each group of girls had a different job. We had the Daisy girls help lay out the buns, Adults put the meat on the sandwiches to make sure not to much or not enough go on. The Brownies and Juniors helped package the Lettuce onion and tomato and sauce. Cadettes and up helped package all orders together and get ready to give all the girls their orders.
---
More Resources For You Beyond This Site
I get asked a lot what other resources are out there on the internet for Leaders.  I have done some digging over the years and have used many of the resources myself. I compiled a list of some great companies that sell patches, programs and also other bloggers offering amazing resources that may fit your needs even better than my site did.   Checkout what I found.
Enjoy every minute being a leader and continue to inspire your girls!