One of the best ways to spend time with your troop in the winter is to go for a hike! But, as we all know, winter hikes take a lot more preparation, especially if you have a large group of girls or live in a colder region. Taking hikes with your troop can take a lot of preparation, but can be so much fun!
If you are interested in taking your girls for a hike but feel totally unprepared, fear not! I have compiled some of my best tips for hiking or backpacking in the winter with your troop that will help you feel ready to hit the trail!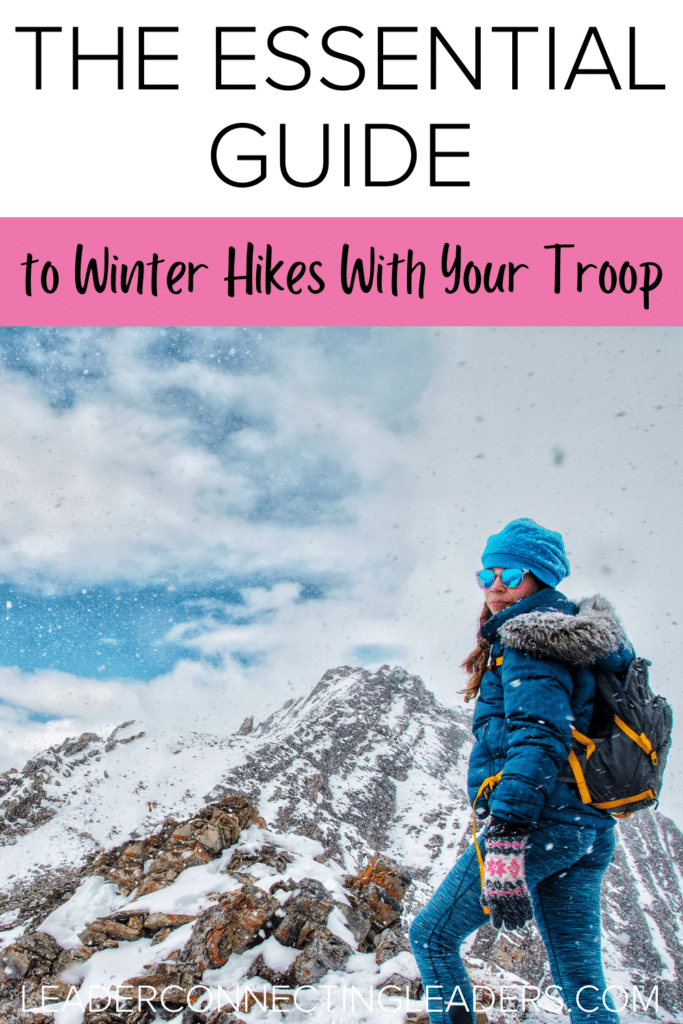 Strategically Choose Your Route
If you want to ensure your hike will go well, it's vital to research the trails ahead of time and make sure to pick the best one for your group. You'll want to take note of any potentially difficult features, like a creek you must cross without a bridge or steps that may be icy.
Your goal is to choose a trail that all your girls can accomplish. This means you need to consider whether any of your girls have limitations that may prevent them from being able to handle the trails you're looking at. You also want to make sure they will enjoy the hike, so if they have any special interests, it's a good idea to weave those in. Also, make sure to check in on whether the hike is seasonally impacted! For example, if there was a waterfall in the summer, it may not be there in the winter! Just make sure to double check before cementing your plans.
Train for Hikes with Your Troop
To ensure everything goes smoothly, make sure to discuss trail prep with your girls. They may have never been on a winter hike before, so it's important to set expectations. Remind them to bring shoes with good traction, gloves, a scarf, food if they need it, and any other extra items that might be particularly relevant to your hike.
If you're planning on framing it as backpacking, make sure all the girls have a suitable backpack they can take with them, and offer extras to any girls that might not have one. You don't want anyone missing out just because they don't have the equipment!
Prepare for Emergencies
There's a lot you can do as a leader to prepare for potential needs or emergencies that may arise. Pack a little kit of things your girls might need, like extra gloves and hand warmers, snacks, an extra meal if you'll be eating on the trail, as well as Benadryl and an EpiPen if any of your girls have allergies. If you will be running into any water along the way, it's best to bring a towel in case someone unexpectedly gets wet.
If possible, it's best to bring a second leader if you'll be going on a longer hike. It's never a bad thing to have an extra adult around to help your troop, and if an emergency arises with one girl, the second leader can always take them to deal with it separately so the entire hike doesn't have to end.
Use a Checklist for Hikes with Your Troop
When you're about to start your hike, make sure to check that all your girls have everything they need. Run through a checklist, making sure everybody has gloves, their lunch, and any special items like inhalers or medications. It's still possible to get through this check and realize you missed something, but do the best you can to make sure everyone is ready before heading out.
Plan Your Activities
It's important to remember that kids often get bored on hikes. To prevent this from happening, you can plan fun activities to incorporate while hiking to make the slow times more enjoyable. You could do some research in advance about the plants and wildlife in the area and teach your scouts to spot and name them, or you could learn some fun songs to teach your girls as you hike. You could also use the hike as an opportunity to work towards some other badges, just make sure you have everything you need packed and ready!
If you're excited for your hike, but would like a little extra help, you can download my Hiking Activity Booklet for only $6! Enjoy your time with your girls, I'd love to hear how it goes.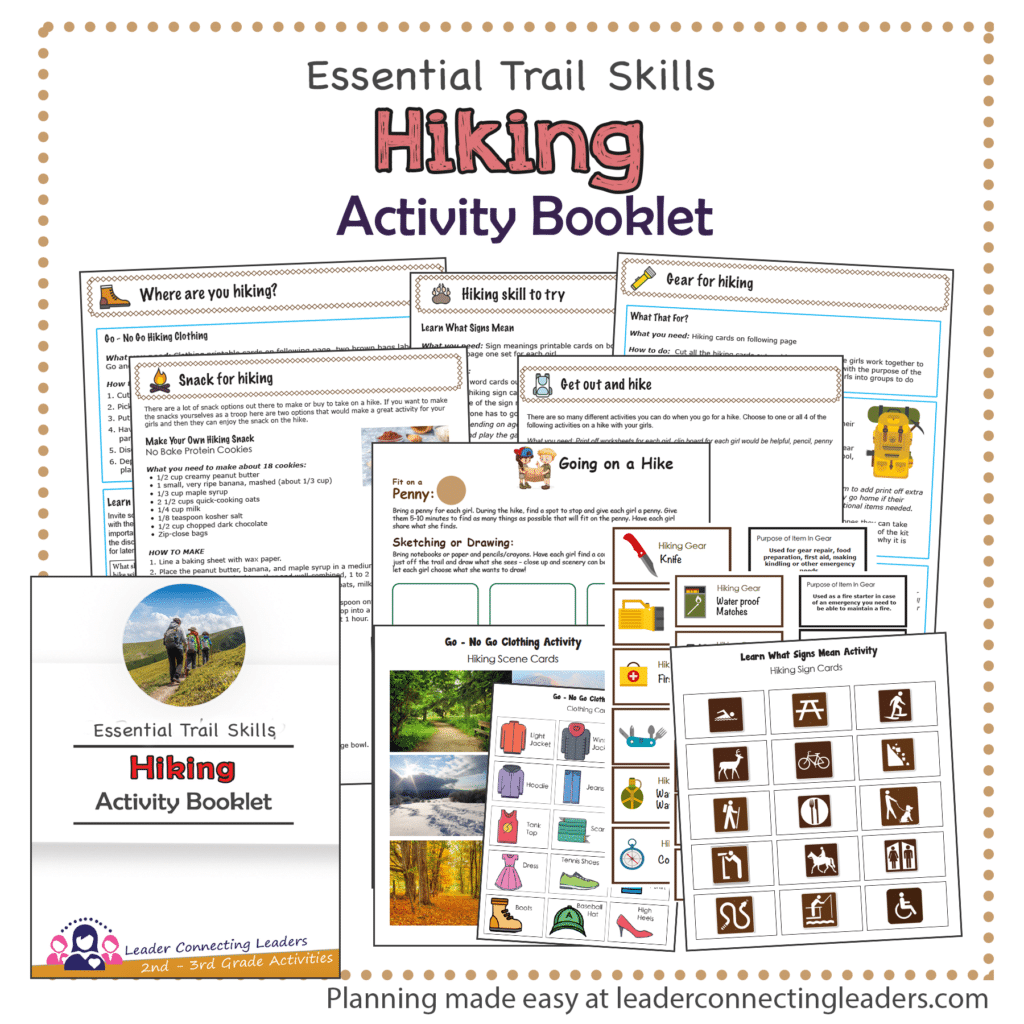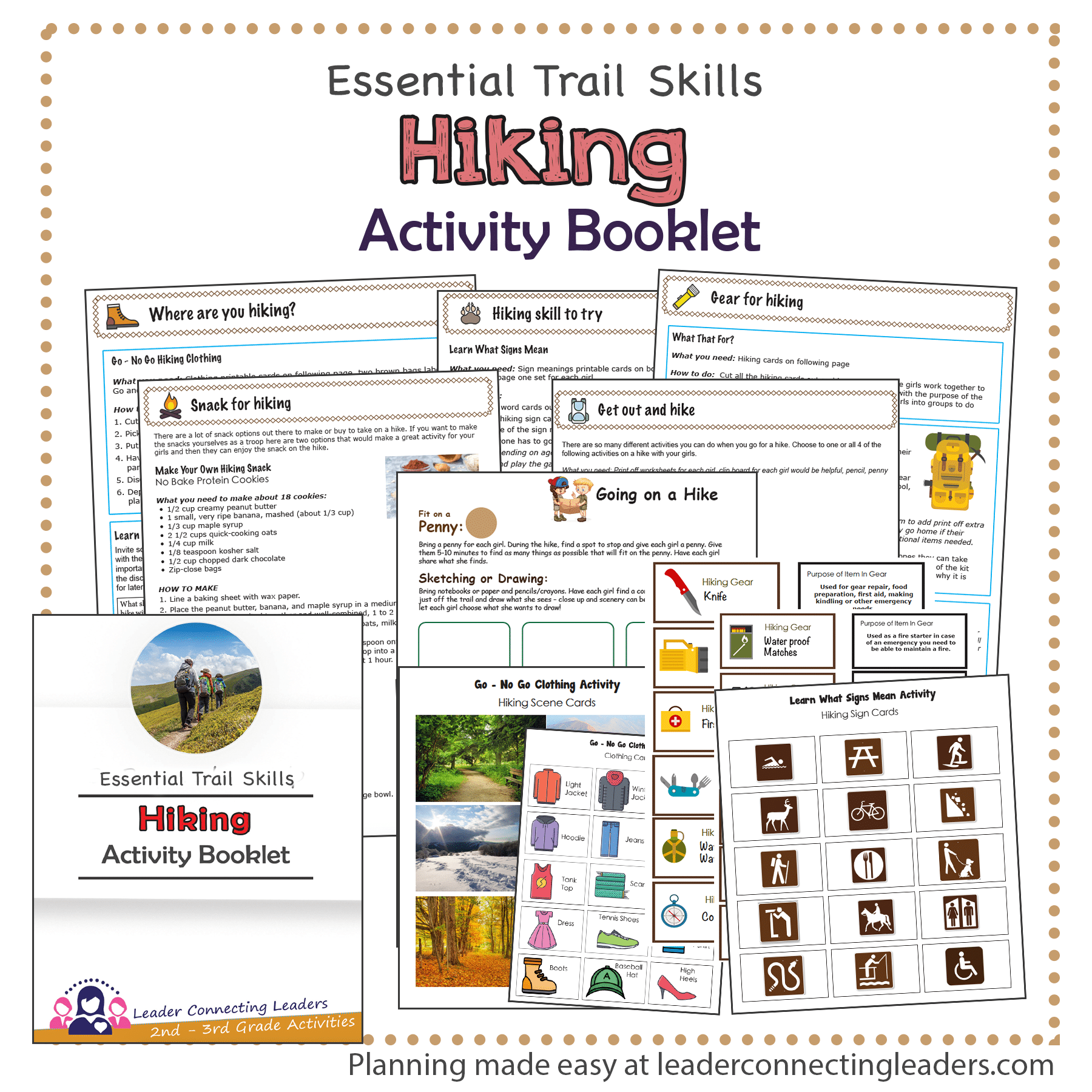 Enjoy every minute being a leader and continue to inspire your girls!
Purchase this wonderful illustrated book from Amazon.