If your looking for ideas to make your meeting more fun while learning how you can save someones life or treat minor injuries using first aid, you have come to the right place. Using some of these activities below your girls will explore every aspect of safety with some fun activities, and at the same time take it a step further and actually learn how they can save lives and be able to take action in a actual emergency.
Below are a few ideas to get you started.
First Aid Activity Booklet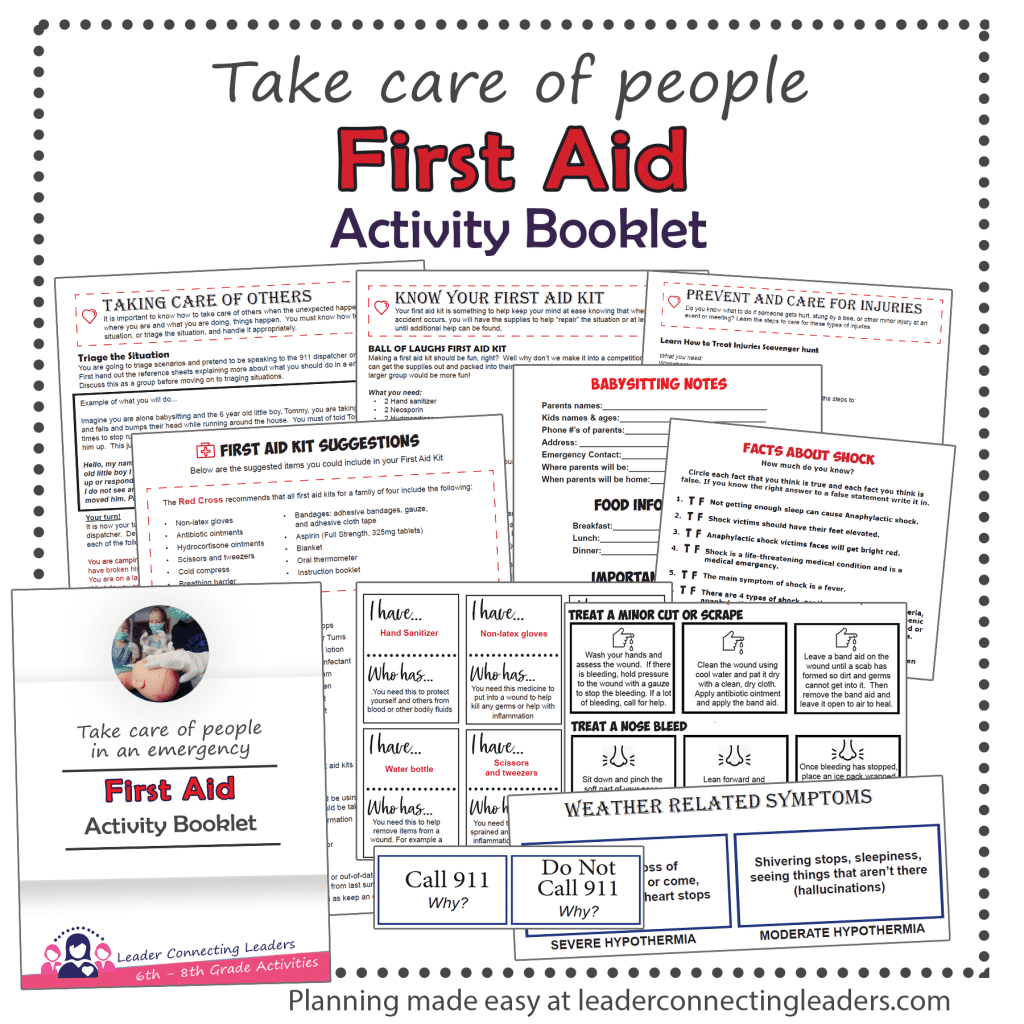 Before jumping into a few ideas, do you want to skip all the planning? If so, use the First Aid Activity Booklet which includes a number of challenges and games to help prepare you and your girls for real-life situations and in some cases emergencies.  These situations can be scary but when you are prepared and know how to handle it, not only will you know what to do, but you could potentially save someone's life! With a step by step activities, you can't ask for a easier way to run your meeting. Learn more about this activity booklet and get yours today!
You may also be interested in these activity booklets for your girls:
---
Other First Aid Activities
First Aid Kim's Game
What better way to help your girls understand what needs to go into a first aid kit then to play a game where they have to try to remember everything that goes into one. Give each girl a piece of paper and pencil. Lay out the items from the first aid kit in the middle of the group let them look at everything for 3 minutes. Then cover everything up. The girls then have 5 minutes to write down everything they can remember was on the table. Girl with the most items right wins. There are a lot of kits out there, but if you do a lot of camping with your girls check out this 303 piece first aid kit that is great for meeting spaces, camp outs, to use at home, to leave in the car. 
Bandage Relay Game
This game will help reinforce discussions related to bandaging injuries.
Put your girls into two teams and have them line up in relay formation. Put one girl at the other end for each team that will become the injured person. The leader will call out a body part and the first girl in line on both teams will run down and bandage that part of the body. When she has completed tasks then she becomes the injured person and the other girl goes back to end of line.  Once every girl has gone through and has been the injured person and bandaged that body part, choose a different body part and do it again. For example when I did it with my troop we did arm, leg and head injuries. It is fun plus educational to learn how to bandage correctly.
Advanced First Aid Kit
If you want to take it a step further beyond the First Aid Activity booklet provided on this site. Making Friends has a awesome kit where your girls will get to make some fun crafts related to first aid such as their own duct tape water bottle, a boo boo bunny they could use when baby sitting, and if you were thinking of having your girls make their own first aid kits there is directions to make their own first aid pouch. There are even great add on for fun patch and first aid supplies.  Get your Advanced First Aid Kit here.
Hands Only CPR
I had the opportunity to talk to a nurse by the name of Terri Evans who is a RN with over 25 years as a bedside nurse. She teaches CPR to doctors, nurses and other healthcare workers. She also teach daycare workers, the community and community leaders the importance of CPR. If after you read this information and want to talk to her directly about the CPR program or other CPR questions for your girls contact her by email at [email protected], just mention you found her information on the leader connecting leaders website.
Everyone needs to know how to get help in case of an Emergency. CPR training will teach you how important it is to get the ambulance to come to the scene and get the person help by taking them to the nearest hospital as quickly as possible. When a victim receives CPR the blood flow continues to pump through their heart and you help to keep the body oxygenated. Which means, your hands become their heartbeat. Now that is the most important thing you can do for someone who needs you.
CPR is the most brave thing you can do to help. CPR also helps keep oxygen flowing to the brain which keeps the person from suffering from brain damage or death. Studies show that 88% (which is a lot) of cardiac arrests happens in the home; which is another reason for the importance of knowing CPR training. A person has about ten minutes or less until death without giving CPR.
You don't have to be a doctor or a nurse to receive CPR training; and you can be any age as long as you can understand the direction given in the CPR course. Becoming CPR certified is the most important thing you can do to so HELP someone in case of a Heart Attack Emergency. CPR, if performed immediately and correctly, can double or triple a victim's chance of the person survival. CPR gives individuals confidence and empower them to use their hands to save a Life! Hands Only CPR save lives. This means that you no longer have to give mouth to mouth breaths to a stranger. Hands Only CPR is just as easy and more effective because people are helping more than they used to help. Someone may need your help immediately, so American Heart Association found research that proved that "Hands Only CPR" was just as good.
Hands Only CPR has just two easy steps: If you see a teen or adult suddenly collapse:
Call 9-1-1
Push hard and fast in the center of the chest. During CPR you should push on the chest at a rate of 100 to 120 compression per minute. This rate is like the beats in an old song called "Staying Alive"
Watch this quick video to learn more about Hands Only CPR.
To learn more about CPR and to find a class near you go to American Heart Association website. If you want to take a course at home, Terri Evans, the Registered nurse I had the opportunity to talk to created a CPR course you can do at home. go to Position CPR and learn more about taking this course with your girls if getting to a course in person would not work for you. The best part you don't pay for course till you pass it. Then you can pay to have your certificate. That way if you find that doing it online instead of going somewhere doesn't work for your troop you will not pay anything to try it.
If you don't want to spend the time planning this badge, our First Aid Activity Booklet for 6th – 8th grade girls has step-by-step instructions with activities that don't require any planning other than gathering supplies and printing booklets.
Fun Patch Suggestions
What do we do after your girls complete the badge?
Well of course give them the badge to display proudly on their vest, they earned it!  Additionally If you are like many leaders we want to award our girls when they complete something even beyond just the patch. One great way to show achievement is with a certificate. Don't worry you don't have to make them, I found a resource that has done all the work for you and all you have to do is print them and customize the certificates with each girl's name, date and troop leader.  A complete set of certificates.
---
Keep Your Troop Organized And Focus On The Fun Part of Being A Leader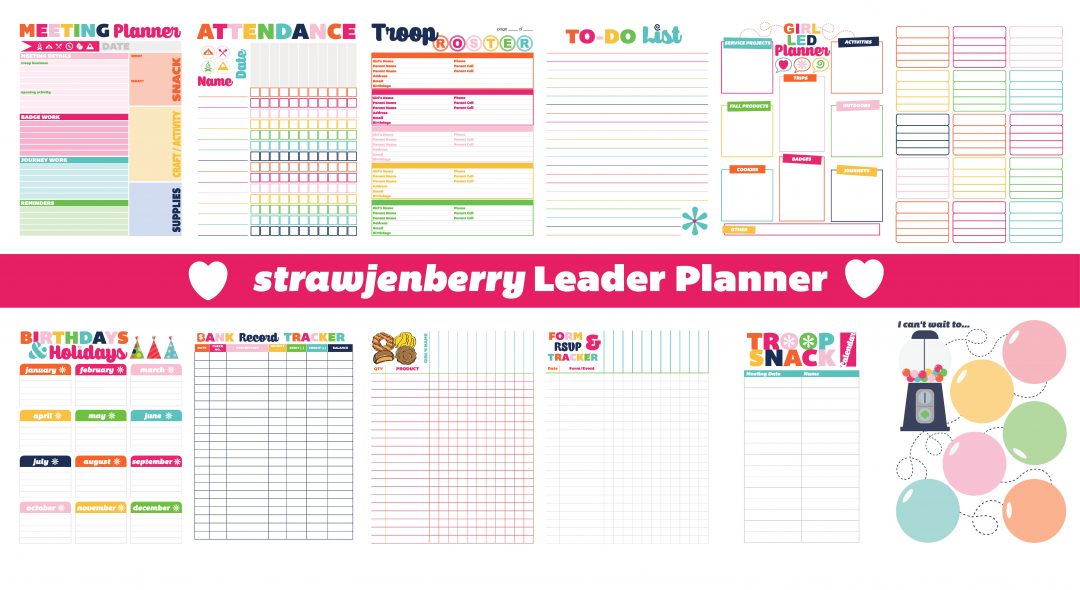 This Leader Planner is from another amazing blogger named Jen her blog is called "I am StrawjenBerry" With the help of Jen I wrote a blog post explaining everything you will get in this planner. It has everything you need to plan your troop year. The planner contains your calendar, meeting planners, rosters and badge trackers in one safe place for when you need it.   Read more