As a 11th and 12th grader you are very close to graduating high school and either going to collage or moving out on your own. Either way as a adult you will have the most success by knowing how to create and stick to a budget. This is a skill that is important at every stage of your life all the way through your retirement years. Get it right early and you will set yourself up for success in the future.
Many adults do not take the time to set a budget and find themselves deep deep into debt. By learning how to live on your own before you actually do it the girls will learn more about budgeting, how to avoid financial pitfalls while learning to live independently from their parents and living their dream life.
Below are a few ideas to get you started.
Exploring life after high school activity booklet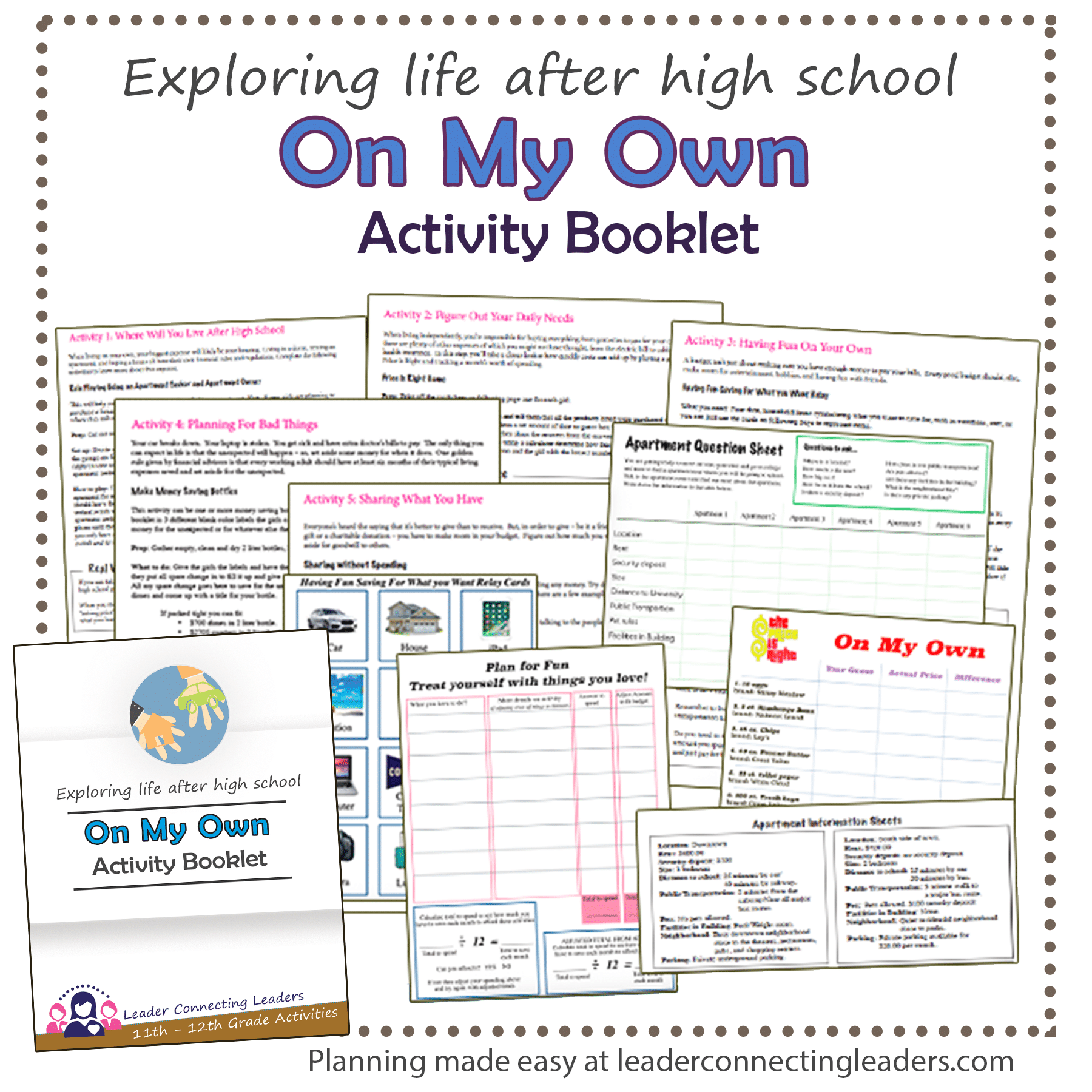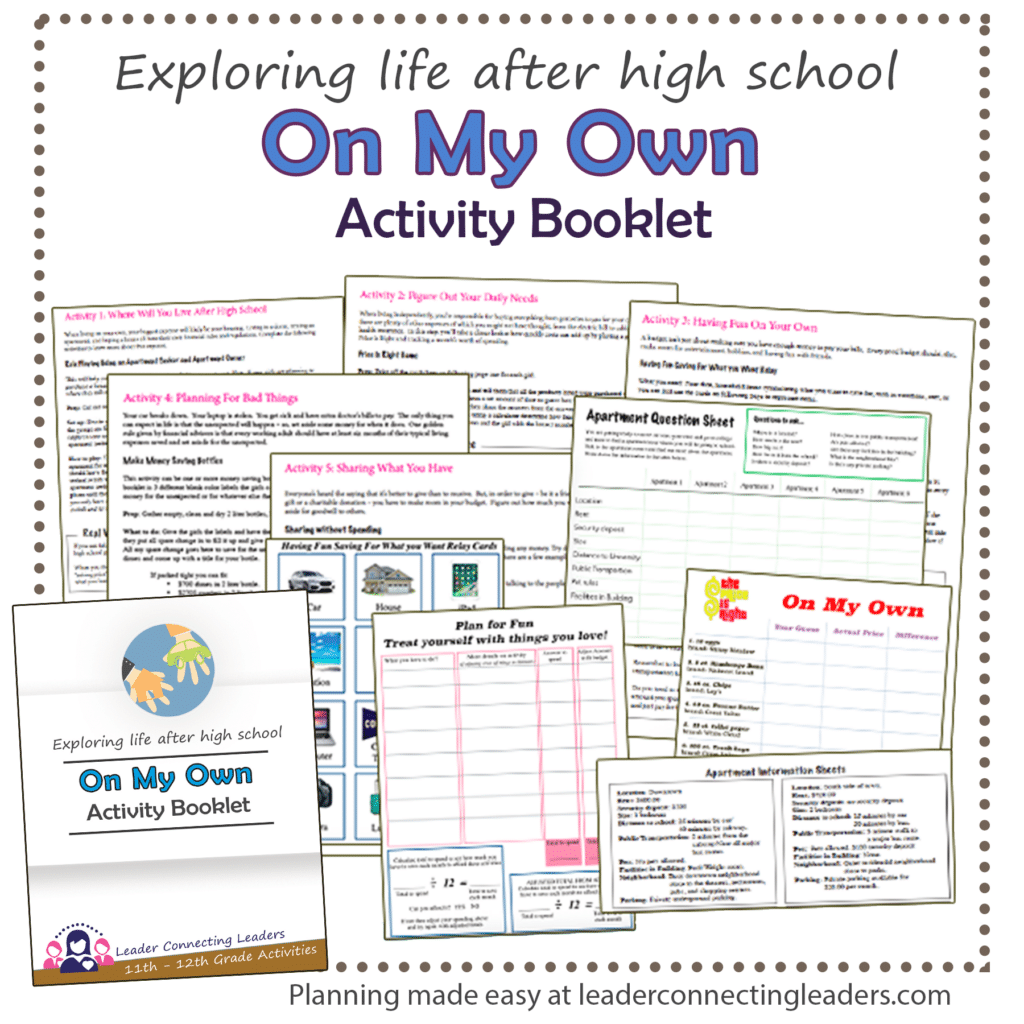 Before jumping into a few ideas, do you want to skip all the planning? If so, use this Activity Booklet which includes activities, games, and worksheets to allow your girls to take over the meeting learning about budgeting for life, gift giving, and financial emergencies, a activity to create a savings bottle for financial emergencies, a game of the Price is Right, role playing activity to learn more about finding a place to live and more. With a step by step activities, you can't ask for a easier way to run your meeting. Learn more and get yours today!
---
Other Fun Activities To Try
The Bean Game
Managing money means making choices. There is never enough money available for all of the things we'd like to have or do. This game will help you decide what is most important to you. I found this online and have used it with my Seniors and Ambassador Scouts. Get the pdf to print here
A Reality Check
Most teens want to become independent – to live on their own and support themselves financially — as soon as possible. To prepare for such independence, they need to know the costs. This activity will help them get started. Get the pdf to print here.
CashFlow Board Game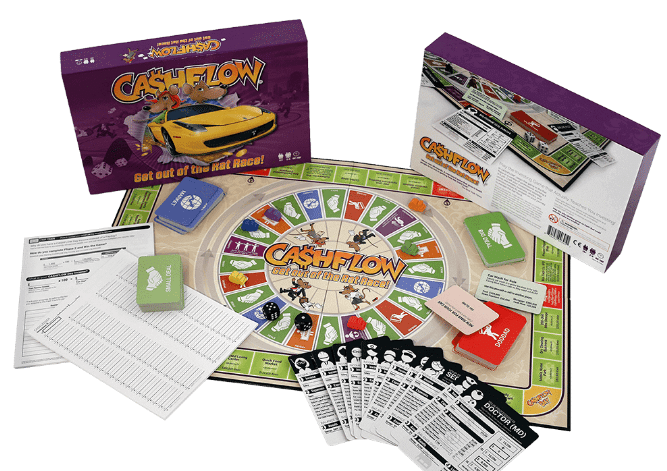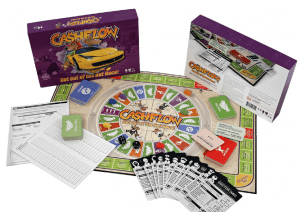 Escaping the Rat Race! It is a board game that you will battle your way out of the rat race by acquiring property, stocks, businesses and precious metals. You're not just playing against each other; you're playing against the housing market, the stock market and even Mother Nature. It starts you in a typical 9-to-5 job (that's not the fun part) and takes you on a journey to build up an arsenal of assets that will propel you into the fast track where real wealth is built (the fun part). Get a copy of the game here: CASHFLOW Board Game.
If you don't want to spend the time planning, our Activity Booklet has step-by-step instructions with activities that don't require any planning other than gathering supplies and printing booklets.
What do we do after your girls complete the activities?
Well of course give them the badge to display proudly on their vest, they earned it! Additionally If you are like many leaders we want to award our girls when they complete something even beyond just the patch. One great way to show achievement is with a certificate. Don't worry you don't have to make them, I found a resource that has done all the work for you and all you have to do is print them and customize the certificates with each girl's name, badge or award earned, date, and troop leader. Editable certificates perfect for awarding girls after earning a badge.
More Resources For You Beyond This Site
I get asked a lot what other resources are out there on the internet for Leaders. I have done some digging over the years and have used many of the resources myself. I compiled a list of some great companies that sell patches, programs and also other bloggers offering amazing resources that may fit your needs even better than my site did. Checkout what I found.
STEM Virtual Live Workshops For Every Level
Enjoy every minute being a leader and continue to inspire your girls!