From the Founders of Think Outside Boxes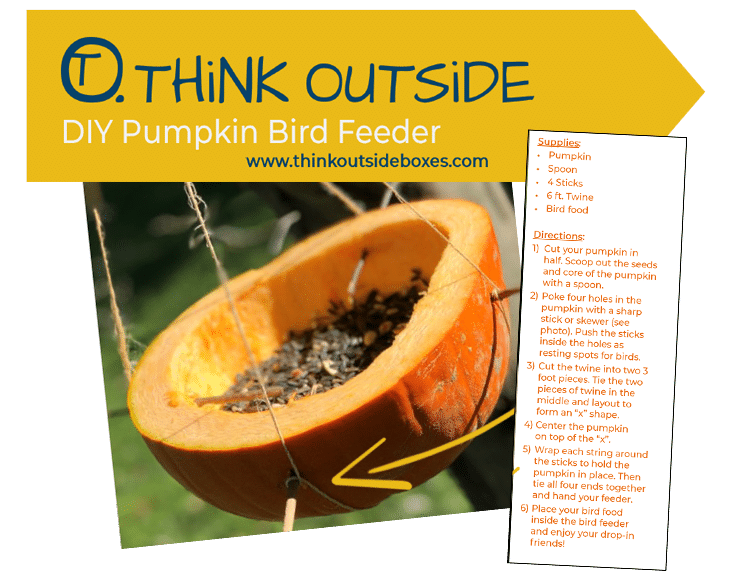 Pumpkin is the flavor of the month! Between pumpkin lattes, pumpkin pies, and pumpkin carvings, this squash wins the spotlight for sweet treats and fun family activities. There's more to do with pumpkins than carvings to add to your fall décor. Have you ever tried making a DIY Pumpkin Bird Feeder?
DIY Pumpkin Bird Feeders are a fun and easy activity for the full family to enjoy—check it out here.
Benefits of a Pumpkin Feeder
These are a quick way to support the winter chirp-chirps in your local area or birds migrating through your neck of the woods. Birds migrate for many reasons, it may be to move to a warmer climate, for mating, or due to lack of adequate food sources.
In fact, there are 4 different migration patterns in birds:
Permanent residents – These birds do not migrate, but stay in their current habitat year round.

Summer residents – These are birds that migrate South in the winter.

Winter residents – These are birds who migrate North in the winter.

Transients – Transient birds migrate much further North and South and you only ever see them in passing during migration.
What Food To Put In Feeder
In the northern U.S., winter can see some extreme temperatures. This makes insects and food much more difficult for migrating and permanent resident birds to find. When making a DIY bird feeder, you will want to be thoughtful about which feathered friends may be in search of food, and what those birds eat.
Here's a quick list that shows common ingredients in bird food for your new pumpkin bird feeders:
Black-oil sunflower seed: Common feed with a thinner shell, attracting most birds including cardinals, chickadees, and finches.
Cracked corn: This is a less expensive option that is enjoyed by doves, quail, and sparrows.
Berries & fruits: Many fruit eating birds will enjoy berries, grapes, and seeds of apples or pumpkins. Fruit-based feed can attract small birds like mockingbirds, catbirds, or robins.
Nyjer: This "thistle" seed is a favorite for finches but is best served by itself and not in bird mixes. This type of bird food would be great for a smaller bird feeder, but maybe not the DIY Pumpkin Bird Feeder.
Your new bird feeder will create a fond memory for you and your troop; however, this gem won't last forever! Carved pumpkins typically last 5-10 days, depending on how wet or warm it gets. So set up your new décor with food on day 1, but after about a week, it's time to think about pitching it and deciding if it's time for another trip to the pumpkin patch for DIY Pumpkin Bird Feeder 2.0.
Looking for other fun outdoor activities to do as a Girl Scout troop? Check out THiNK OUTSiDE boxes for monthly education, gear, and activities delivered to your doorstep!
Over & Out!
THiNK OUTSiDE
What else can I do with my troop outside?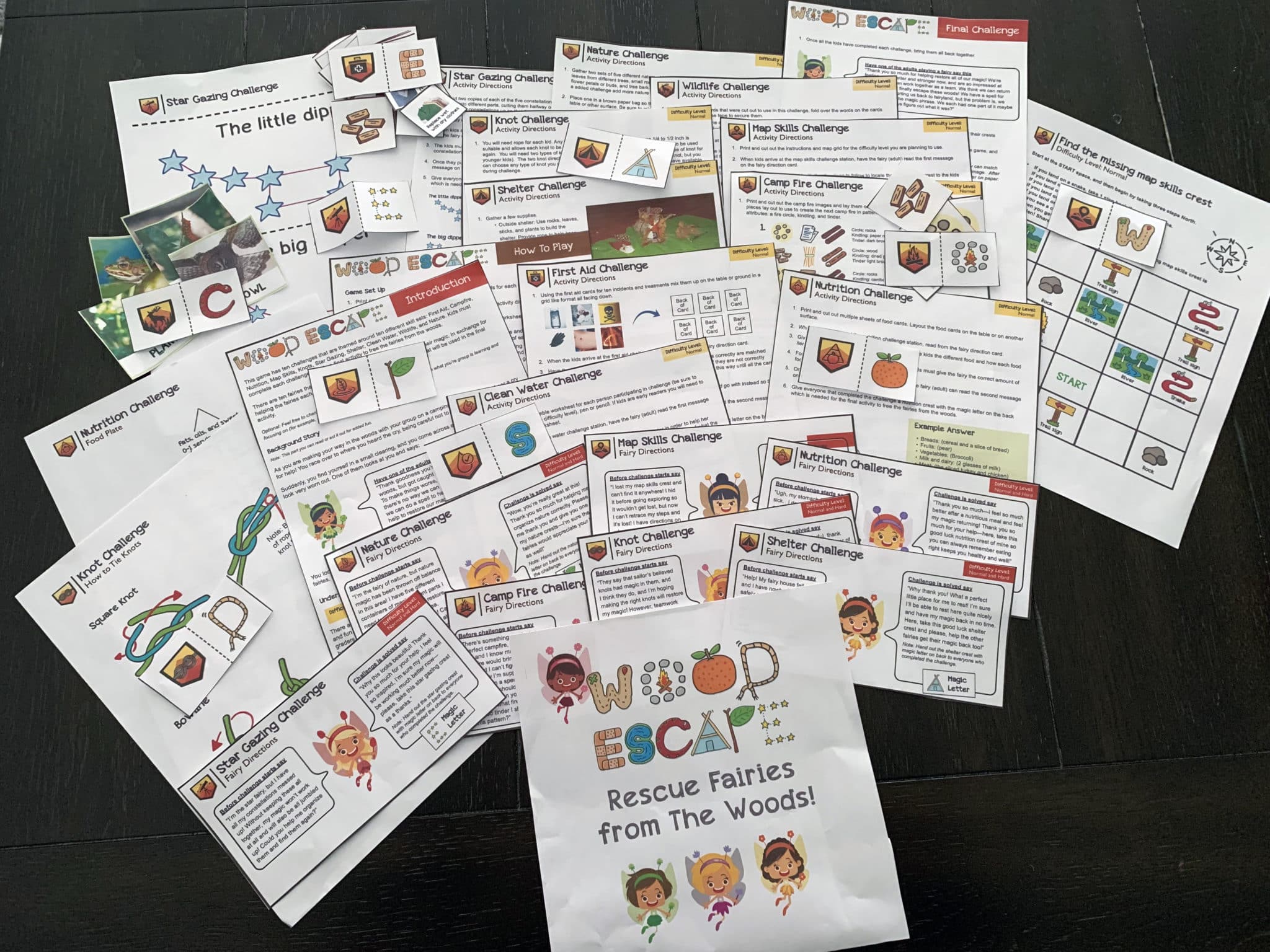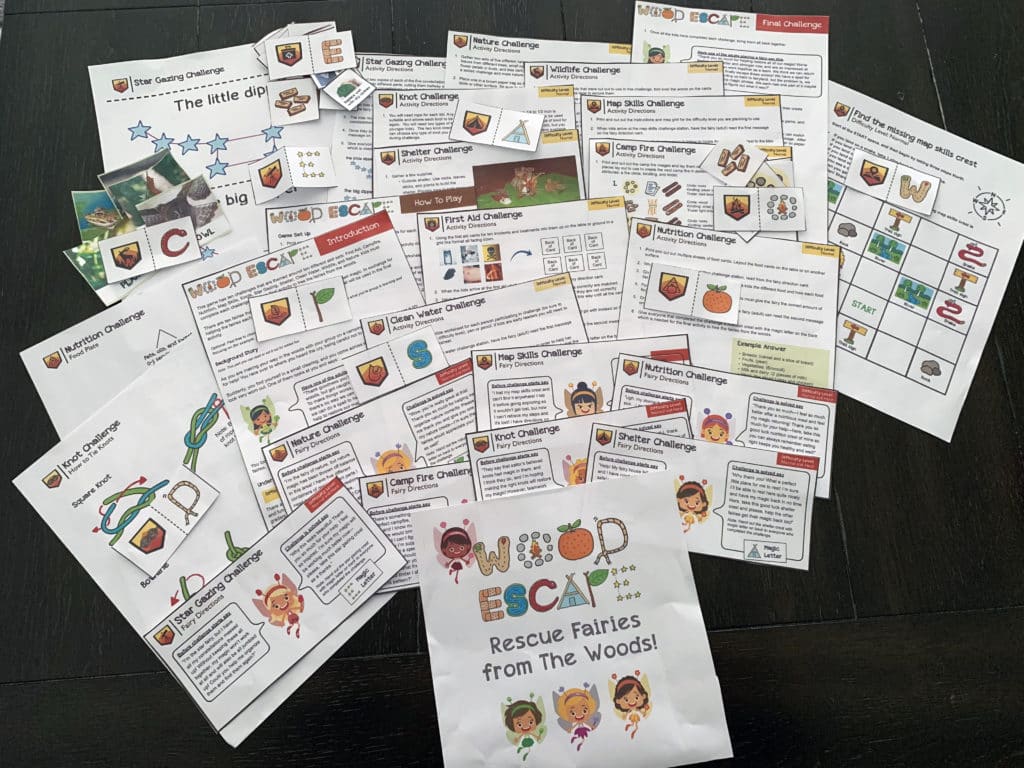 This game has ten challenges that are themed around ten different skill sets: First Aid, Campfire, Nutrition, Map Skills, Knots, Star Gazing, Shelter, Clean Water, Wildlife, and Nature. Girls must complete each challenge and do a final activity to free the fairies from the woods.
Beyond the pumpkin feeder
Do you want to jump head first into doing more outside activities with your troop? Most leaders will say yes. But if you are like me where you don't know much about outdoor skills or maybe you just don't have time to plan for outdoor activities Think Outside has you covered.
I have had the opportunity to try their monthly subscription service for a few months and it has made getting outside with my kids so much easier.  If you are interested in the service here is my honest review of the first two boxes Keep THiNK OUTSIDE updated on how you create family connection time in your household, by tagging them in your troops activities on social media using @thinkoutsideboxes.
As troop leaders the cost of supplies can be hard. If you have been reading along on the blog and would love to get in on some of these amazing activities THINK OUTSIDE has to offer they now have a bulk subscription offer if you purchase 6 or more boxes shipped to the same address they are only $25 per month/box plan.
To get the bulk pricing, sign up here. 
For 2-5 orders to the same address, you can get them for $29.95 per month/box plan. Use code
FAMILY5
  at
check out here
---
Enjoy every minute being a leader and continue to inspire your girls!