Have your girls ever been interested in robot development? If your looking for ideas to learn how to create and design, build and program, and later present and show off a robot with your girls, you have come to the right place. Using some of these activities below to learn how to use robotics to tackle real world challenges and practice prototyping their own ideas.
Below are a few ideas to get you started.
We partnered with CodeSpeak Labs, which specializes in computer science education for kids, to bring you these resources!
Designing Robots Activity Booklet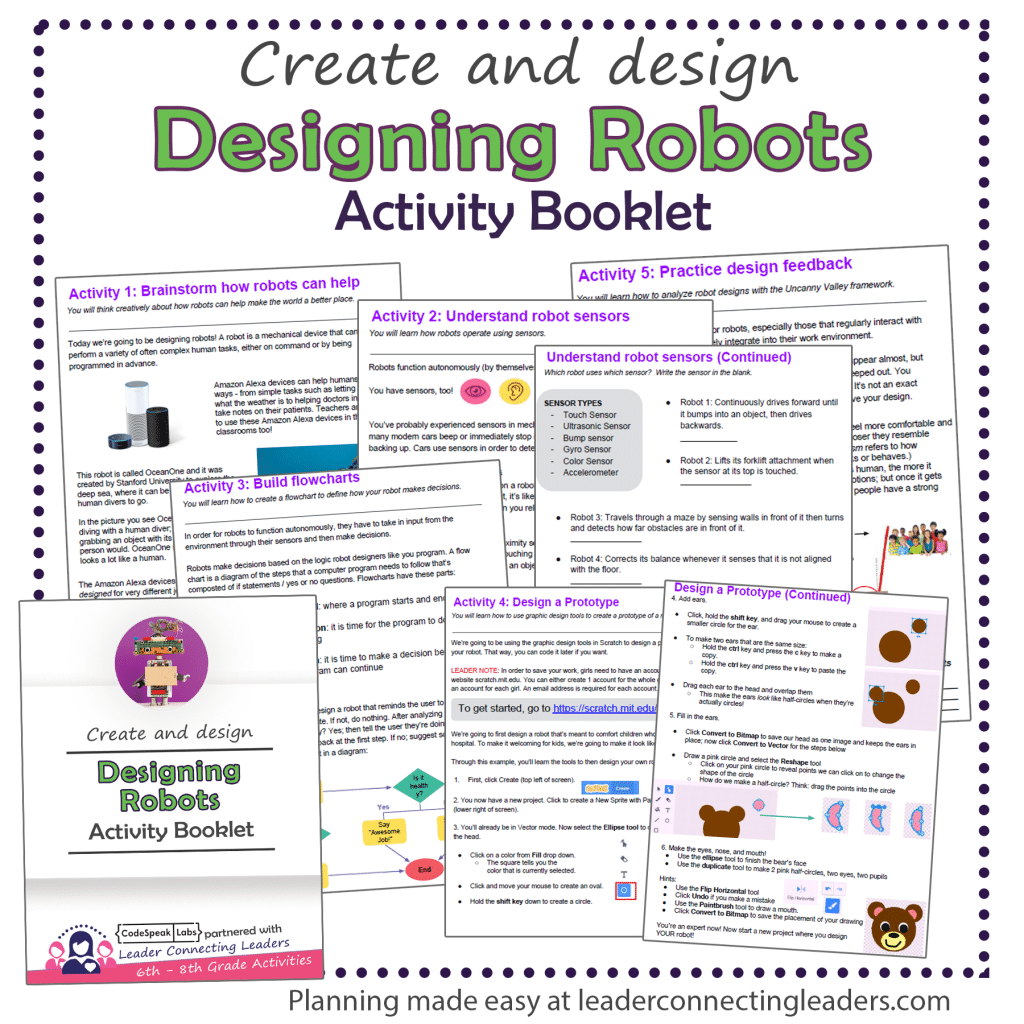 Before jumping into some ideas, do you want to skip all the planning? If so, use this Activity Booklet which include learning about robot sensors, decision-making flowcharts, and rapid prototyping! With step-by-step activities, you can't ask for a easier way to run your meeting. Learn more about this activity booklet and get yours today!
Be sure to also checkout these other activities your girls will love:
Other Fun Robotics Activities
Discuss robot rights
We want girls to be responsible robot designers, and part of that is considering the ethical implications of their designs. Watch this 6 min, thought-provoking video and then discuss.
Here are some questions to help kick things off:
What makes us human?

Do robots and machines deserve rights? What if robots become conscious?

What benefits and risks result when super-intelligent artificial intelligence (AI) create robots that are more intelligent than themselves?
Designing robots is fun, AND it's fodder for philosophical debates!
Prototype with cardboard
Cardboard boxes– particularly in this age of everything being shipped to your home!– are ubiquitous. Have the girls bring different sized cardboard boxes to a meeting, and challenge them to create as many robot prototypes as they can! (Note: remind them that a prototype is just a first, preliminary model of something. It's not supposed to be functional or perfect!)
You can use scotch tape and exacto knives, but to really up your game, you can get this inexpensive Makedo Cardboard Construction toolkit. It includes a "SAFE-SAW" for cutting and special "SCRU"s and a "SCRU-DRIVER" that are made just for this purpose. Here's some prototypes people have created with these tools:
Meet a robot
One of the easiest way to interact with a real robot without buying one is visiting an Apple store. Apple stores host free workshops for students to play with robots like the Sphero, which they also sell in-store.
Even better– you can schedule your own field trip! On their website you can indicate where you're located and request a field trip. It's for K–12 students, lasts 60 to 90 minutes, and is for groups 30 or fewer. If you request a robotics focus, an Apple staff member will facilitate hands-on problems the girls can collaboratively solve with robots.
Build with a microbit
The microbit, which you can get for less than $20 on Amazon, is a cool little invention that teaches some basic robotics concepts in an entertaining way.
It has a LED matrix that can display animated patterns and scrolling text, as well as sensors like an accelerometer that can detect movement. The girls can create motion activated games, since the microbit will respond to being shaked, tilted, etc.
Scratch 3, the latest version of the most popular introductory coding language, recently came out with an extension that enables kids to code a microbit directly from Scratch. And what we really love about it is that unlike many other hardware devices that require a PC or Mac, the microbit will also work with Chromebooks!
If you know the girls will want to go even more in depth, many companies have come up with add-ons that work with the microbit. For example, SparkFun has created this Inventor's Kit where girls get to build with a real breadboard, resistors, and more.
If you don't want to spend the money to buy equipment, our Designing Activity Booklet has step-by-step instructions. All you need is a computer with internet access.
What do we do after your girls complete the activities?
Well of course give them the badge to display proudly on their vest, they earned it!  You could also do a fun patch. Here is a real cute one:

Additionally If you are like many leaders we want to award our girls when they complete something even beyond just the patch. One great way to show achievement is with a certificate. Don't worry you don't have to make them, I found a resource that has done all the work for you and all you have to do is print them and customize the certificates with each girl's name, badge or award earned, date, and troop leader.  Editable certificates perfect for awarding girls after earning a badge.
Related Activities For Multi-level Troops
If you have a multi-level troop you may want to use one of the variations to this program that is geared toward the age of your girls.
K – 1st grade activities:
2nd – 3rd grade activities:
4th – 5th grade activities:
9th – 10th grade activities:
11th – 12th grade activities