Decorative Tote Bag
Difficulty: Easy
Estimate time to make
30
minutes
Great for
1st – 12th
grade girls
Learn how to decorate a tote using potatoes, cookie cutters, and paint. This is a great craft that can then be used to transport things to and from meetings and events. You can learn through directions and pictures and a short video showing a basic star string art with nails being made. Let's get started!
For this craft you will need
Toto bag

Potatoes

Colors

Brush

White cardboard

Knife
How to make craft
Choose the best tote bag for you and plan how you are going to decorate it. For example for this tutorial I choose a cream color tote. I've planned to paint some red hearts and green trees using cookie cutters to make the stamps. Let me show you how I decorated mine.
To create the stamps you will need some molds for cookies for example and a knife. Take the mold and put it inside the potato.
Then, cut the rest of the potato around the mold. Take off that part of the potato so you will leave with the mold and the piece of the potato inside the mold. Take the mold out of the potato and there you have your stamp. Repeat the same procedure until you create all the wanted shapes and stamps needed for your design.
Put some cardboard inside the tote so that it will prevent colors from going on the other side of the bag as well.
Now when you have all your stamps ready, it's time for decorating the bag. Take one of the stamps put some color on it using brush and stamp it on the bag. I've decided to put red colored heart shape on the one side of the bag and green colored tree shape on the other side of the bag. Repeat the same procedure until you finish decorating the bag.
Make sure you will leave it to dry completely before you start using it. Have fun.
Craft Video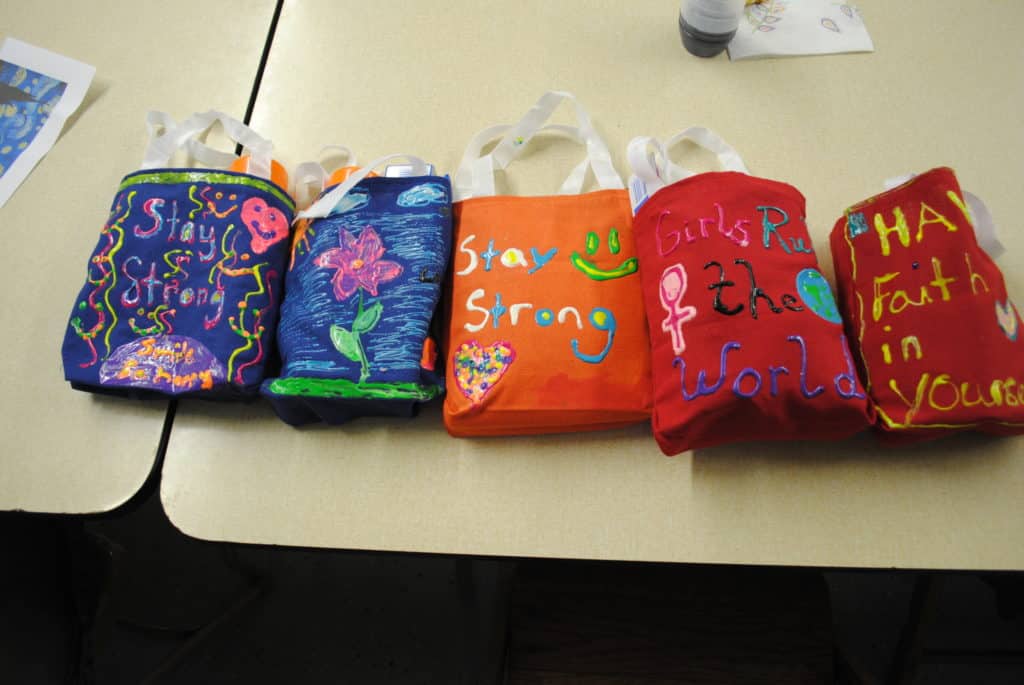 Enjoy every minute being a leader and continue to inspire your girls!