Who doesn't love to paint?  Sometimes it is fun to paint with different material and different mediums. Also who doesn't love to get messy and paint? Today I want to share with you some fun exciting painting ideas to do with your girls. Whether you are looking for more activities for your meetings or working on a badge you are going to love some of these ideas.  Get all your paint and supplies together and have some messy fun with your troop with these fun unique ways to paint a masterpiece.
Painting Activity Booklet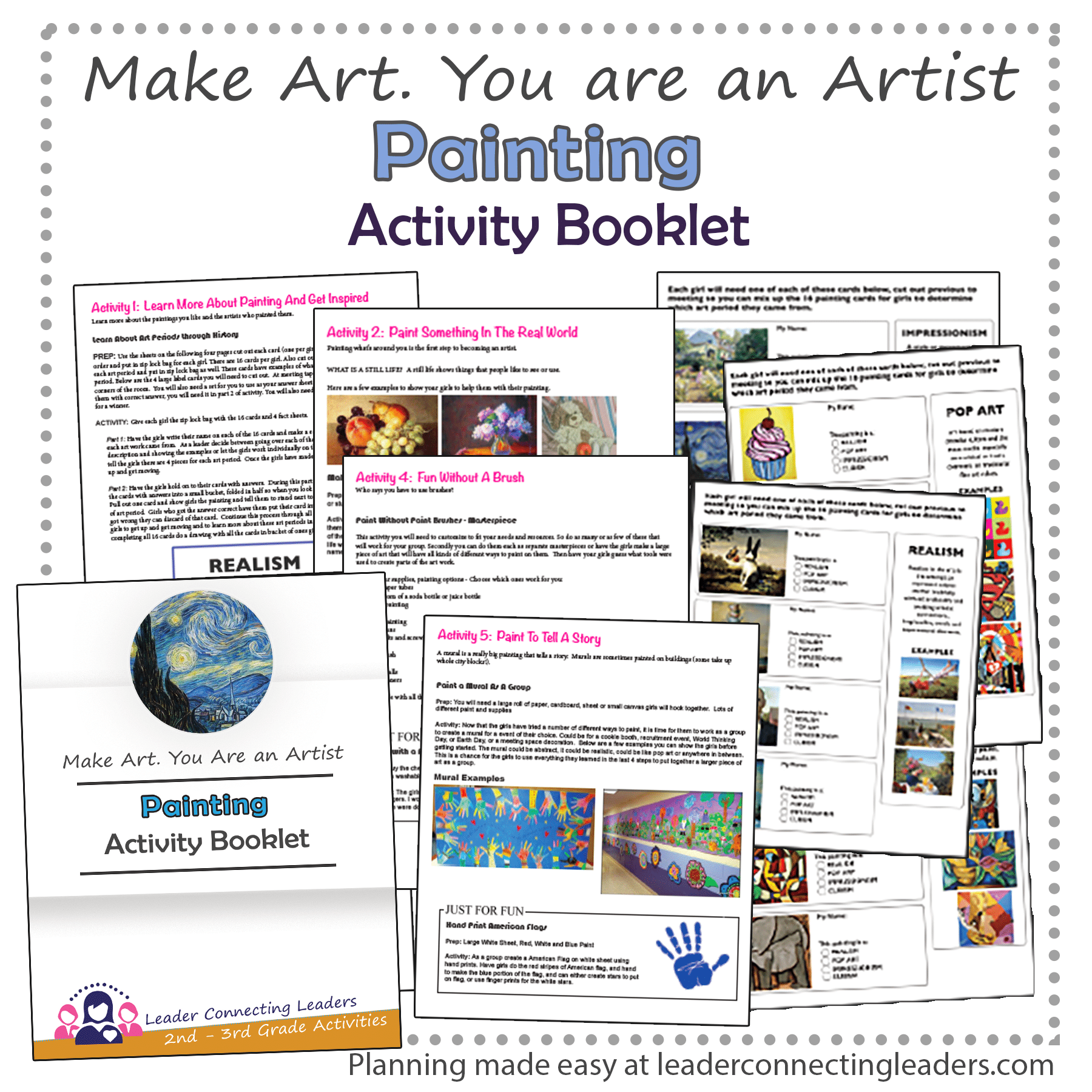 Before jumping into some ideas, do you want to skip all the planning? If so, use this Activity Booklet which will teach the girls about different art periods, while having fun playing a game, they will have fun with painting with pipe cleaners, bubble wrap, plungers and their hands. The girls will take a crack at painting something from the real world, and working as a group putting together a large mural to be used in a place of the girls choosing. Learn more and get yours today!
Paint By Number
The best part of paint by number is that as long as you can recognize numbers anyone can do it and enjoy it.  It is like an activity for 5 – 99 year olds for sure. There are a number of different kind of paint by number sets available you can do with your troop. If you get a large enough canvas you can do the activity together.
I got a really cool tiger from Paint By Number Online and then multiple people can work on different areas of painting you could probably have 4 people working together on this.  Of course if you get a smaller one everyone can do their own. It could be a great activity at the beginning of a meeting while you are waiting for everyone to arrive. Then it's something you can do every meeting till the painting is completed.  This would make a great gift to give to someone or if girls did separately maybe decoration fro their home, just get a frame and showcase on wall.
If you get yours from Paint By Number Online you will have everything you need to get started.  It will have numbered acrylic-based paint set, the pre-printed numbered canvas, 1 paint brush set, and easy to follow instructions.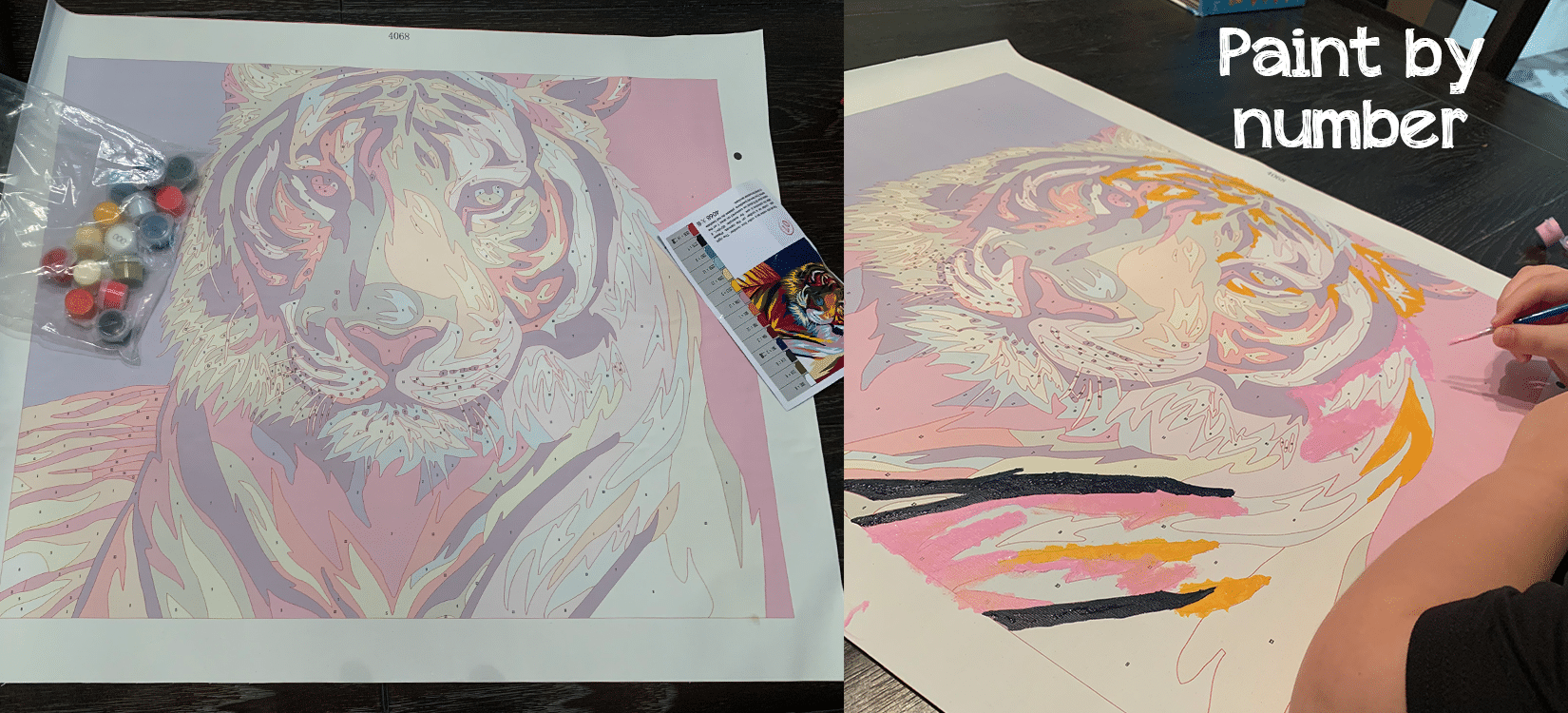 Plunger Painting
This one you can go to dollar tree and buy the cheap $1 plungers, and you can use Tempra washable paint and a large canvas. The girls can take turns adding colors to the canvas using the plungers. I would suggest you have 4 different plungers/colors we had 6 and it was way to many got messy and painting almost turned brown.  We did a huge poster board paper and when we were done hung it on wall at meeting space.
Firework Paint
Take 4 pipe cleaners fold in half then twist the bottom portion to create the handle. Then fan out the pipe cleaners to create the star shape. Tell girls to dip pipe cleaner into paint and stamp away. Stamp in same spot, After lifting pipe cleaner up turn it a little and stamp again. Repeat process with new color.  (Suggestion: RED, WHITE, BLUE)
Bubble Wrap STOMP Painting
Using bubble wrap around each foot and a large poster-board for each girl give each girl two different color paints one for each foot and let them stomp their poster-board with design they like. It is messy but they will love it!
Hand Print Reindeer and Fingerprint Christmas tree
Grab the green colors and brown color paints and let the girls have some fun with finger painting. Let them be creative if they want to make something other than the reindeer or christmas tree.
---
Party Planning Kit Printables
I am so excited to present Strawjenberry's Ultimate Party Kit! Almost everything you need to plan your troop celebration is included in this kit and can be printed at home or through your local office supply store or printer. It all starts with a personalized troop banner (two options to choose from) that includes your troop number. From there you have many different supplies to create the labels, stickers and decorations that you need.
The full color party kit includes:
One personalized banner
Personalized party invitation
Four (4) styles of placecards/treat labels, including one (1) secret bonus design
"I Love Girl Scouts" flower graphic
Fifteen (15) unique and colorful "badges" to use as stickers, cupcake toppers, or decorative elements on any number of party items
A sheet of personalized gift tags
Two (2) square backgrounds to create labels for lollipops. chocolate bars or giftboxes
A set of personalized badges with your girls' names on them (you can also opt for a troop number instead)
Printable 8 1/2 x 11 Promise and Law pages–perfect for framing!
One sheet of twelve (12) blank badges
One sheet of twelve (12) level letters with heart (d, b, j, c, s, a, v)
The sky is the limit for how you can use all of these DIY elements to create the ultimate party. All items are included and have the bright and cheerful design color scheme. Get now for any party, ceremony or event you are planning for your troop.
Organize Your Troop Parties This Year with a 25+ page Leader Planner 
This Leader Planner is from another amazing blogger named Jen her blog is called "I am StrawjenBerry" With the help of Jen I wrote a blog post explaining everything you will get in this planner. It has everything you need to plan your troop year. The planner contains your calendar, meeting planners, rosters and badge trackers in one safe place for when you need it. Read more
Enjoy every minute being a leader and continue to inspire your girls!