What girls do not love playing games? Have fun exploring all kinds of different games from scavenger hunts, mysteries, party games, making up new games and more. In this post I will share with you 6 fun games to play with your troop and also a great activity booklet I put together making planning that much easier.
Below are a few ideas to get you started.
Making Games Activity Booklet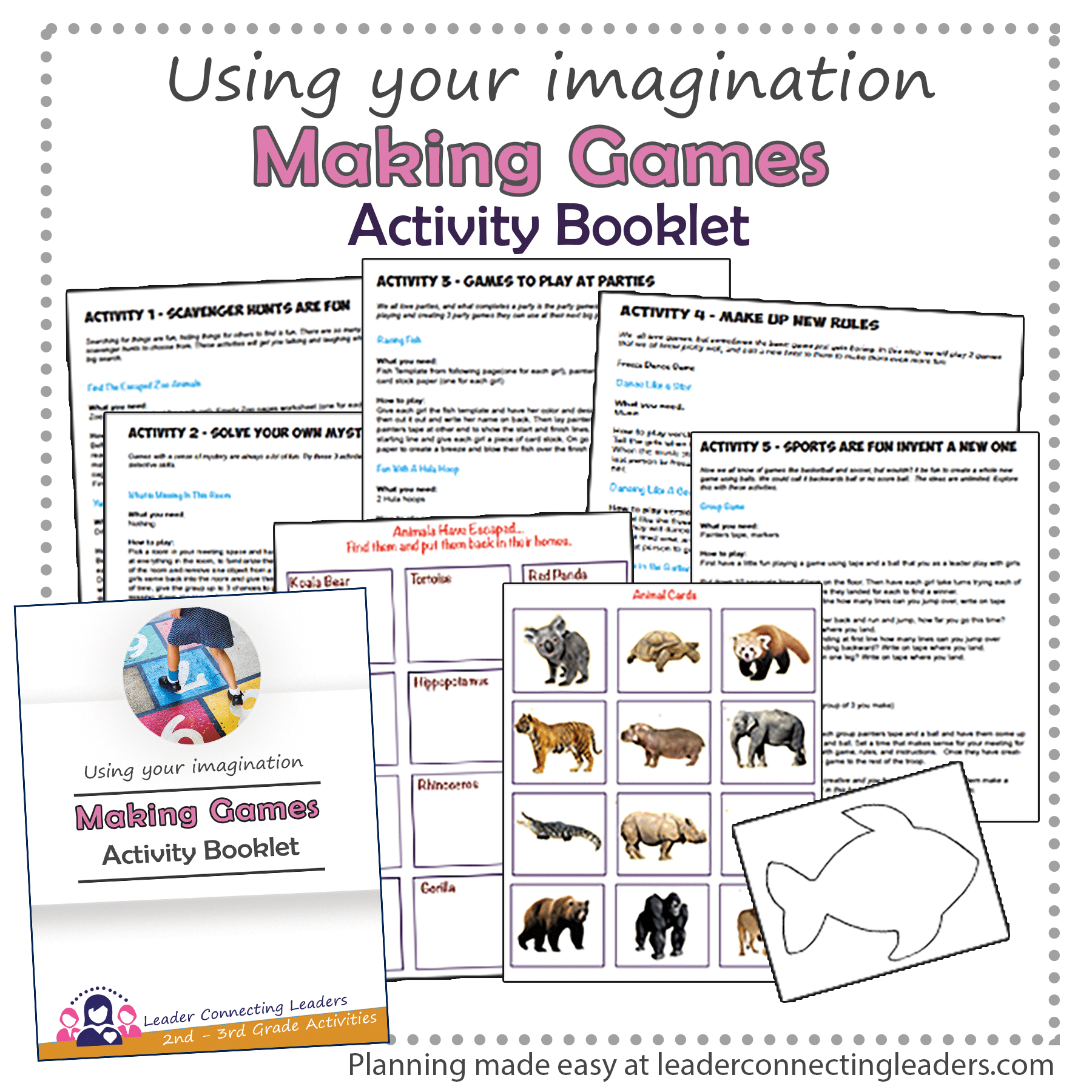 Before jumping into a few ideas, do you want to skip all the planning? If so, use this Activity Booklet with activities that are hands on to keep the girls engaged while learning new and exciting games. No matter how young or old you are we all love games, games on computers, using cards, playing with balls. You can find and make up games with just about anything by using your imagination you will never be bored playing games. With step by step activities, you can't ask for a easier way to run your meeting.With a step by step activities, you can't ask for a easier way to run your meeting. Learn more and get yours today!
Be sure to also checkout these other activities your girls will love:
---
Other Fun Activities To Try
Color Scavenger Hunt
What you need: Paper, markers
How to play: Before meeting on papers write color scavenger hunt on top of paper. Give each girl one of the papers and tell them to use markers and scribble a little spot using that color. Have them add about 10 colors to sheet. Then have them start looking around meeting area for something that matches that color and sit it on their paper. Or write it down if to big to move. First girl to complete first wins.
Here is a variation to this game using a white paper bag. Click here
Spoon Races
What you need: spoons, eggs, or anything else the girls are going to transfer on the spoon.
How to play: This is a game the girls can play that they can either follow directions you give or have them come up with their very own spoon race. Option for rules: Have girls carry their egg from the starting line to end point and back again, then pass it to next girl to repeat the process. If the egg is dropped, the girl must stop and retrieve it. Whichever group gets the egg back and forth the fastest wins.
Dragon Tail Tag
Of course you need a new way to play tag right? Well have your girls line up in row and hold hands. The front girl job is to try to tag the last girl in line which is the dragon tail. Everyone is maneuvering the line around to try to catch the last player while the players in middle are trying to stop the head from getting tail. Do not break the line hold hands whole time. After the head catches tail she moves to back and next girl is head.
150 Games – You Wont Have A Problem Earning badge Now!
Ok so the few ideas above are great, but what if you just want a easy manual with endless games to choose from for your girls. Well I have a book that would be great for you. This is great even beyond this badge. Why? Because you know when your working on a reading or writing badge and girls just look like they need to get up and get moving? Well pull out this book flip to a page and play a fun game
If you don't want to spend the time planning, our Activity Booklet  has step-by-step instructions with activities that don't require any planning other than gathering supplies and printing booklets.
What do we do after your girls complete the activities?
Well of course give them the badge to display proudly on their vest, they earned it!  Additionally If you are like many leaders we want to award our girls when they complete something even beyond just the patch. One great way to show achievement is with a certificate. Don't worry you don't have to make them, I found a resource that has done all the work for you and all you have to do is print them and customize the certificates with each girl's name, badge or award earned, date, and troop leader.  Editable certificates perfect for awarding girls after earning a badge.
---
More Resources For You Beyond This Site
I get asked a lot what other resources are out there on the internet for Leaders.  I have done some digging over the years and have used many of the resources myself. I compiled a list of some great companies that sell patches, programs and also other bloggers offering amazing resources that may fit your needs even better than my site did.   Checkout what I found.