If your looking for ideas to make your meeting more fun while learning how to handle and prevent injuries at your troop meetings and take those skills with them no matter where they are, you have come to the right place. Using some of these activities below to make sure everyone has a understanding of what to do in emergency because no matter how safe you are there is always a chance of injury and it is better to have everyone prepared.
Below are a few ideas to get you started.
Be Prepared To Help Activity Booklet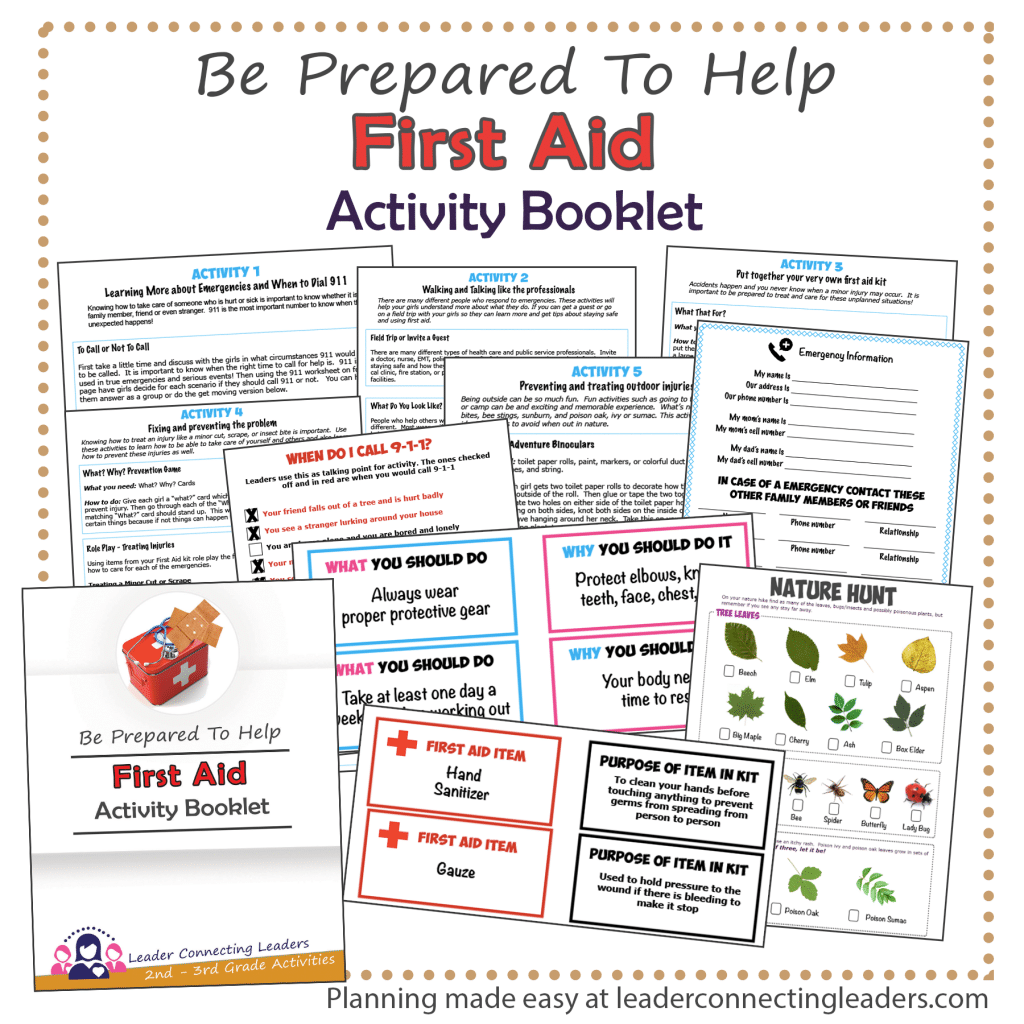 Before jumping into some ideas, do you want to skip all the planning? If so, use this Activity Booklet because when there is an emergency you need to be prepared. This activity booklet will teach girls what to do in an emergency from calling 911, using first aid to treat minor injuries and what to do when outside to prevent injuries all together. Learn more and get yours today!
Be sure to also checkout these other activities your girls will love:
---
Other Fun Activities To Try
Practice First Aid
Teach your girls how to wrap bandages on hands, feet, head and put a arm sling on girls. Have them take turns practicing on each other.
How to DO CPR on Babies and Children
Teach your girls how how to calmly and effectively help a child in an emergency. The video shows you what to do if a child is choking.
First Aid Kit with First Aid Book
Purchase a First Aid kit and First Aid Book for kids, and then spend some time going through the book and role playing how to use the items in the First Aid kit to treat a certain type of injury such as a cut or bee sting. Here is a First Aid kit that contains 117 pieces and then this book which is the Kids' Guide to First Aid: All About Bruises, Burns, Stings, Sprains & Other Ouches.
First Aid Fun Patch with activities

This is a great fun patch to add to your activities. It even includes suggested ideas to do with group to showcase your girls knowledge of first aid. The "First Aid" Fun Patch is the perfect way to demonstrate that your group has learned the basics of First Aid. Get your fun patch from a great website called MakingFriends
If you don't want to spend the time planning, our Activity Booklet has step-by-step instructions with activities that don't require any planning other than gathering supplies and printing booklets.
What do we do after your girls complete the activities?
Well of course give them the badge to display proudly on their vest, they earned it! Additionally If you are like many leaders we want to award our girls when they complete something even beyond just the patch. One great way to show achievement is with a certificate. Don't worry you don't have to make them, I found a resource that has done all the work for you and all you have to do is print them and customize the certificates with each girl's name, badge or award earned, date, and troop leader. Editable certificates perfect for awarding girls after earning a badge.
---
Organize Your Troop Parties This Year with a 25+ page Leader Planner
This Leader Planner is from another amazing blogger named Jen her blog is called "I am StrawjenBerry" With the help of Jen I wrote a blog post explaining everything you will get in this planner. It has everything you need to plan your troop year. The planner contains your calendar, meeting planners, rosters and badge trackers in one safe place for when you need it. Read more
Enjoy every minute being a leader and continue to inspire your girls!