If your looking for ideas to make your meeting more fun while exploring what it means to be patriotic, you have come to the right place. Using some of these activities below to help girls find out what makes our communities special and what we do to celebrate all the people in them.
Below are a few ideas to get you started.
Celebrating Community Activity Booklet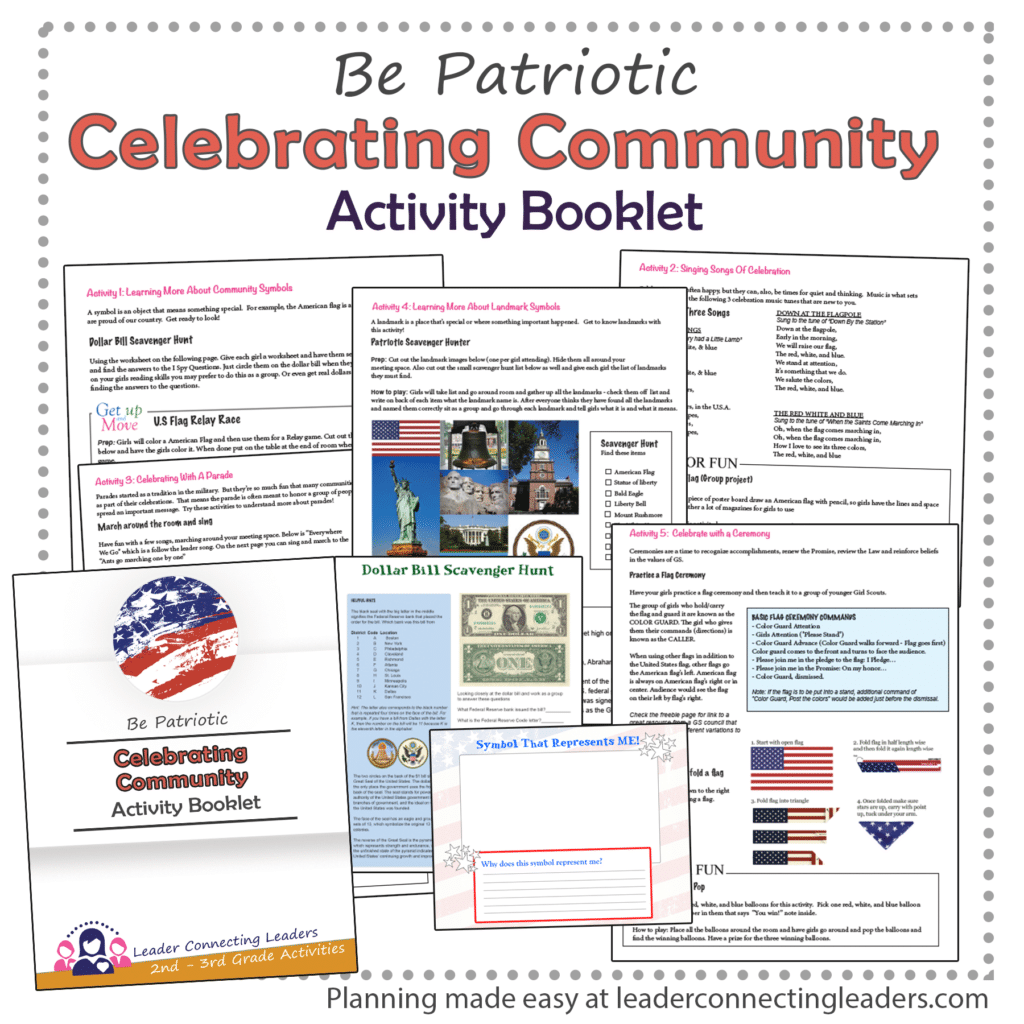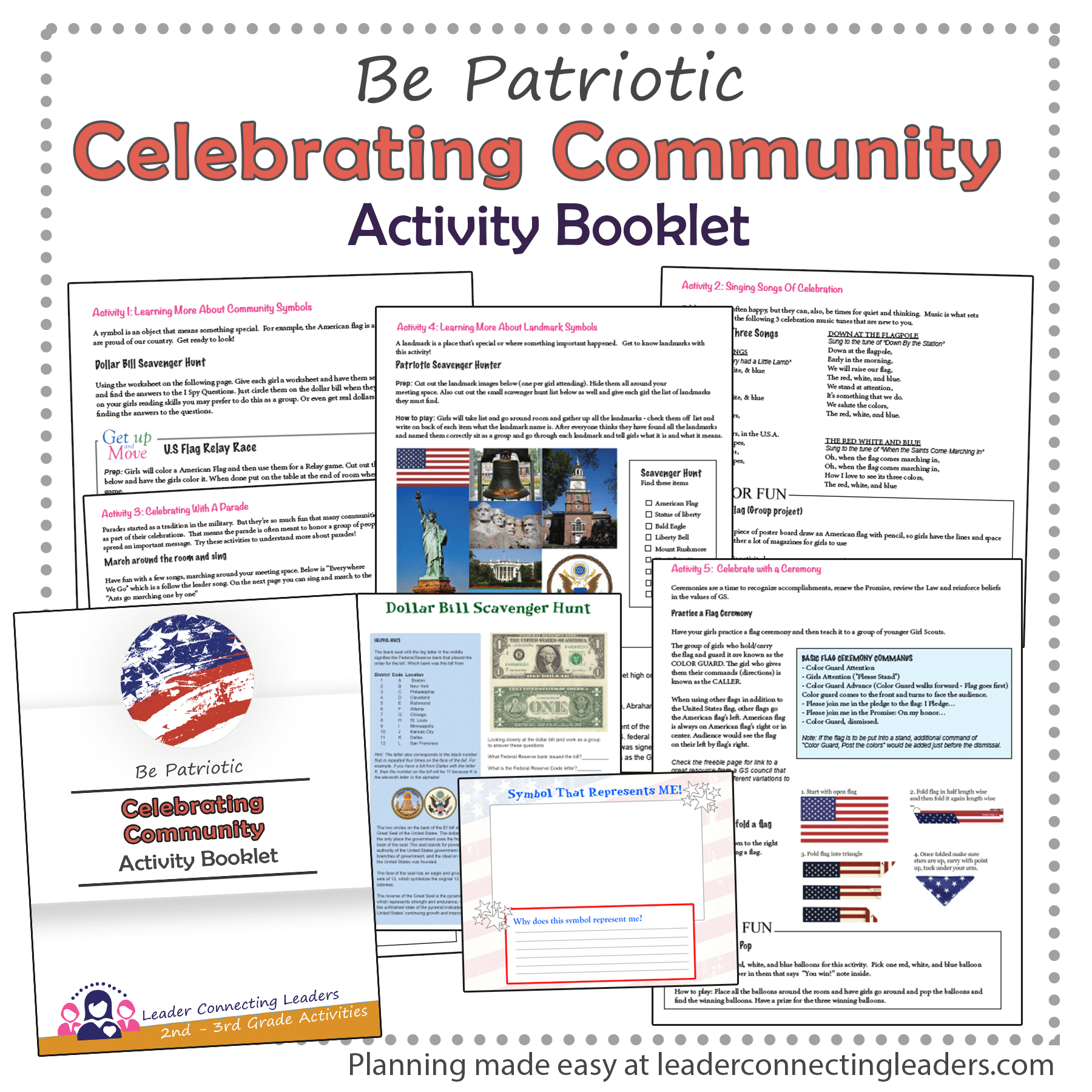 Before jumping into some ideas, do you want to skip all the planning? If so, use this Activity Booklet with activities that are hands on to keep the girls engaged while learning more about symbols in their community, learn new songs, how to fold a flag, there are crafts and a number of interactive worksheets and added games to reinforce the subject. You will also get a copy of the freebie ideas you see in this post as well.With step by step activities, you can't ask for a easier way to run your meeting. Learn more and get yours today!
Be sure to also checkout these other activities your girls will love:
---
Other Fun Activities To Try
Thank our Soldiers – Service Project
Since we are celebrating our community what better way to show our American pride then to have girls make thank you cards for our active and/or retired soldiers. You can find a local organization that works with the Army to send the cards out to Soldiers. There are a lot of things you can do. Have your girls write a letter, have them color a picture. You can get patriotic stamps and have girls design a card. Here is a great set with 6 different stamps: Patriotic Stampers
I found this great idea of using handprints off another persons blog: makeoverandmotherhood.com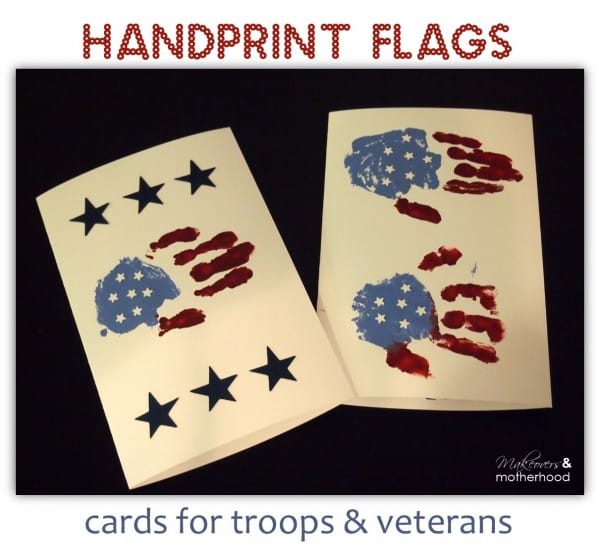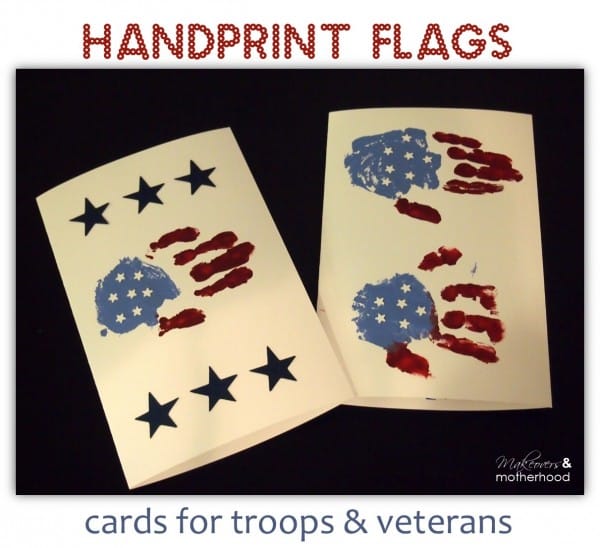 Patriotic Snack Ideas
Why not continue the celebration all the way to snack time.
Red white and blue – popcorn snack
Red white and blue – Fruit Mixture (little healthier choice)
Learn about State Symbols
Did you know every state in the United States has different symbols. I bet you don't know them all even as a adult. Use this resource as a starting point to teach your girls about the different state symbols: http://www.kidzone.ws/geography/usa/
Make a banner and if possible walk in a parade
Make a reusable banner to walk in parades with your girls. If you create the banner to have your troop number in middle big, then add velco pieces along outside. This will allow the girls to make custom things to add to banner for whatever holiday you happen to be walking in.
Example girls could make American flags and red, white and blue decorations to velcro on for Memorial Day Parade. If its Christmas make ornaments or Christmas trees to velcro on.
Flag Ceremonies
Flag Ceremonies can be tricky depending on the type you will be performing. I found a great resource that breaks down every type of flag ceremony there is as well as some great variations to a ceremony. Check it out here
If you don't want to spend the time planning, our Activity Booklet has step-by-step instructions with activities that don't require any planning other than gathering supplies and printing booklets.
When do I fly a flag?
The American Flag is an idolized symbol of the United States and should be properly displayed on all days when weather permits, especially on designated flag flying days. Never miss an important flag flying holiday by following the dates below: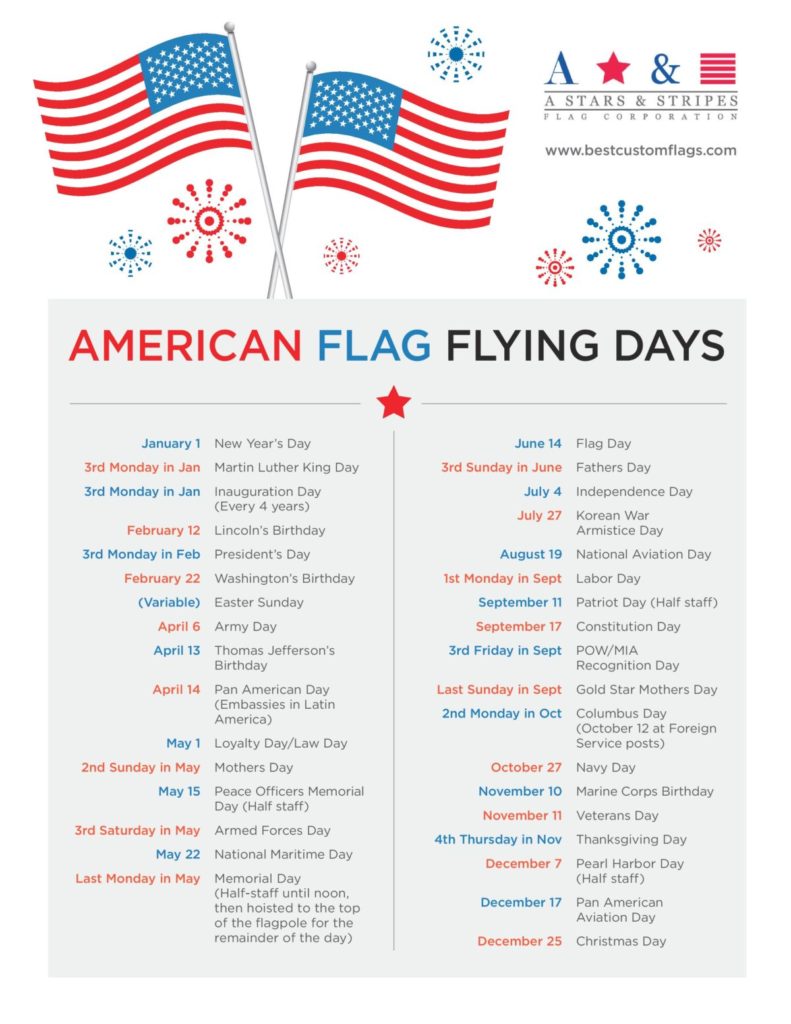 What do we do after your girls complete the activities?
Well of course give them the badge to display proudly on their vest, they earned it!  Additionally If you are like many leaders we want to award our girls when they complete something even beyond just the patch. One great way to show achievement is with a certificate. Don't worry you don't have to make them, I found a resource that has done all the work for you and all you have to do is print them and customize the certificates with each girl's name, badge or award earned, date, and troop leader.  Editable c

ertificates perfect for awarding girls after earning a badge.
More Resources For You Beyond This Site
I get asked a lot what other resources are out there on the internet for Leaders.  I have done some digging over the years and have used many of the resources myself. I compiled a list of some great companies that sell patches, programs and also other bloggers offering amazing resources that may fit your needs even better than my site did.   Checkout what I found.
Enjoy every minute being a leader and continue to inspire your girls!