Are you looking for a fun party idea to have with your troop? Today's post I will share with you a few ideas on how to throw a St. Patrick's Day party with your troop. Complete with games, crafts, decorations, and fun patches to give out at the end.
St. Patrick's Day Bingo, Card and 4 Corner Game Activity Booklet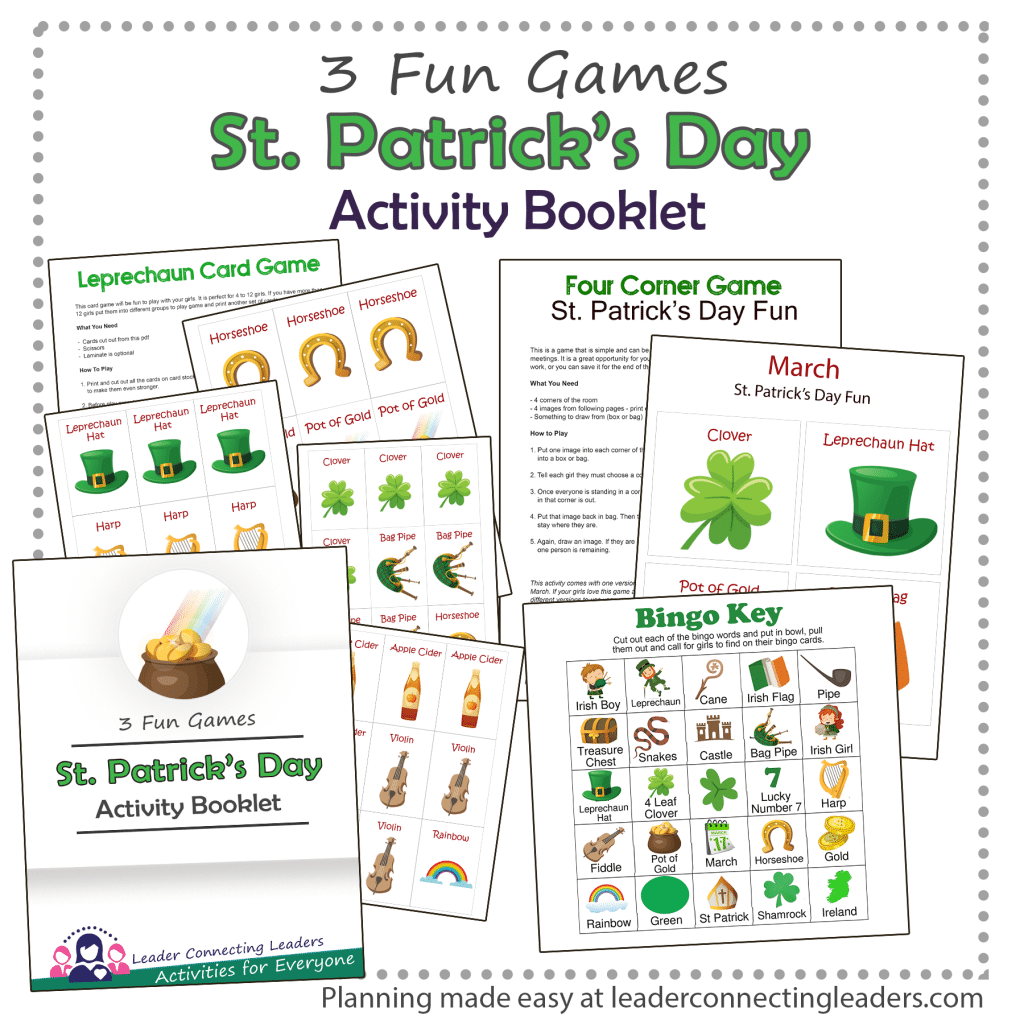 You will enjoy playing three fun games with your girls. With the 4 corner game your girls will be running from corner to corner burning off a lot of energy. Then play the card game included in the packet where the girls will use their minds to find and match cards. Lastly the bingo game which no matter your age everyone loves playing bingo. Learn more and get your game booklet to play with your girls.
Game Ideas for St. Patrick's Day Party
Shamrock Shuffle 
What you need:
Shamrock cut outs and music
How to play: Very similar to how you would play musical chairs but instead cut out large shamrocks and lay on floor play music and have girls dance around when music stops have them stand on a shamrock, make sure there is always one less shamrock then there are girls. Girl not standing on shamrock when music ends is out continue till there is only one girl left.
Leprechaun Gold Coin Toss
What you need: Gold coins, small pots that look like Leprechaun pots
How to play: Line the pots up on the floor a certain distance from girls. Give each girl the coins and have them attempt to throw into the pots. See who can get the most coins into their pots in a set time. After they throw them all have them go pick up the ones they missed and go back to line and try again. Winner is girl with most coins in her pot at end of set time.
Learn about Ireland Bingo Game
There are 24 different Ireland facts your girls will learn about playing this bingo game. When you draw a fact listed on the bingo cards you can also tell your girls a little bit about that what each of them mean. After one game play again and have girls tell you what each thing means. Learn more and get the game for your troop.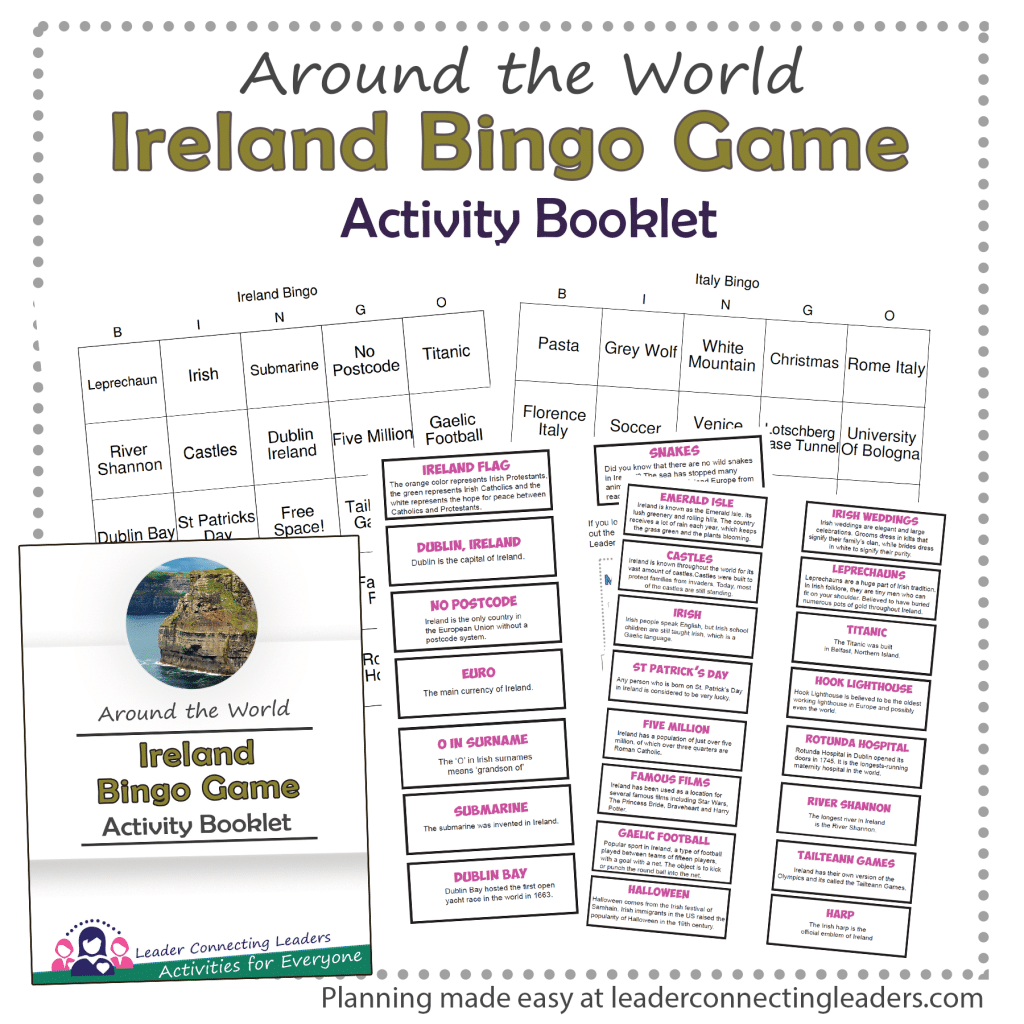 Craft Idea: Shamrock Marshmallow Painting

This idea comes from a great website full of free kids crafts.
For added fun at your St Patrick's Day party make a Shamrock Marshmallow painting that will be as unique as each girl that makes them. Click here for all the directions
Just For Fun Added Idea
When we had our St. Patrick's Day party we combine ours with a Easter Party so there was green eggs and green shamrocks all around. We also had everyone dress in green. We took group shots of everyone with green shamrocks. You could do the whole group or like we did broke each level into their own pictures to remember the event even the leaders and parents got involved.

Decorations / Party Favors
A few things you have to have at your St. Patricks Day party is lots of things green of course. Here are a few links to some bulk sets you could get for your party
St. Patrick's Day Fun Patch Ideas
After the party is over give your girls a fun patch to put on the back of their vest to remember the event.  Here are two that I found that are super adorable.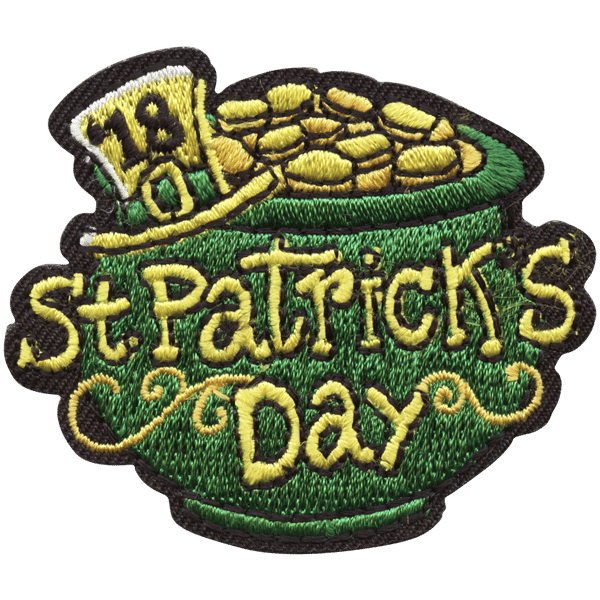 Get your 2″ St Patrick's Day Embroidered Fun Patch Now
Get this 2″St Patrick's Day Embroidered Fun Patch Now
Pinterest Ideas
Lastly if you need more ideas beyond what I have shared here, I have a Pinterest board that I have pinned a pile of ideas I have found all over the web that may help with your planning as well. Be sure to follow me on Pinterest for a pile of great ideas to use with your troop.   Click here for St. Patrick's Day ideas. 
---
Organize Your Troop Parties This Year with a 25+ page Leader Planner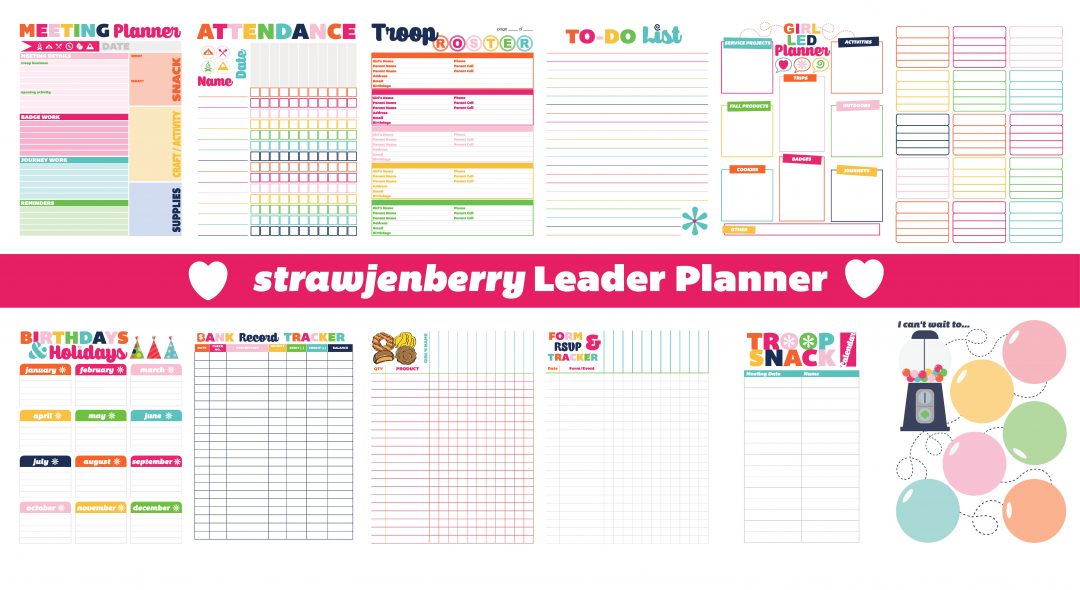 This Leader Planner is from another amazing blogger named Jen her blog is called "I am StrawjenBerry" With the help of Jen I wrote a blog post explaining everything you will get in this planner. It has everything you need to plan your troop year. The planner contains your calendar, meeting planners, rosters and badge trackers in one safe place for when you need it.   Read more