Are you looking for fun ways to celebrate Valentine's Day with your girls? In this post I am sharing some of the cute ideas I have done with my troop and a few additional ideas I have found on the web that I know you will all love.
Valentine Game Activity Booklet

This activity booklet has 3 very fun games all focused on Valentine's Day. Learn more and get yours today!
I Have… Who Has…Valentine's Day Card Game
This is an easy-to-play game that is fun for a Valentine's Day Party.  Girls will match up the answers on their cards with questions on other girls cards. Learn more and get yours today!
Valentine's Day Party Activity Booklet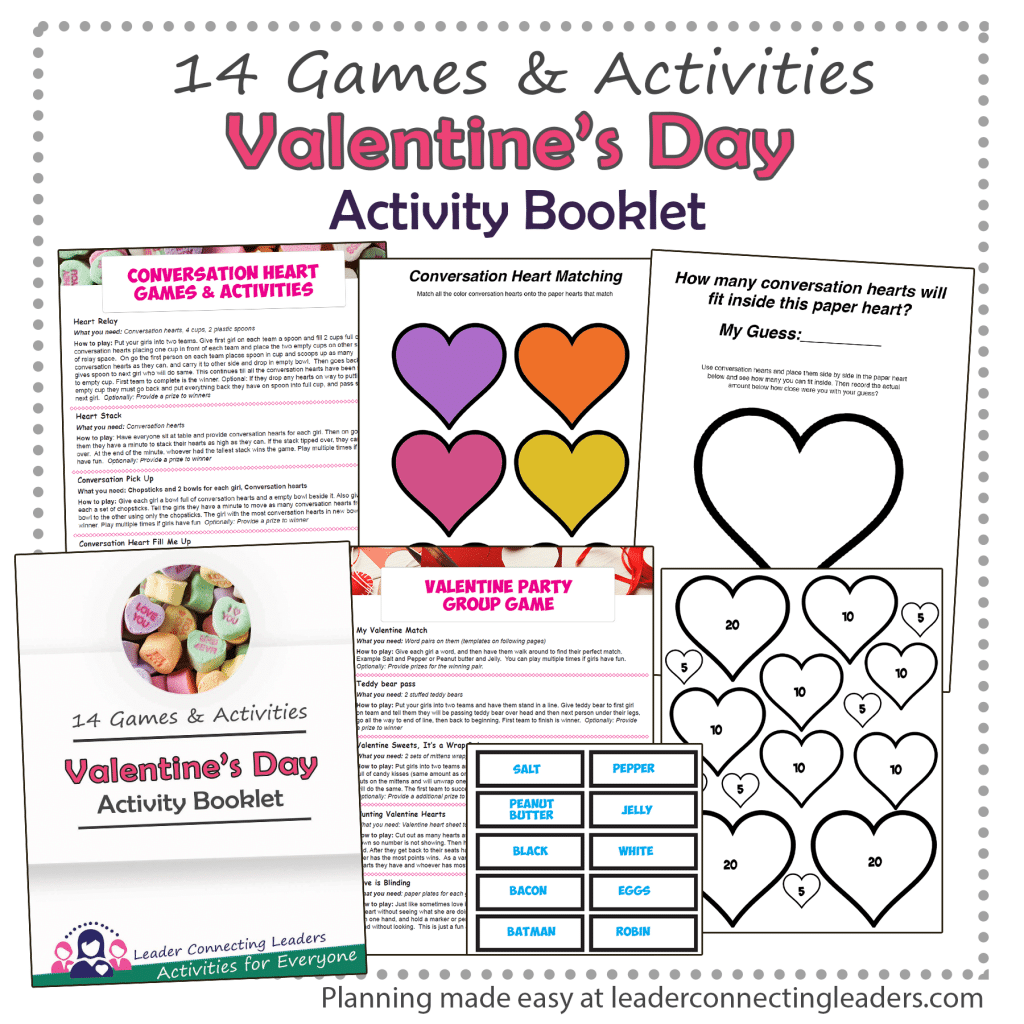 This is a activity booklet you can use for a fun Valentine Day Party with your Troop. Since Valentine's Day falls on February 14th this booklet contains 14 games and activities to use at your party.  It is a great resource for every grade level so great for multi-level troops.
Learn more and get yours today!
---
Valentine's Day Activities
Word Search Puzzles – Valentine Theme
Add a little fun to your meeting with a quick word search game with a Valentine theme. There are many free versions all over the web. This website here has gathered 31 of the best free Valentine printables out there. Check it out here and print one for your meeting. You could make it a contest to see who can find all the words first.
Valentine Escape Room
Great for virtual meetings or in person if you have the internet.  Another leader shared this amazing idea on Facebook and thought I should pay it forward.  It is a Valentine themed escape room that is recommended for K – 5th grade girls and will take about 25 minutes. Have fun with the escape room here. 
Dice Rolling Game
All you will need for this game is a set of dice, something to cover spaces and the free printable you can find here. Each girl will take turns rolling the dice and covering the hearts as they roll them. First person to fill wins. Check it out here and print the game for your meeting.
Valentine Left/Right Game 
Before playing you will need to wrap several prizes, they could be as simple as candy bars. Have girls sit in a circle. Hand several wrapped prizes to girls in the circle. The leader reads the story. Every time the girls hear LEFT in the story, they pass the prize to the LEFT. Every time they hear RIGHT in the story, they pass the prize to the RIGHT. Whoever is holding a prize when the story finishes, that person gets the prize! Click here to get the story to use for this activity. 
Valentine's Day Bean Bag Toss Game
Depending on your girls age they may enjoy this Bean Bag toss game, you can set it up like a challenge who can get the most bean bags in is winner. Click here to get yours
Teddy Bear Craft
A fun craft your girls are sure to enjoy is making a teddy bear out of tissue paper. You will need to cut out the shape of teddy bears on heavy card stock we used red so girls could then make it have heart in middle and then have lots of tissue paper in brown and pink colors and glue. The girls can then crumble the tissue paper in different ways to create a 3D teddy bear.
Valentine's Day Fun Patch Ideas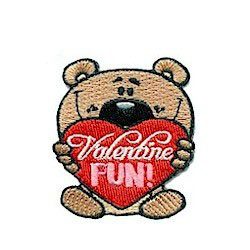 ---
Before you go…
If you are planning Valentine's day you are probably thinking about World Thinking Day as well. I have some great resources to help planning this event as well. Check out these blog post and activity booklets to make planning your event easy!
Enjoy every minute being a leader and continue to inspire your girls!
Purchase this wonderful illustrated book from Amazon.