If your looking for ideas to make your meeting more fun while teaching your girls how to be responsible for what I say and do then you have come to the right place. Using some of these activities below to help your girls understand how to never say bad things about someone that would hurt their feelings, and always try to be responsible, and do what others ask of you.
I recommend the following activities that will reinforce being responsible for what I say and do:
Practice with activities
Be creative with a craft
Get moving with a game
Put into action with a service project or real life experience.
Optionally: If I have a song that related, sing that as well.
Below are a few ideas to get you started.
Responsible for What I Say and Do Activity Booklet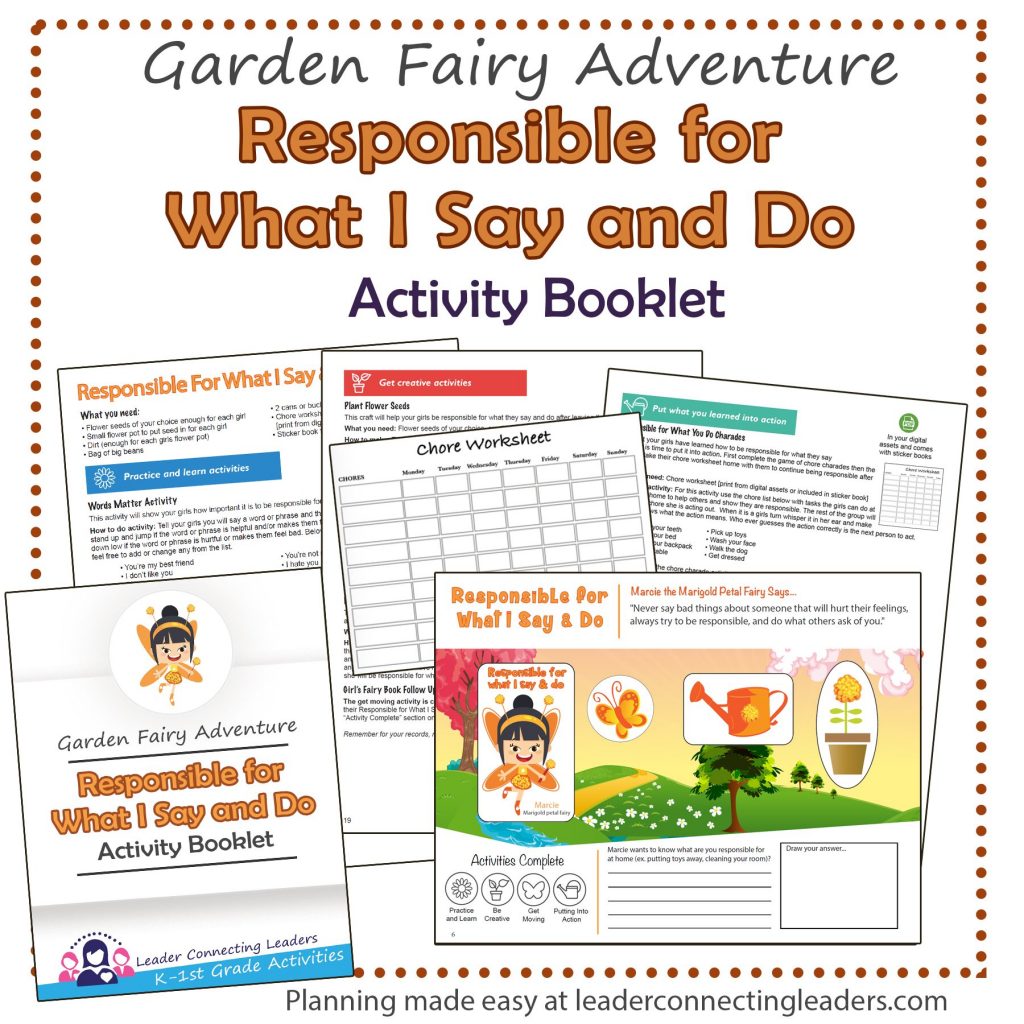 Do you want to skip all the planning? If so, use the Responsible for What I Say and Do Activity booklet and take your girls on a garden adventure helping a family of fairies on a mission to teach the world how to live by very important values. Using the leader booklet and the girl's activity booklet your girls will complete lots of activities to help their fairy friends plant flowers, water gardens, and learn how to put important values to live by into action.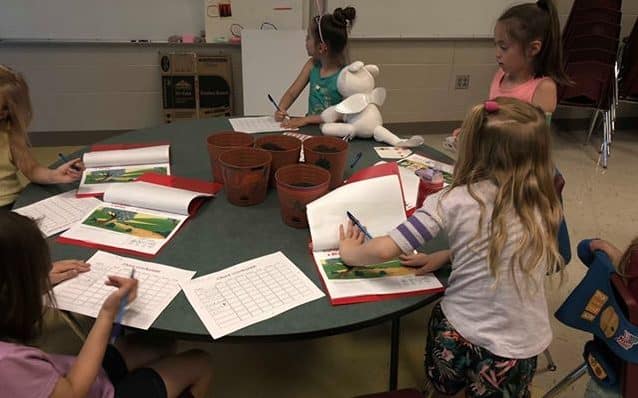 With step-by-step activities planned for you all you have to do is gather the supplies listed, you can't ask for a easier way to run your meeting. Learn more about the activities included and get yours today!
---
Other Fun Activities To Try
Watch what you say – Words Can Hurt
Give each girl a copy of a coloring page and have them color the picture. Then tell the girls to crumble the picture into a ball, and then smooth it out.  Tell them to look at all the wrinkles left on the paper. Tell the girls what it means to say something bad or mean to someone will leave a mark, it wont go away. Some marks don't show others do. A girl scouts job is to be responsible and not say things that might hurt someone on the inside. Then have a discussion about what words hurt and what words are nice.
Responsible and Respectful Puzzle Game
In this fun game the girls will start off by laying out the 20 pieces of the puzzle, each with a question designed to stimulate conversation between girls. As each question is answered, the piece is turned over and the girls will be putting puzzle together.  When the puzzle is completed, the girls must search the pictures to find the animals being friendly and respectful.  Who is Being Responsible and Respectful? Friendship Farm Puzzle Game
Few Pinterest Finds you will love too…
One of my favorite sites to visit is Using Resources Wisely. She is another amazing resource for you all to be sure to follow.  She shared 10 great ideas to help you earn the Responsible for What I Say and Do Petal. Check them out
Learn a Poem that will teach girls about manners
MANNERS POEM
We say, "Thank you."
We say, "Please."
We don't interrupt or tease.
We don't argue. We don't fuss.
We listen when folks talk to us.
We share our toys and take our turn.
Good manners aren't too hard to learn.
It's really easy, when you find.
Good manners means
JUST BEING KIND!
What Do You Stand For? Character Building Card Game (Game)
If you have read some of the other blog post for petal ideas I share this over and over, because its so great. I found this on amazon a while back and let me tell you its a great way to get your girls talking, it has amazing scenarios to work through, there are many cards that will fit into the other petals as well, so make sure to pick out the ones you want for the specific petal you are working on. GWhat Do You Stand For? Character Building Card Game
What do we do after your girls complete the activities?
Well of course give them the badge to display proudly on their vest, they earned it!  Additionally If you are like many leaders we want to award our girls when they complete something even beyond just the patch. One great way to show achievement is with a certificate. Don't worry you don't have to make them, I found a resource that has done all the work for you and all you have to do is print them and customize the certificates with each girl's name, badge or award earned, date, and troop leader.  Editable certificates perfect for awarding girls after earning a badge.
---
Teach your girls about integrity and values
This beautifully illustrated book empowers kids to be nice and kind human beings.  'The Adventures To Me ' is an endearing story of a little elephant on a journey to becoming the best version of "me".
Equipped with nothing other than a colorful scooter, a backpack, and a map, the little elephant starts their "Adventures to Me". Along the way, meets new friends of all different backgrounds as encounters challenges, has to make choices, and learns lessons along the way.
The road to discovering the best version of "me" is paved with lessons about confidence, truthfulness, resilience and strength, respect, kindness, responsibility, accepting differences, using what you have, dreaming big, setting goals, and looking ahead towards the future with a positive mindset.
For the little elephant, the journey of life is full of a wealth of possibilities –– ready to embark on a beautiful journey alongside our elephant friend?
Learn about the choices we all make to be good people and explore the great "Adventures To Me"!