Fall Season brings many opportunities for fall festivals, halloween parties, fall product sales and more. While we all love earning badges to put on the front of our vest. It is just as much fun to participate in events, activities, and programs to earn fun patches for the back of our vest.
Today's Fun Patch Post will cover everything for your October and the rest of your fall fun needs and are all from a amazing company called Advantage Emblem and Screen Printing.
Top Fall Product Seller Patch
Many councils have a fall product sales. The Fall Product Rally introduces girls to the Fall Product Program. It is usually a social event for girls in September. It is a great way to meet other members, get excited for GS year and learn about products. Doing SWAPS at this event is a great way to get to know each other. Here is some great ideas to get you started making SWAPS
After you have had some fun meeting new girls and learning about the fall products be sure to get the top fall product seller this cute patch:  Get your Top Fall Product Seller Patch Now
Leaf Raking Fun Patch
Leaf raking doesn't just have to be a chore. Have fun raking the leaf's at your meeting place or go the extra step and rake your neighbors!
Added fun: What is more fun then being friendly and helpful and raking your neighbors leaves, then to jump in the leaves and have fun throwing leave in the air before cleaning them all up into bags. Make a day of it.
Hayride Fun Patch
Are your Girl Scouts going to go on a fun Hayride this fall season? This patch is the perfect way to remember the ride!
For added fun: Add music to the hayride, bring some of your favorite Girl Scout songs along with you and the girls can entertain the other riders with some good old fashion music.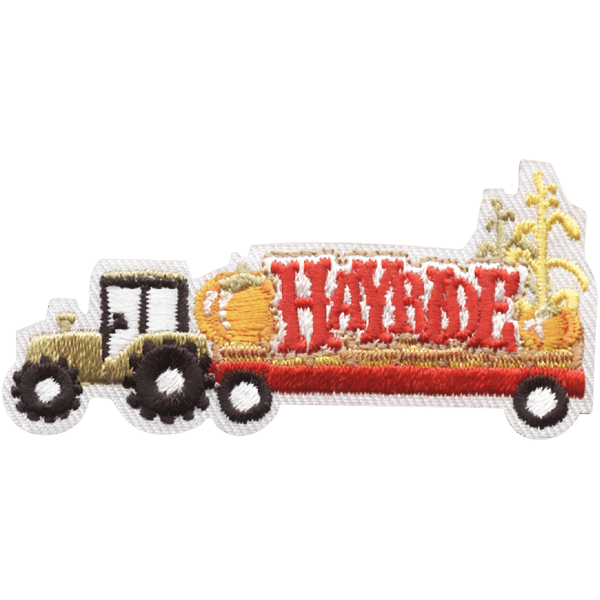 Pumpkin Patch Fun Patch
Are you planning a trip to a pumpkin patch? Why not remember the event with this cute pumpkin patch fun patch.
For added fun: Bring along some no mess pumpkin decorating kits so girls can pick out their own pumpkin and decorate it. Here is a funny foam craft kit that makes 12: Click here

Pumpkin Patch Fun Patch
Scarecrow Making Fun Patch
Gather all your supplies to make a scarecrow and have your girls work together to make a custom scarecrow. You could display them all in the front yard of your meeting place. Or have them compete against each other for best scarecrow and just take pictures and take apart after you are done.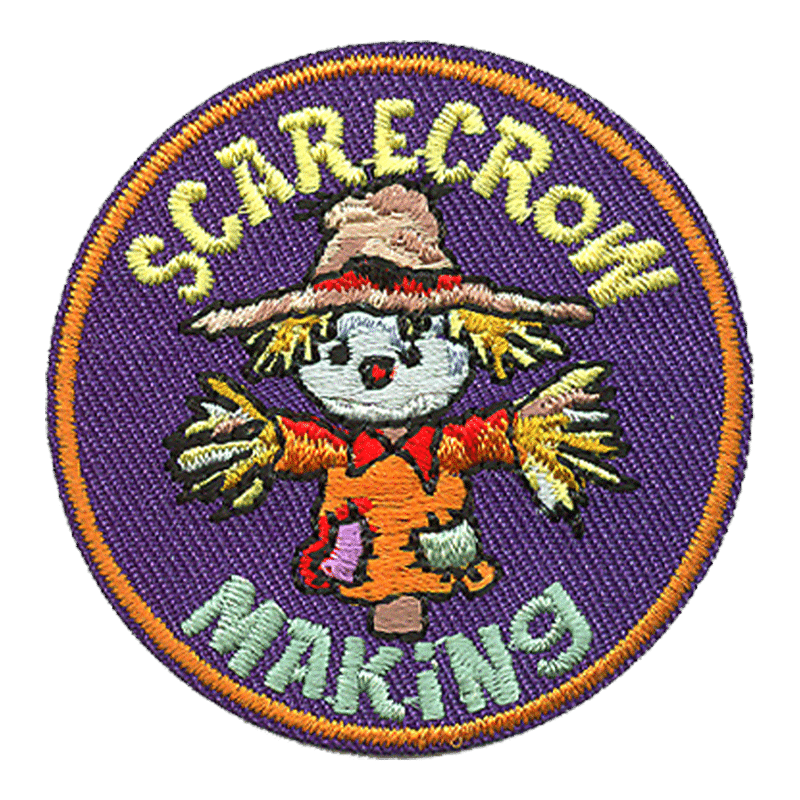 If you love patches there are a lot more where these came from….
Go to www.advantageemblem.com to view some of the other 4800 Fun Patches and Pins from Advantage Emblem and Screen Printing. Fun Patches and Pins are in-stock and ready for same day shipping. Free standard shipping is available on all Fun Patch or Pin orders. Fun Patch designs of the same size can be mixed to achieve the best quantity discount. Order the free 2017-2018 Big Advantage Catalog. All Fun Patches in the catalog feature iron-on backing. In addition to Fun Patches, Advantage Emblem and Screen Printing specializes in custom embroidered emblems and screen printed, embroidered and laser-appliqued products.
---
Organize Troops Events and Fun Patches with a 25+ page Leader Planner 
This Leader Planner is from another amazing blogger named Jen her blog is called "I am StrawjenBerry" With the help of Jen I wrote a blog post explaining everything you will get in this planner. It has everything you need to plan your troop year. The planner contains your calendar, meeting planners, rosters and badge trackers in one safe place for when you need it.   Read more
Enjoy every minute being a leader and continue to inspire your girls!