It's getting warm outside and you know what that means. It's time to enjoy some fun outdoor activities with your scout troop.
When the weather is nice there's no limit to what you can do outside, but how can you even get started with your planning sessions when there are so many options? As a scout leader, you're in charge, but how can you make sure that activities are fun for everyone?
We want to give you some inspiration by sharing some of our favorite outdoor activities for kids. Whether you're looking for something on the more educational end of things, or you want to provide fun and relaxation to your troop, we have something for all scout troops. So Throw on a comfy coat, lace-up some sleek suede sneakers, and get ready to make the most of what winter throws your family's way this season!
Keep reading to learn more!
Fun outdoor activities: Outdoor Art
1. Hiking and Camping
If you're in an area with an abundance of natural spaces, you're in luck. Hiking and camping season is upon us.
Not everyone is up for camping. Younger scouts, or scouts who are uncomfortable spending too much time away from home, may not want a full camping experience. That's okay! That's why hiking is another great option.
If you do choose to camp, this is a great opportunity to provide some "survival" education. While your scouts won't be Bear Grylls, they can learn how to put up a tent, store food while in the outdoors, and even start a campfire.
Bring some marshmallows or easy camping food and come up with a few camp songs to teach your scouts. Even setting up camp in a yard will be a lot of fun.
If staying overnight isn't an option, a great hike is just as good. Take your scouts through the woods to give them some great exercise and let them get in touch with nature.
More Ideas: 10 Tips and ideas for planning a camping trip with your troop
Hiking Activity Booklet: Going on a hike is fun you can sing songs, go on a scavenger hunt, and eat snacks. Before going on your hike use some of these activities in this booklet to learn what you need to get out there and have fun and then enjoy a hike with your troop.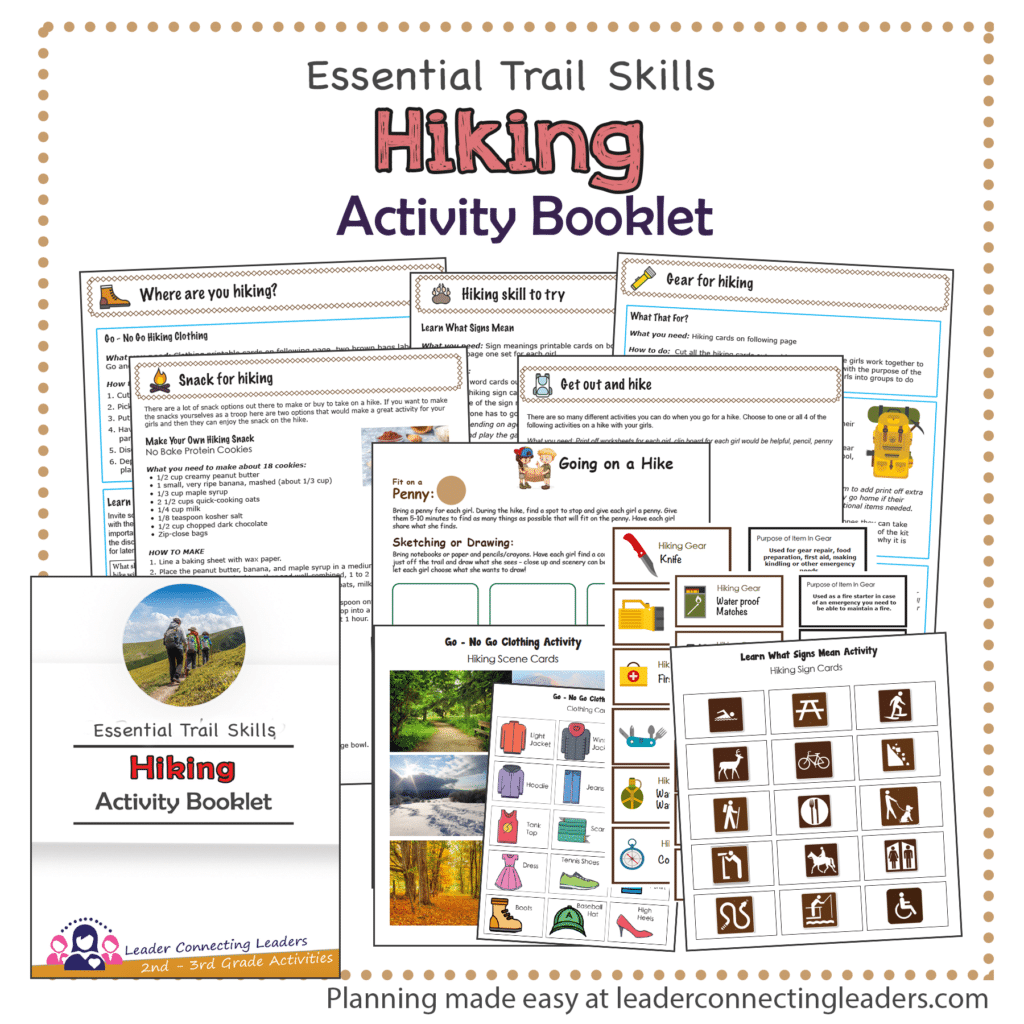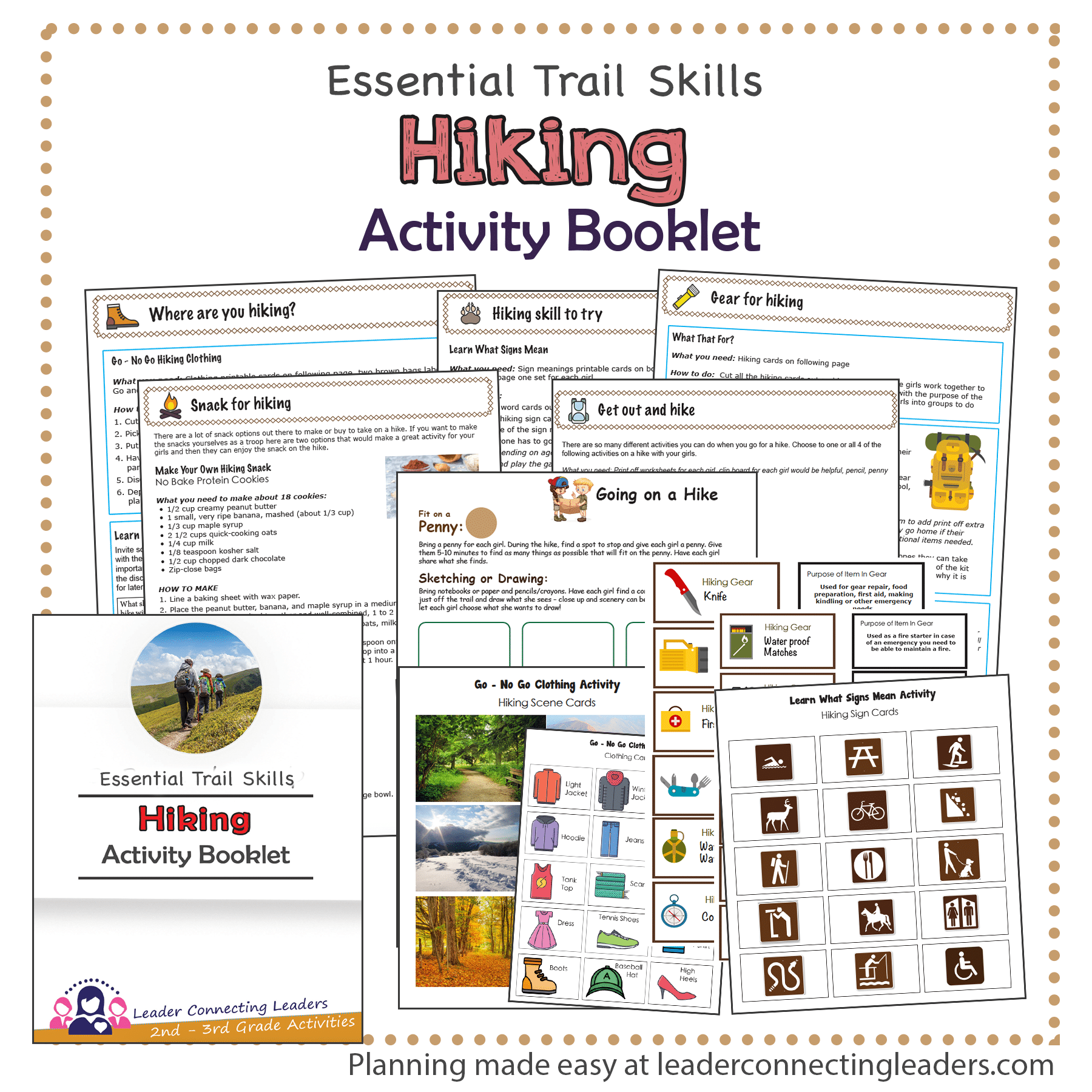 2. Scavenger Hunts
Speaking of hiking, scavenger hunts are a great way to add a bit of extra fun and competition to any hike. Here are some ideas for your next hike
Make lists of different things that your scouts might see on an average hike. These can include plants, animals, markings, or landmarks. You can be as specific as you like, but the more specific you are, the harder the hunt will be.
For example, you could put "a bird" on the list for a simple find, or "a robin" for something more challenging. Have scouts take photos of what they see so they don't disrupt nature.
For an added challenge, don't use pictures. Your scouts have to identify the things that they're hunting based on background knowledge and critical thinking!
Let them work in teams so that they can develop team-building skills.
3. Capture the Flag
Capture the flag is another great way to help your scouts develop and use teamwork to solve problems.
Capture the flag is an age-old game for scouts and non-scouts alike. Each team has a "flag" (though it can be any item) that they hide on their side of the "field."
While capture the flag doesn't require anything beyond a field, playing in a large park or even a safe forest area is a great way to increase the challenge and fun levels.
The flag has to be visible without digging or climbing, but beyond that, it can go anywhere. Each team is tasked with grabbing the other team's flag and bringing it back to their side.
There are a few variations in the game. Some people like to require that the team gets the flag to a "base" on their side, while others only require that the flag makes it to the side in general.
Some games include things like water guns or water balloons to replace a standard "tagging" system.
This game can be an all-day event if you have a big enough playing field, and it's a crowd-pleaser for everyone regardless of their athletic abilities. People who aren't as comfortable running or jumping make great guards, while people who love sports are great at offense!
Don't have time to plan and get everything together? Get the capture the flag kit from Amazon and everything you need for a fun event is included. Check out the video below for more information. We played this game with my family and we loved it!
4. Relay Races
Speaking of team games, relay races are great for encouraging teamwork and playing to each child's strengths.
You can make relay races anything that you want them to be. Some of them are pure physical ability (like track relay races), while others have other activities as well that can focus on other kinds of skills.
We love the idea of putting a variety of activities together so teams can work together to determine who would be best for each task. For example, if the first activity is a spring, the second is a puzzle, and the third is monkey bars, you have three different skill sets to choose from.
When you play to each scout member's strengths, no one gets left out.
5. Obstacle Courses
If you love the fun and challenge that comes from relay races, but you want to encourage independent competition, obstacle courses make a great alternative.
These are often more athletic than relay races. They require strength, cardio ability, dexterity, and sometimes flexibility. They're great for older scouts who want more "functional" skills or who want to progress to outdoor activities like rock climbing.
If you have younger scouts, consider getting inflatable obstacle courses for a day. They're a lot of fun, they're safe, and they're easy to set up.
Create a obstacle course like the Olympic Games
Olympic Party Activity Booklet This activity booklet will be a fun way to learn more about other countries while having fun participating in their very own mini olympic games. They will learn to say hello, explore world flags, and participate in olympic games that you can play outside with girls.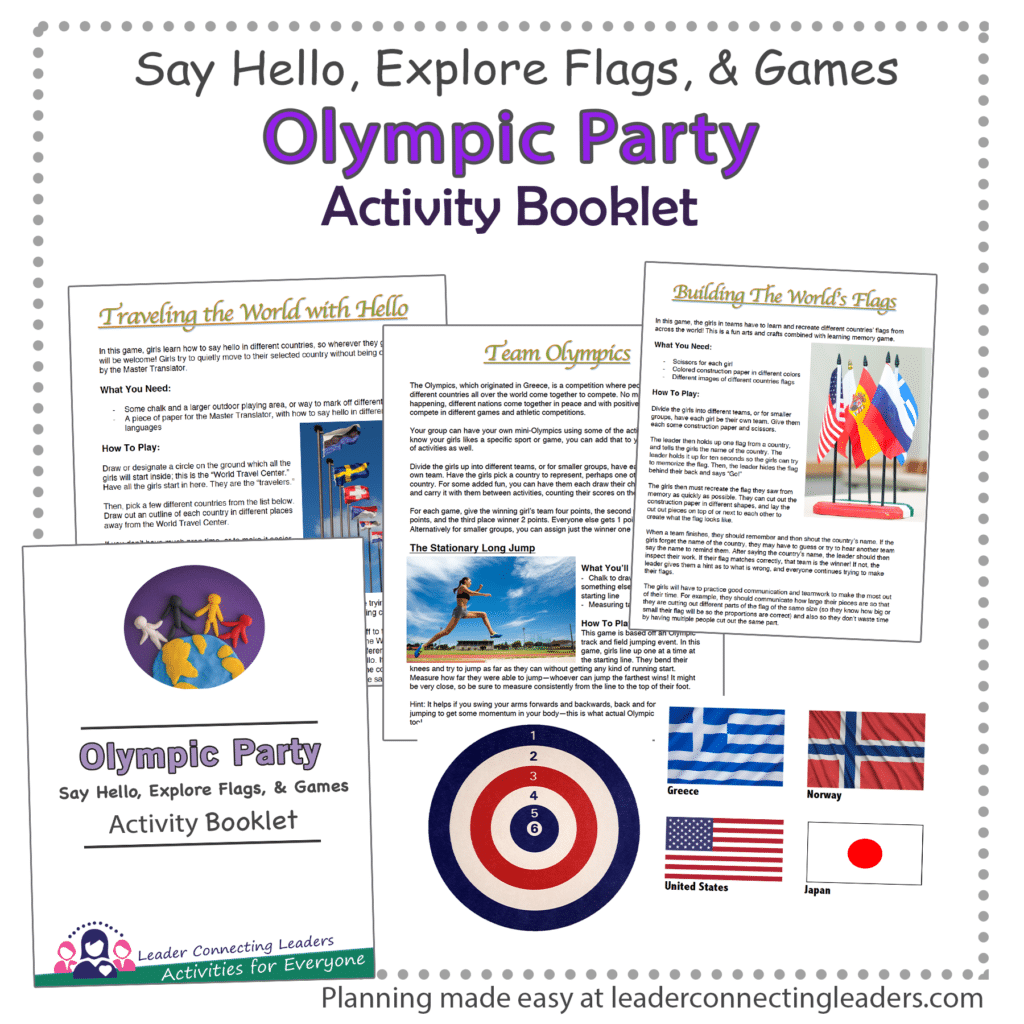 Your Scouts Will Love These Fun Outdoor Activities
Get outside and engage your scouts in some fun outdoor activities when the weather warms up! Whether they love working in teams or on their own, these activities will challenge their minds and bodies, all while being a lot of fun.
They won't even know that they're learning and exercising!
Are you looking for more great resources that can help you take your scout troop's experience to the next level? Check out our shop for activity booklets for every age level or join the Facebook group to connect with like-minded leaders!
Enjoy every minute being a leader and continue to inspire your girls!