5 Fun Activities To Help Your Girls Earn The Be A Sister To Every Girl Petal
This post may contain affiliate links and this site is not connected with, affiliated with, approved by, endorsed by The Girl Scouts of the USA or the Frontier Girls. Ideas are my own and I share to help you run your troops with ease.
If your looking for ideas to make your meeting more fun while teaching your girls how to be a sister to every girl then you have come to the right place. Using some of these activities below to help teach your girls how to be a sister to every girl by having a great time with their friends. Teach them to be kind and respectful to everyone and make every day a happy memory.
I recommend the following activities that will reinforce being a sister to every girl:
Practice with activities
Be creative with a craft
Get moving with a game
Put into action with a service project or real life experience.
Optionally: If I have a song that related, sing that as well.
Below are a few ideas to get you started.
Be a Sister to Every Girl Activity Booklet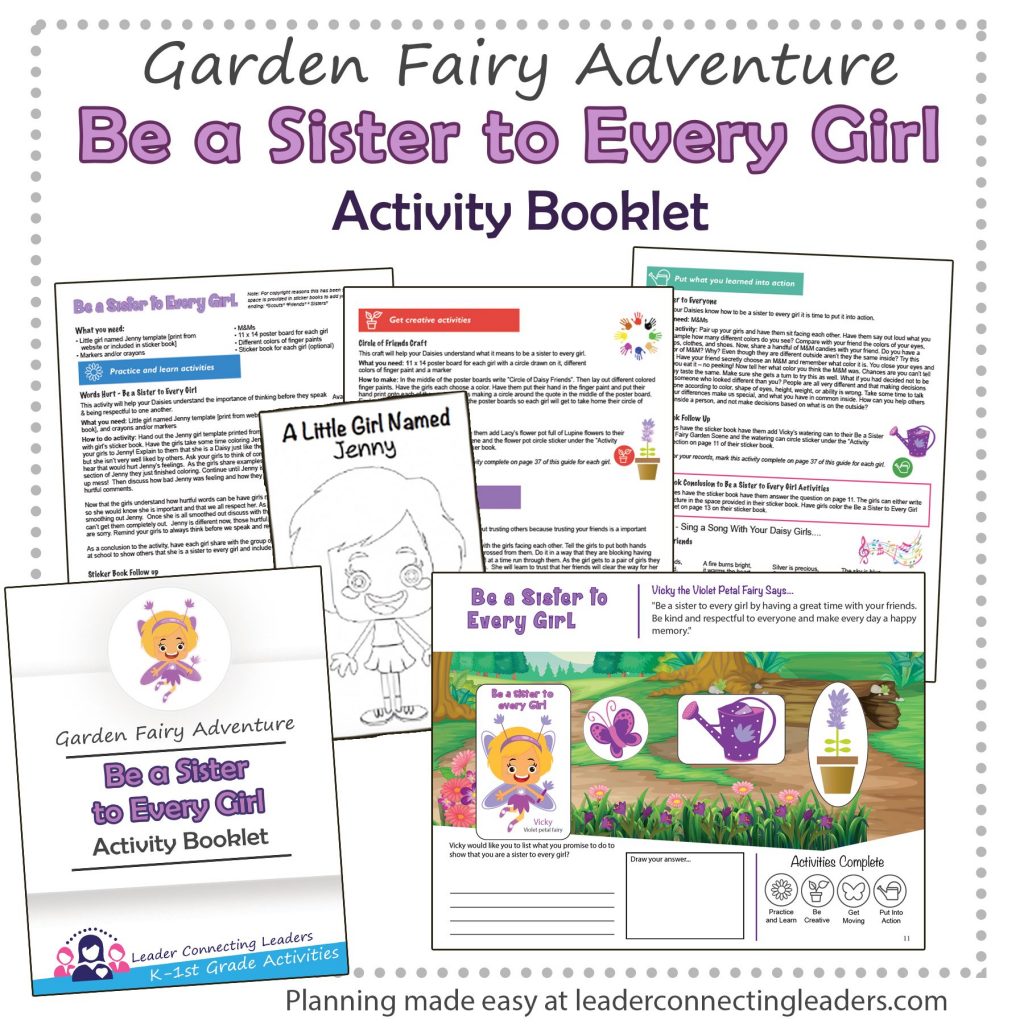 Do you want to skip all the planning? If so, use the Be a Sister to Every Girl Activity booklet and take your girls on a garden adventure helping a family of fairies on a mission to teach the world how to live by very important values. Using the leader booklet and the girl's activity booklet your girls will complete lots of activities to help their fairy friends plant flowers, water gardens, and learn how to put important values to live by into action. With step-by-step activities planned for you all you have to do is gather the supplies listed, you can't ask for a easier way to run your meeting. Learn more about the activities included and get yours today!
---
Other Fun Activities To Try
Make a Friendship Tree
Give each girl a 8 1/2 x 11 sheet of paper and have them draw a tree on page. Then have each girl and leader go around and put their fingerprint on the tree and sign their name.
Trust Game
A important part about being a sister to every Girl is trust. This game have girls form two parallel lines to make a path for another girl to run through. The girls making the path extend their arms toward each other to block the way for the other girls to run. When a girl runs through the line the other girls must drop their arms just before he runs through them. This activity will teach girls to trust their friends, as they begin to trust each other more they will move through the path quicker.
Sing Make New Friends
Below are the lyrics for all the versus. Do as many as your girls have interest in singing.
SONG LYRICS
Make new friends,
but keep the old.
One is silver,
the other is gold.
A circle is round,
it has no end.
That's how long,
I will be your friend.
A fire burns bright,
it warms the heart.
We've been friends,
from the very start.
You have one hand,
I have the other.
Put them together,
We have each other.
Silver is precious,
Gold is too.
I am precious,
and so are you.
You help me,
and I'll help you
and together
we will see it through.
The sky is blue
The Earth is green
I can help
to keep it clean.
Across the land
Across the sea
Friends forever
We will always be.
Few Pinterest Finds you will love too…
Here are some great ideas I found from another blogger on how to earn the Be a Sister to Every Girl
What Do You Stand For? Character Building Card Game
If you have read some of the other blog post for petal ideas I share this over and over, because its so great. I found this on amazon a while back and let me tell you its a great way to get your girls talking, it has amazing scenarios to work through, there are many cards that will fit into other petal values as well, so make sure to pick out the ones you want for the specific petal you are working on. What Do You Stand For? Character Building Card Game
Add a SWAP craft to your meeting
If you want to add a SWAP craft to your meeting while earning this petal. This kit is from one of my favorite websites for Girl Scout resources Makingfriends.com. It comes with everything you need to make four Daisy swaps. The kit includes glitter, foamie peel. stick daisies, jumbo tags and safety pins so everything you need is right in kit.Daisy Sister SWAPs
What do we do after your girls complete the activities?
Well of course give them the badge to display proudly on their vest, they earned it! Additionally If you are like many leaders we want to award our girls when they complete something even beyond just the patch. One great way to show achievement is with a certificate. Don't worry you don't have to make them, I found a resource that has done all the work for you and all you have to do is print them and customize the certificates with each girl's name, badge or award earned, date, and troop leader. Editable certificates perfect for awarding girls after earning a badge.
You may also be interested in these other activities:
---
Enjoy every minute being a leader and continue to inspire your girls!