I have been getting a lot of request for more ideas for older girls. As we all know this is the age that is the hardest to keep them interested in girl programs, avoid hearing those words "I am bored", and still learn from their Experience.
Here are ideas to get your girls engaged in learning about our government.
Behind the Ballot Activity Booklet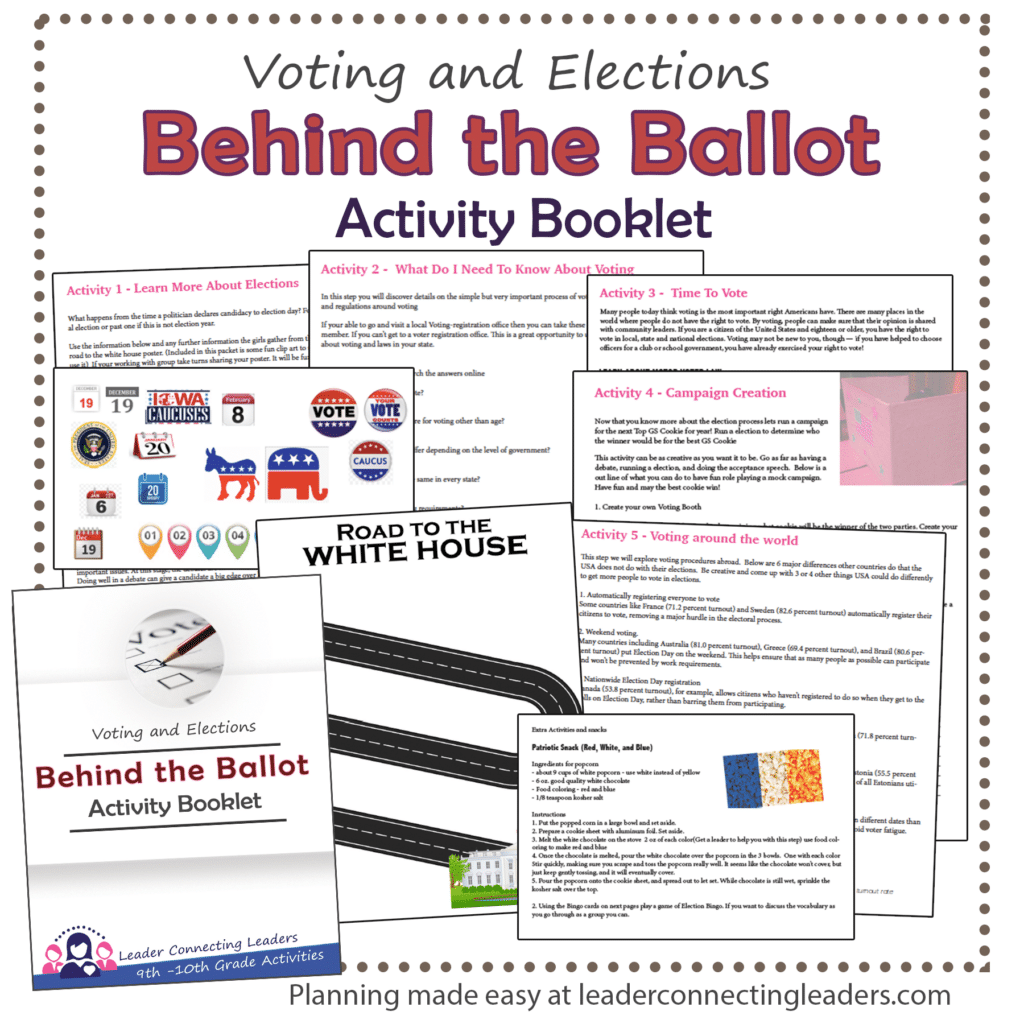 Before jumping into a few ideas, do you want to skip all the planning? If so, use this Activity Booklet to do activities, games, and worksheets to allow your girls to takeover the meeting and it is generic enough that you can complete this long after a a presidential election year.  In fact part of the booklet is about running your very own campaign to elect the Top Cookie of the Year. With a step by step activities, you can't ask for a easier way to run your meeting.
Before you can run your own campaign you need to understand how a presidential campaign works. In the first activity called Road to the White house the girls will learn everything from the beginning of a campaign all the way to accepting the position and entering the white house. In this activity the girls will not be reading something and filling in blanks, instead they will create a visual poster showing the steps to the white house. If the girls want to go bigger, you could buy poster board and they could create their poster on a bigger canvas instead of a 8 x 10 that comes with booklet.
After the girls understand how an election works, they need to understand the rights of a voter, laws in your state, and more information around how YOU take part in picking a president. This activity can be done individually or in groups to find the answers using the internet, or if you have the access the questions can be used as interview questions to ask your local voting facility.
The core of this booklet is the role playing using what they learned and the girls will run a full campaign from nominating their favorite cookies, voting for their party's nominee, writing a speech, running a debate, making a slogan, designing an ad, writing acceptance speech.
There is also additional activities included such as snack idea, Election Bingo, Bookmark craft, and activities related to elections in other countries.
This booklet will have your girls excited about registering to vote when they are 18.  Get yours today!
Be sure to also checkout these other activities your girls will love:
---
Other Fun Activities To Try
Do your girls know anything about the Government?
Start out by playing a fun board game. A Great Game to play is Coin Hopping Washington. Bring the spirit of Washington to your Girl Scout meeting. This board game takes you and your troop on a whirlwind trip through the nation's capital, visiting famous landmarks, monuments, art galleries and museums. The goal? Place your citizens in positions of power. Learn the concept of balance of power, Visit famous landmarks, monuments, art galleries and museums. Get your copy: Coin Hopping-Washington DC
Patriotic Craft 
No matter how old your girls get they still will enjoy a craft break. Since this badge is all about voting, what better crafts then to do something patriotic. I debated on posting a few different suggestions, painting a american flag, making cards for our soldiers, etc.  Instead I went to Pinterest and found a board that says everything I want to say. get creative with RED WHITE AND BLUE.  Here is link to board
If you don't want to spend the time planning, our Activity Booklet has step-by-step instructions with activities that don't require any planning other than gathering supplies and printing booklets.
What do we do after your girls complete the activities?
Well of course give them the badge to display proudly on their vest, they earned it!  Additionally If you are like many leaders we want to award our girls when they complete something even beyond just the patch. One great way to show achievement is with a certificate. Don't worry you don't have to make them, I found a resource that has done all the work for you and all you have to do is print them and customize the certificates with each girl's name, badge or award earned, date, and troop leader.  Editable certificates perfect for awarding girls after earning a badge.
More Resources For You Beyond This Site
I get asked a lot what other resources are out there on the internet for Leaders.  I have done some digging over the years and have used many of the resources myself. I compiled a list of some great companies that sell patches, programs and also other bloggers offering amazing resources that may fit your needs even better than my site did.   Checkout what I found.