Have your girls ever been interested in robot development? If your looking for ideas to learn how to create and design, build and program, and later present and show off a robot with your girls, you have come to the right place. Using some of these activities below to teach your girls how to present their robots and participate in robotics competitions.
Below are a few ideas to get you started.
We partnered with CodeSpeak Labs, which specializes in computer science education for kids, to bring you these resources.  
Showcasing Robots Activity Booklet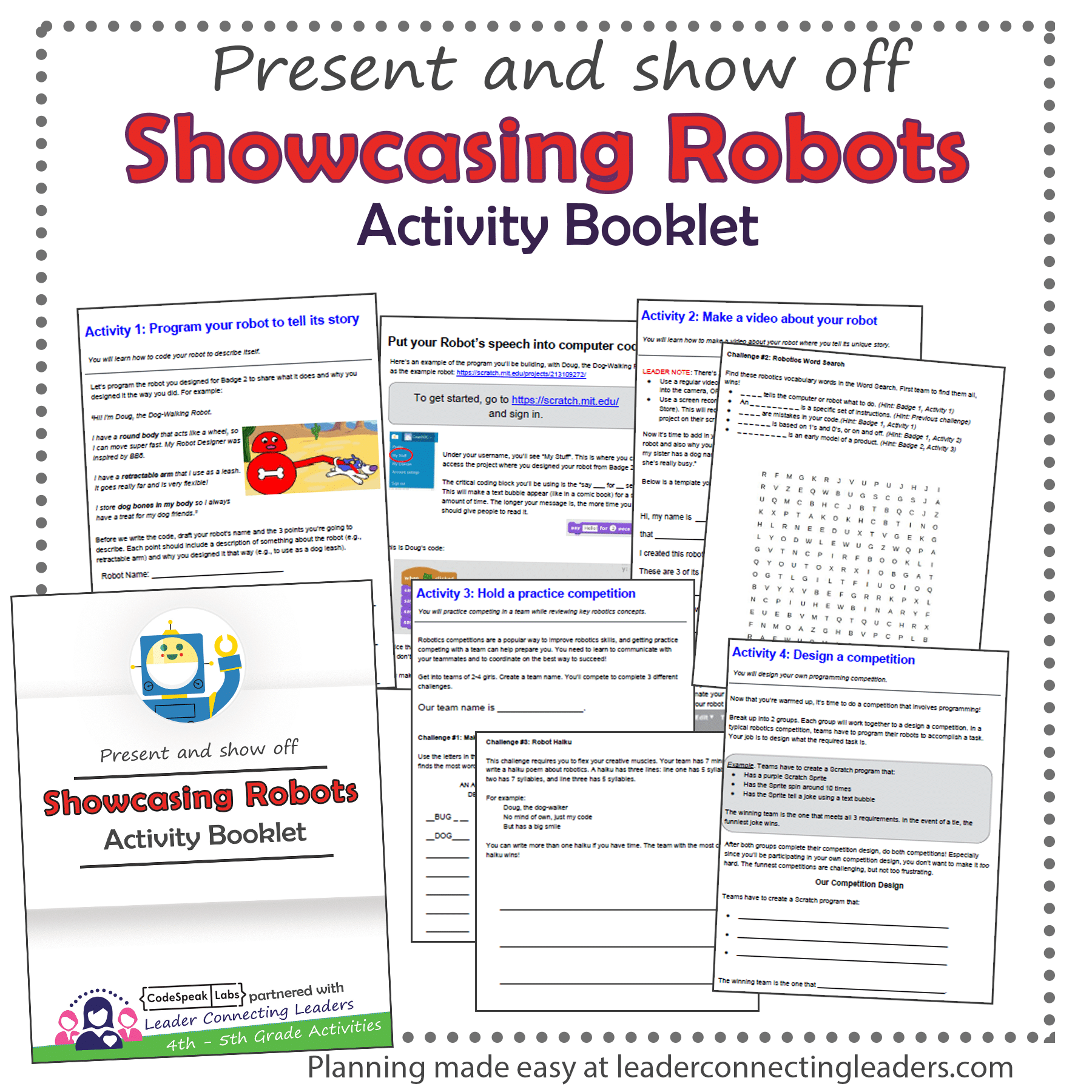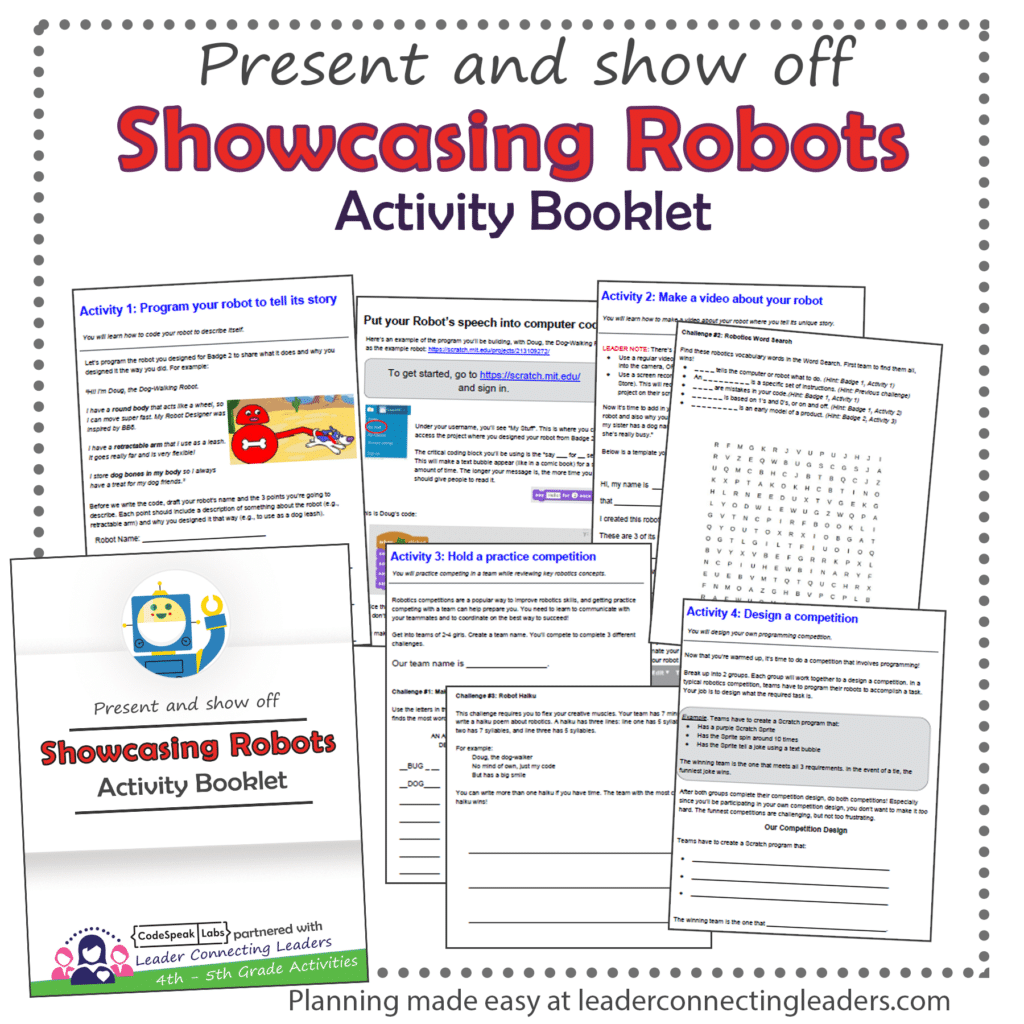 Before jumping into some ideas, do you want to skip all the planning? If so, use this Activity Booklet with interactive activities and puzzles that teach girls how to present their robots.  Including programming a robot, doing a video presentation, and competing in their own robotics competition! With step-by-step activities, you can't ask for a easier way to run your meeting. Learn more and get yours today!
Be sure to also checkout these other activities your girls will love:
---
Other Fun Activities To Try
See a Real Robotics Competition
FIRST Robotics is one of the biggest robotics leagues. If you're interested in getting involved, you can reach out to a local regional contact here.
Even if your group is not ready to take that step right now, it can be fun to watch a couple videos to see what it's like.
This is a 1 minute video that shows the high school level robots, so the girls can see the more complex robots they could build when they're older.
This is a 1 minute video that shows FIRST LEGO League. It's for grades 4-8 and gives teams a junior experience with the competition, using
LEGO Mindstorms robots
.
Host Your Own Shark Tank
Practice pitching your robot ideas, shark-tank style!
Start off by showing this video clip from the computer coding startup Bitsbox pitching on the TV Show "Shark Tank."
(Just watch through the first pitch, 1 min and 8 seconds.)
As the leader, you can be the "Shark" investor to ask questions and give feedback on the girls' pitches.
Their pitches should include:
Their name and company name

One sentence big picture vision

Value proposition: summarize why a consumer should buy a product or use a service

Problem you solve

How you solve it
Code a Dancing Robot- in 2 lines of code!
Start by going to https://bitsbox.com/code.html  (Fun side note: this is the platform you just saw being pitched on Shark Tank).
Click "Get Started" and make a "New App".
The app will appear on the left side of the screen. Type in this code on the right:
r = stamp('robot5',700)
r.tap = dance
When you click the Run button, your robot will appear on the left. Tap the robot to make it dance!
Program and Showcase a Drone
Flying drones are all the rage. Your girls will have a fun time programming a drone to fly, flip upside down, and take photos.
This Parrot Mini Drone is one of the cheapest drones you can get that you can program. Warning: it breaks easily, so make sure your girls handle it with care!
You can download a free app that will enable the girls to use block-based code to control the drone. After they program it, bring in friends and family to watch it in action! Have the girls explain how they are making it work.
If you don't want to spend the money to buy a robot, our Activity Booklet has step-by-step instructions on how to design a virtual robot. All you need is a computer with internet access.
What do we do after your girls complete the activities?
Well of course give them the badge to display proudly on their vest, they earned it!  You could also do a fun patch. Here is a real cute one:

Additionally If you are like many leaders we want to award our girls when they complete something even beyond just the patch. One great way to show achievement is with a certificate. Don't worry you don't have to make them, I found a resource that has done all the work for you and all you have to do is print them and customize the certificates with each girl's name, badge or award earned, date, and troop leader.  Editable certificates perfect for awarding girls after earning a badge.
Related Activities For Multi-level Troops
If you have a multi-level troop you may want to use one of the variations to this program that is geared toward the age of your girls.
K – 1st grade activities:
2nd – 3rd grade activities:
6th – 8th grade activities:
9th – 10th grade activities:
11th – 12th grade activities