If your looking for ideas to make your meeting more fun while discovering how to transform into entrepreneurs, you have come to the right place. Using some of these activities below your girls will learn the ins and outs to starting and running a online business.
Below are a few ideas to get you started.
We partnered with CodeSpeak Labs, which specializes in computer science and entrepreneurship education for kids, to bring you these resources.  
Business Owner Activity Booklet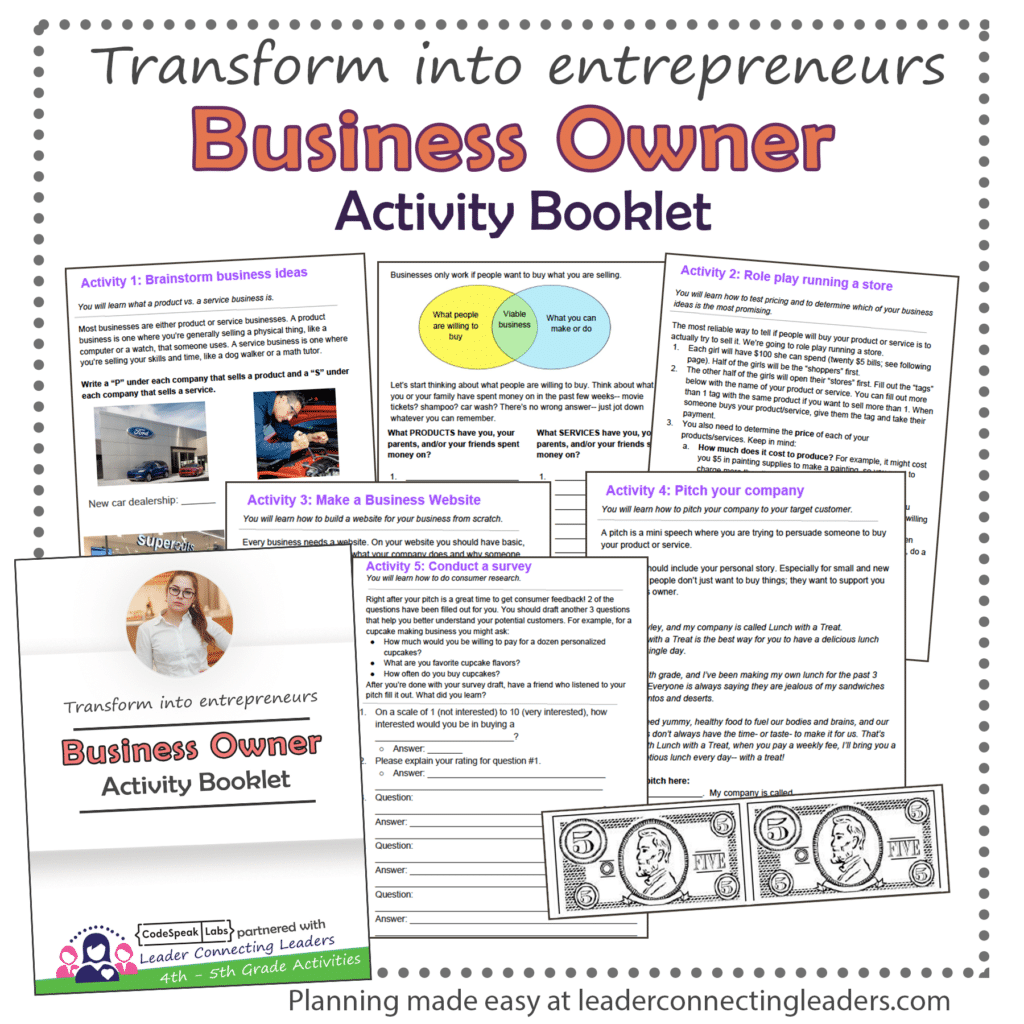 Before jumping into some ideas, do you want to skip all the planning? If so, use this Activity Booklet with engaging exercises that teach girls how to start their own business. These activities include creating a business website, role play running a store, and practicing a company pitch. With step-by-step activities, you can't ask for a easier way to run your meeting. Learn more and get yours today!
Be sure to also checkout these other activities your girls will love:
---
Other Fun Activities To Try
Listen to "How I Built This"
If you have a lot of girls who like learning through listening, the "How I Built This" podcast from NPR is awesome. You can listen to it on this website, or use a podcast streaming app and play it from your phone, etc.
The host, Guy Raz, interviews a founder each episode and you hear about the untold stories behind major companies. The most compelling parts are when now multi-millionaire CEOs talk about the early days when everyone thought they were crazy, when they had barely any money in the bank, and when they were on the brink of failure but continue to persist.
They also noticeably feature many female entrepreneurs! For example, check out the "Jeni's Splendid Ice Creams: Jeni Britton Bauer" and "LearnVest: Alexa von Tobel" episodes.
Take a "Behind the Scenes" Tour
Ask a local business owner if your group could visit their office and ask them questions. Most small, local, or family run businesses in particular would be delighted to have you.
If you're feeling ambitious, you could do a multi-stop tour of different environments. For example, you could visit a bakery in the morning, and then a tech company in the afternoon. The lifestyles of business owners vary dramatically, and it's great to have the girls be exposed to a variety so they can see what they might be most drawn to.
If you do get some Q&A time with a business owner, have the girls prepare questions in advance so you don't have to experience any awkward silence. For example:
What inspired you to start this company?

What was the hardest part about getting your company started?

What's your typical day like?
Play "Shark Tank"
Shark Tank is a TV show where business owners pitch their ideas to investors, or "sharks". Have half the girls play "shark" and half play business owners, then switch.
Girls can be "solo founders" and come up with an idea themselves or they can partner with a friend. Pitches to the "sharks" should be short– aim for ~3 minutes each.
Critically, after every pitch there is also time for "sharks" to ask questions of the business owners. While the "business owners" are preparing their pitches, have the "sharks" prepare their questions. For example:
Why do you think this business will be profitable?

What customer feedback have you gotten so far? / How do you know your product is good?

What about your background or skills will help you succeed in this business?
At the end, sharks decide if they want to invest in the business. A fun addition to the game is having marshmallows or another treat represent their investment.
Run a Lemonade Stand
The best way to learn to do something is to do it. The Lemonade Stand is a tried-and-true business model.
What's great about the Lemonade Stand is that it's a microcosm of a real business. Instead of having the girls just focus on the selling aspect, you can build out each of the steps:
Budget: Have the girls track how much ingredients cost and calculate the "cost per unit". (Even if parents are donating the materials.)

Marketing: Have the girls discuss what the most strategic place to locate the stand would be and what other marketing techniques they should use. E.g., Post on social media the time and place? Find out when a local sporting event will be happening where many people will be gathering? Allow customers who preorder to get a discount?

Managing money: Have the girls closely track cash flow, marking down when things are sold and closing out the shift by calculating how much should be in the "register" by the end and comparing that to what is there.
And, if you want a short cut, you can even order a Lemonade Stand In a Box to get started. (Note: we've only DIY'd our stands and haven't actually used this product before).
If you don't want to do any more planning, our Activity Booklet has step-by-step instructions with activities that don't require any materials.
What do we do after your girls complete the activities?
Well of course give them the badge to display proudly on their vest, they earned it!  Additionally If you are like many leaders we want to award our girls when they complete something even beyond just the patch. One great way to show achievement is with a certificate. Don't worry you don't have to make them, I found a resource that has done all the work for you and all you have to do is print them and customize the certificates with each girl's name, badge or award earned, date, and troop leader.  Editable certificates perfect for awarding girls after earning a badge.
More Resources For You Beyond This Site
I get asked a lot what other resources are out there on the internet for Leaders.  I have done some digging over the years and have used many of the resources myself. I compiled a list of some great companies that sell patches, programs and also other bloggers offering amazing resources that may fit your needs even better than my site did.   Checkout what I found.