Over the years as a leader I have enjoyed putting on Cookie Bashes with my troop all the way up to service area events with upwards of 200 girls at the event.   One thing I really enjoy doing is incorporating the cookie topic into games that are not just focused on cookies being sold in a fundraiser. Lets get started with some ideas for your next bash!
Games Related To Cookies
Bake Those Cookies
What you need: Circle cookies a lot for each team, oven mitt, spatula, and cookie sheet, buckets or brown bags for each team.
How to play: Put girls into two teams or more if larger group. Put buckets at one end of room, one for each team. Have all other supplies on floor in front of each team. On go each girl must take turns putting 6 cookies on cookie tray and put oven mitts on. Run down to other end and using spatula put all 6 cookies into bucket.  Then she takes everything back to next person in line who will put 6 more cookies on cookie sheet and do same process. First team that everyone makes it through wins. 
Cookie Nose Dive
What you need: cool whip, cookie for each girl, bowls for each girl.
How to do activity: Put a cookie at bottom of bowl and then cover with cool whip. On go everyone must nose dive into the cool whip to find the cookie the first girl to get cookie out without using hands is winner.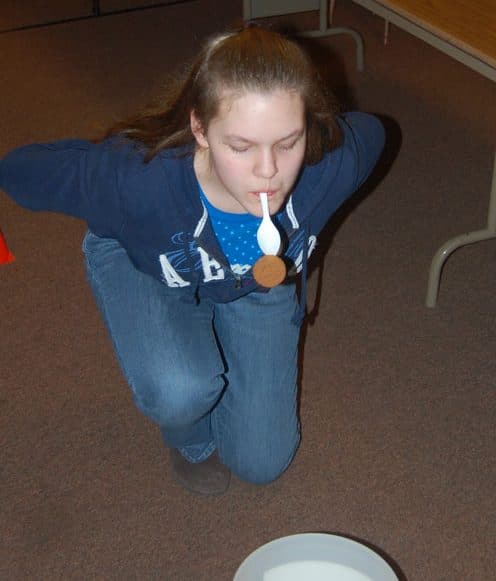 Cookie on a spoon
What you need: plastic spoons, cookies, and brown bag.
How to do activity:  Put girls into relay teams and give each girl a spoon and a cookie. On go each girl puts spoon in mouth and cookie on spoon and balances it to other side of room where they must drop the cookie into the bag and go back and next girl goes. You can have them either start over if they drop cookie or pick up and keep going from spot of drop. First team to get all girls through wins.  
Cookie Scavenger Hunt
A leader of troop 2908, Christina P shared with me a great idea and I wanted to pass it along to all of you.  She made a Cookie Scavenger Hunt for her Brownie Troop. She used old boxes of cookie packages and taped the boxes around the room for the girls to match up the questions about the 'who am I?" Afterwards, she went over the questions, who got what right and girls got to try the new cookie of the year. She suggested it can be useful for the financial badges, cookie reminders, and a little fun. She shared the PDF she made and I am passing it along to all of you, it is a editable PDF so feel free to adjust the scavenger hunt based on the cookies your troop is selling. Download Scavenger Hunt Here
Gingerbread(Scout) Cookie SWAP Ideas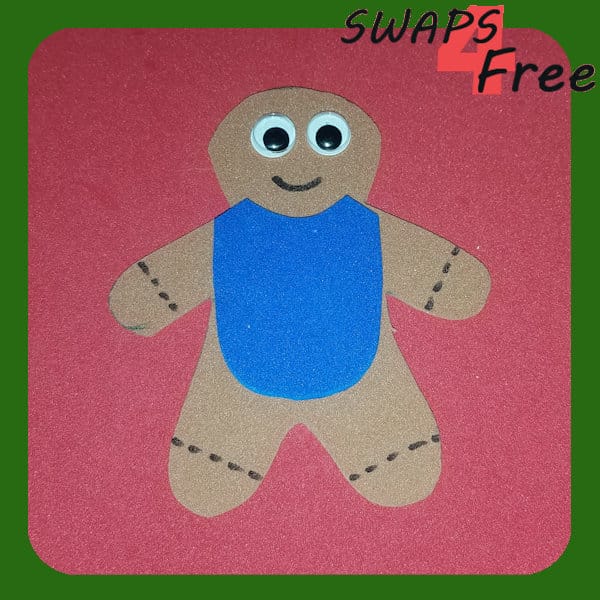 No matter what type of cookies you are going to sell for a fundraiser, who doesn't love gingerbread cookies? Create cute Scout Ginger Cookie SWAPS with your girls with ease. All you need is craft foam brown and color for vest, scissors, wiggly eyes, and black marker to put together.  SWAPS4Free has a number of different variations of SWAP ideas for each scouting level or create your own. Check them out here and get printables and directions to make yours with your troop.
Song Ideas
At every cookie bash I had with my troop we would put the girls into small groups they each would learn a song and then lead rest of group in singing it. Here are two of my favorite songs is C is for Cookies from Sesame Street and the Sound off marching song.
Marching Song
[Chorus:]
Leader: Sound off!     Group: Girl Scout!
Leader: Sound off!     Group: Cookies!
All: Buy some Girl Scout
All: Cookies! (all)

[leader sings first, then group echoes each line]
Girl Scout cookies they're so great
Buy some now before it's too late.
4 bucks a box, well that's just fine
Get yours now, don't get left behind.

[Chorus]

We've got Thin Mints, they are divine.
Samoas, Tagalogs are favorites of mine.
Tasty, crunchy, oh so sweet,
Girl Scout cookies are such a treat!

[Chorus]

They make great snacks, oh yes they do.
Eating them is what we like to do.
Buy some for your mom and dad.
Do it today, they'll be so glad!

[Source: Sally Breyer and troop 262, Arizona Cactus-Pine Council]
C is For Cookie
Now what starts with the letter C?
Cookie starts with C
Let's think of other things
That starts with C
Oh, who cares about the other things?

C is for cookie, that's good enough for me
C is for cookie, that's good enough for me
C is for cookie, that's good enough for me
Oh, cookie, cookie, cookie starts with C

C is for cookie, that's good enough for me
C is for cookie, that's good enough for me
C is for cookie, that's good enough for me
Oh, cookie, cookie, cookie starts with C

Hey you know what?
A round cookie with one bite out of it
Looks like a C
A round donut with one bite out of it
Also looks like a C
But it is not as good as a cookie
Oh and the moon sometimes looks like a C
But you can't eat that, so…

C is for cookie, that's good enough for me, yeah!
C is for cookie, that's good enough for me
C is for cookie, that's good enough for me
Oh, cookie, cookie, cookie starts with C, yeah!
Cookie, cookie, cookie starts with C, oh boy!
Cookie, cookie, cookie starts with C!

[Source: Sesame Street]
Teach your girls how to handle money when  fundraising
Use the Talk it Up, Making Choices, Money Counts, and Count It Up Activity Booklet and teach your girls more about what money is and how you can use it to buy what you need and want. Teach them about spending money and making the right choice by investigating what the difference is between our wants and needs. Also explore how to spend money you earn in a fundraiser, how to use the money to help others, and inspire customers to do the same.   Learn more and get yours today!
Cookie Bundle Printables

Beyond the bash I bet you want to make the fundraising with your troop easier. I have a resource for you. I love everything from IamStrawberry etsy store has to offer. This bundle includes everything you need for a productive cookie season. And what's more important that cute resources? The bundle includes:
* Parent cookie form
* Cookie booth tally sheet
* Cookie lanyard
* Girl business cards (Fillable!)
* Thank you cards/cookie order slips (4 UP)
* Door hangers
* FREE Bonus! Three booth signs, including one custom troop sign
Which baker are you using?  Bundle for ABC Baker or Bundle for Little Brownie Bake 
Cookie Rally Fun Patch 
After the event get your girls a nice fun patch to put on the back of their vest. One of my favorites is this one…
If this is still not enough cookie inspiration. Checkout my Cookie Ideas Pinterest board where I share all kinds of other great ideas people have shared online for cookie bashes and fundraisers that you can incorporate into your event.
Enjoy every minute being a leader and continue to inspire your girls!