This is the time of year for colorful lights, bright decorations, and lots of holiday cheer. It is a great time for these Christmas themed crafts I am going to share with you today.  They make great decorations in your house!
Merry & Bright Finger Print Picture
What you need
Canvas, black marker, paint, bells, plate for paint, and glue
How to make
Use the marker to create the Christmas light string around the canvas
Write the message in middle "Merry & Bright"
Using the paint put finger into paint and make the colorful lights around the page. 
Using glue put the two bells on the end of the Christmas light strained 
These are a few of my favorite things Wreath
What you need

Christmas Wreath, red bow, girls bring in some of their favorite things, any additional decorations you want to put on it, hot glue, green twist ties
How to make
Lay the wreath on table and have girls place where they want to put their things on the wreath. I made this with my son and he of course had super heroes, crayons, candy, and teenage mutant ninja turtles.
Once laid out then use the hot glue to hook the items to the wreath or use green twist ties depending on the items.
I also had a few typical Christmas decorations that we added to the wreath as well.
Once completed you can hang on any door in your house. Be sure to put the year on it, years to come the girls will know what their favorite things were for that year.
How Tall Am I, Christmas Ornament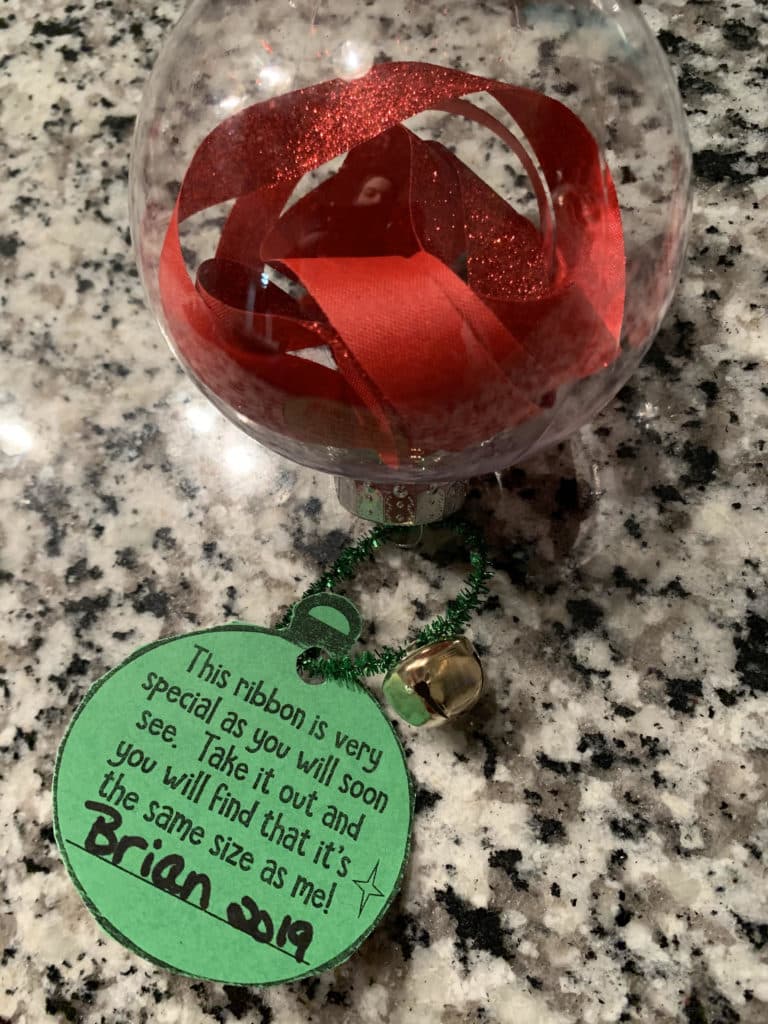 What you need
Black marker, red ribbon, Clear Christmas bulb (plastic), Green card stock, bell, green pipe cleaner, template to print on green card stock
How to make
Using the ribbon measure each girl and cut ribbon to the length of the girls
Have girls put the ribbon inside of the Christmas Bulb. 
Cut out the bulb to attach to decoration using the green pipe cleaner and put a bell onto the pipe cleaner as well. 
Girls can add their name and year to the cut out of bulb.
Take home and add to your Christmas tree.
Christmas Table Decoration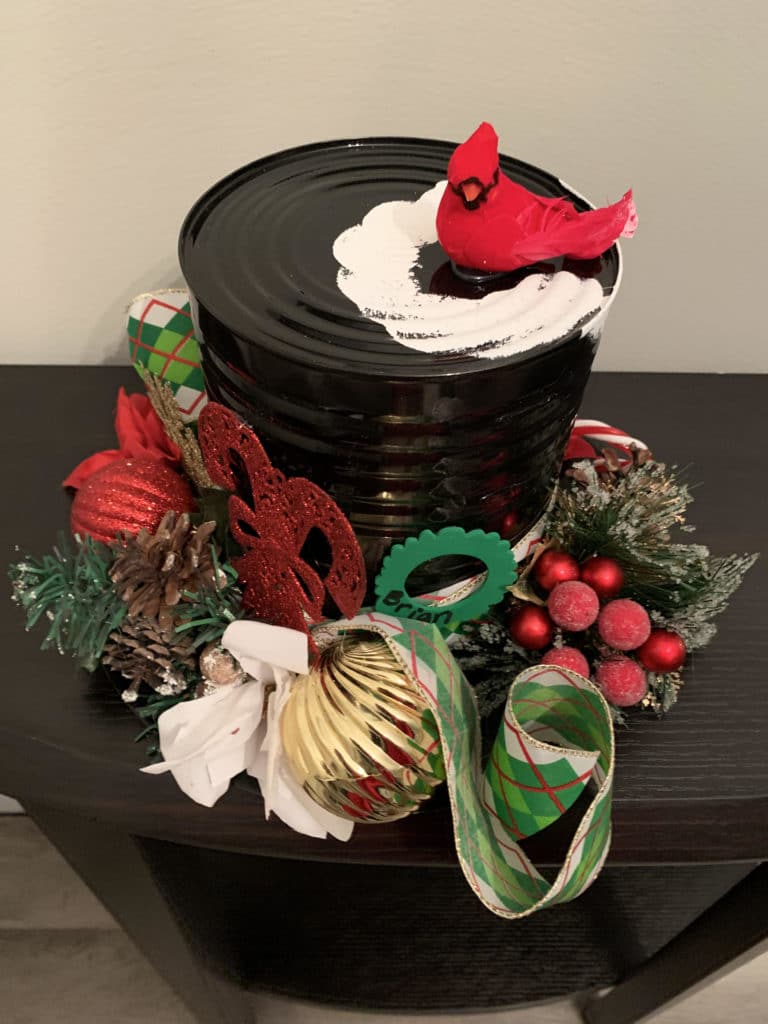 What you need
Empty coffee can, Pile of Christmas decorations, black and white paint, Christmas ribbon, Foam Christmas cut outs, hot glue, round cardboard or old round record.  
How to make
Paint the empty coffee can black and then add some white on top for snow
Glue a bird on top
Glue the empty can to top of round cardboard or if you have old records you can use them.
Wrap can with a Christmas ribbon
Using the Christmas decorations add them around the can.
Using any foam cut outs add those to can. 
Put out on a table as a Christmas decoration. 
Ho Ho Wood Craft
What you need

Piece of wood, letters and Christmas cut outs from construction paper or if you a circuit cutter use that, Christmas hat, red paint, paint brushes, glue, Mod Podge
How to make
Give each girl a piece of wood and paint the wood red, and let dry.
Lay out the H and O cut outs and Christmas images onto wood.
Glue the letters and Christmas images onto wood.
Using paint brushes mod podge over everything which will seal the words and christmas images onto wood piece.
Put the Christmas hat over the wood at the top.
Place outside your front door as a great outdoor decoration.
---
Do you need more for your party?
From one leader to another….Have a wonderful Holiday season with your Troop and Families.
Enjoy every minute being a leader and continue to inspire your girls!