If your looking for ideas to make your meeting more fun while discovering how to be an amazing detective, you have come to the right place. Using some of these activities below Your girls will follow clues and discover facts just like a real detective would.
Below are a few ideas to get you started.
Detective Activity Booklet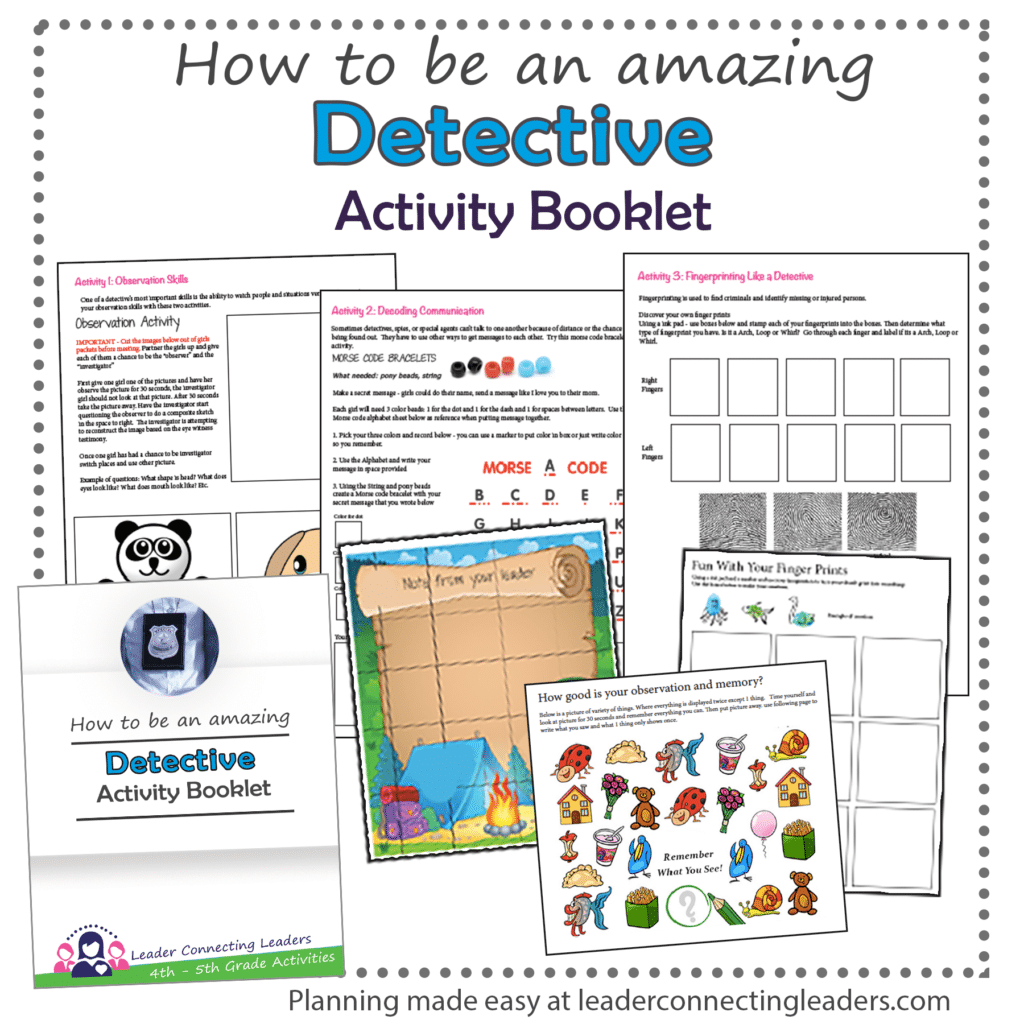 Before jumping into some ideas, do you want to skip all the planning? If so, use this Activity Booklet with activities that are hands on to keep the girls engaged while learning about what a detective does every day as part of their job. These activities include practicing using observation, doing detective science, decoding communication, and learning more about fingerprints.  With step by step activities, you can't ask for a easier way to run your meeting. Learn more and get yours today!
Be sure to also checkout these other activities your girls will love:
---
Other Fun Activities To Try
Finger Print Without a Ink Pad
All you will need is paper, pencil and clear tape. Have girls take the pencil and scribble on a large area of paper. Then take your finger and push it down on the scribbled area getting it on finger. Cover your finger with the clear tape and then take the tape and put it down on a white area of the paper or a new white piece of paper. Now you have a finger print without having to buy ink pads.
If you do decide you want to do fingerprinting with a kit here is a great finger printing kit to use: 4M Fingerprint Kit
Be a Detective: What Type Of Finger Prints Do You Have
Now that your girls have their finger prints on paper you can have the girls figure out what type of fingerprint they have .Below is a explanation of different type of finger prints.
Power of Observation – Answer a few questions about a video
As a group watch a short video. There are 1000s to find on Youtube. As a example here is one that is short "Observation Quiz"  At the end of the video it asks 10 questions. Have girls use a sheet of blank paper to answer. How was their observation skills?
If you don't want to spend the time planning, our Activity Booklet  has step-by-step instructions with activities that don't require any planning other than gathering supplies and printing booklets.
What do we do after your girls complete the activities?
Well of course give them the badge to display proudly on their vest, they earned it!  Additionally If you are like many leaders we want to award our girls when they complete something even beyond just the patch. One great way to show achievement is with a certificate. Don't worry you don't have to make them, I found a resource that has done all the work for you and all you have to do is print them and customize the certificates with each girl's name, badge or award earned, date, and troop leader.  Editable certificates perfect for awarding girls after earning a badge.
More Resources For You Beyond This Site
I get asked a lot what other resources are out there on the internet for Leaders.  I have done some digging over the years and have used many of the resources myself. I compiled a list of some great companies that sell patches, programs and also other bloggers offering amazing resources that may fit your needs even better than my site did.   Checkout what I found.