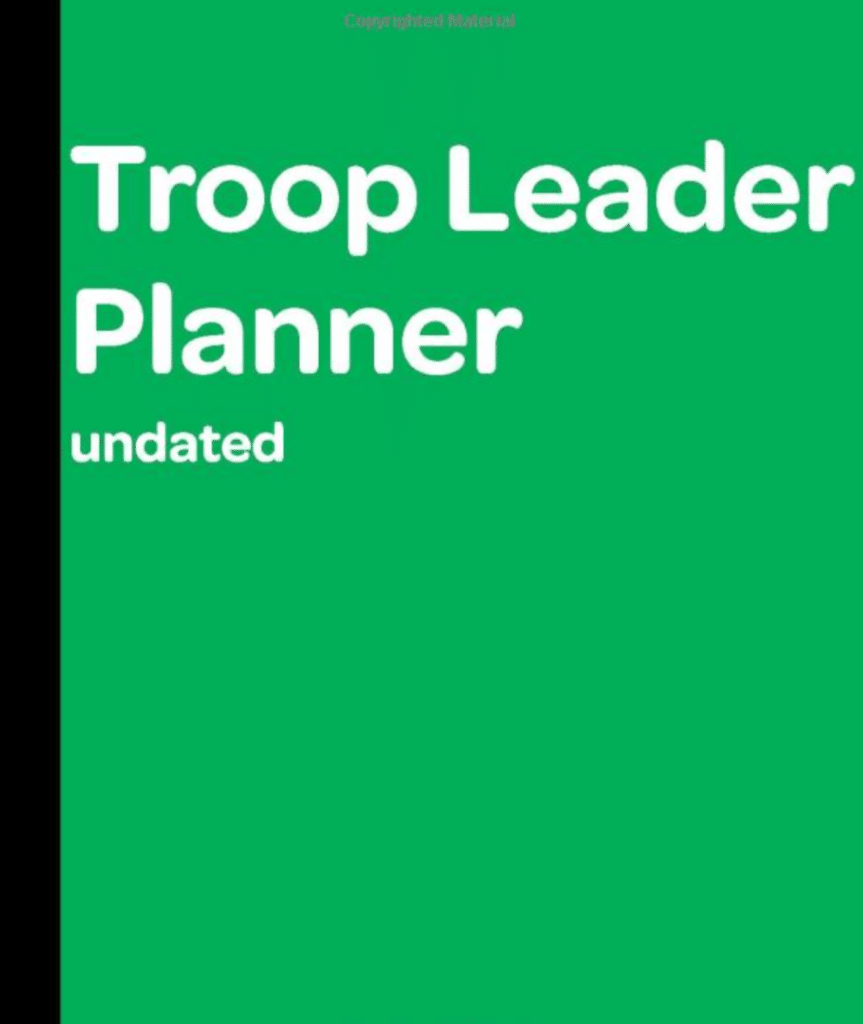 One of the hardest parts about being a leader is staying organized. Keeping track of permission slips, badge progress, dues, keeping parents involved, and so much more. Today I want to share some very helpful resources that can make all that seem like a cup a tea.
I recently purchased a very new resource off of Amazon "Troop Leader Planner" and I want to share it with all of you and I have a few pictures from the inside of the book.
Side note: I usually reach out to the author of material that I find to get more information about the product and more about them but for this one I couldn't find a contact so this is 100% my opinion if you are the author and want me to add more information reach out to me by email and we can chat.
---
My Number 1 Choice for the Pen and Paper Troop Planner – No Printing
The newest organizer available for leaders that came out this year can be found on Amazon. It is 150 pages worth of space to keep your troop organized. There are two different designs both undated. One green cover and other with flower design. one is undated and one is for coming year. It is packed full with all this…
Troop roster
Health Info
Birthday Tracker
Year at a glance
One month per page (Calendar)
Attendance tracker
Snack signup sheet
Meeting / Event Planner
Badge and patch tracker
Forms and paperwork tracker
Volunteer signup sheet
Troop dues and fees tracker
Financial ledger
Checking account tracker
Individual girls product sales tracker
Cookie booth sales tracker
Notes and to-do lists
All I can say is WOW, if you are like me and want it all contained in one place then this book will be great for you. No binders or extra printing needed.
Three parts of the booklet that I really liked is sections to plan each meeting and event, sign up for volunteers for events and activities and a easy way to track dues and fees.

---
My Number 1 Choice for the Print at Home Option
StrawjenBerry Blog & Shop – Do you need a Leader Planner? Well this Etsy shop has the best planner I have ever seen for printing at home and putting in a binder. The planner includes everything you need to plan your troop year in a colorful, fun format. It all starts with a personalized cover that includes your name, troop number (optional) or year. You'll never have to search for information again because it will be all in one place. The planner contains your calendar, meeting planners, rosters and badge trackers in one safe place for when you need it. Learn more about this resource here

---
Teacher Planner Great for Leaders
As a leader we are all teachers, which is why another great product that I use even for life planning is The Life Planner by Erin Condren which has a great teacher planner option. The best part its super customizable binding options, designs, customization features & so much more.
The 12 Month Planner offers many options:
Weekly, Monthly & Yearly Spreads
Note Pages, Checklist Pages & Communication Logs
Coiled & Binder Planner Extras: Holiday Stickers, Planner Stickers, Inspirational Quotes
Three Binding Options: Coiled, Binder & Softbound
2 Interior Design Options: Oh So Retro & Kaleidoscope
Learn more and get yourself a life planner or teacher planner to stay organized with your troop.
---
Choose one of these 2 apps if you like organizing digitally
Have you heard of the BAND app? It is an app that can take the burden off of troop leaders and lend a "helping hand" – It's a leading group communication tool that troop leaders can use to stay connected with parents without having to use multiple apps. With Calendar, Community Board, and an Album built-in in, BAND fulfills your group's communication needs, including scheduling, information/file sharing, chat, organization and accountability. I have a great post that explains all the features and how to get your hands on it. Here is the 4 ways this app can make your planning easier.

Have you heard of Groopit? It allows you to spend less time organizing and more time on what matters: the girls. Groopit's social-inspired format lets everyone know what's happening as it happens, so it's easier to participate, capture the fun, manage badges, and get things done. Here is where I share the 3 easy steps to get back to having more fun and less organizing with this app.
---
Activities to Make Planning Easier
Enjoy every minute being a leader and continue to inspire your girls!