I know I have mentioned it before that I am only one leader and I don't have all the answers.  Which is why I am writing this post. While scrolling through one of my favorite Facebook groups GreenGab, I came across some amazing Christmas Ideas from other leaders. The problem was I had to scroll for a long time to find them, and usually with Facebook post have a life of a week tops, depending how active the board is, then it is lost forever.   With that said, I reached out to these amazing leaders to get permission to post their ideas on my blog, that way 365 days from now when Christmas rolls around again, I hope the pin or the emails I send out reminding you all of this post, will keep these ideas fresh for many years to come.
Time Capsule Christmas Ornament
This ideas was submitted by Jennifer Law
When I came across this idea, I absolutely loved it, not just for GS, but for my own children. How cool will it be in 5 to 10 years depending on your girls age, getting to open a note they wrote themselves, when they pull out their ornaments to put on their tree they will read that note don't open till your 18th Christmas and on that year, they will read what they said to themselves many years before.
Message from Jennifer: "I had my girls (daisies and brownies) write a note of inspiration to their 18
year old self… some said things like "always believe in yourself" "find your beauty within yourself" others said "I hope you got to sing at your graduation" and my littlest one only said "I love being a GS" these small notes of inspiration were rolled and tucked inside of the ornament along with some silver tinsel….. at 18 they will get to bust it open and read their note ♡
I gave my girl's a piece of paper and they were instructed to write an inspirational note to they're 18 year old self. I rolled it up and tied it with a ribbon that is what is inside the bulb along with some silver tinsel and at the age of 18 they'll get to open it and read their own note."
Reindeer Ear Awards
This ideas was submitted by Jen Groatman  
I found this idea on the Greengab Facebook page as well, it is something I never thought to do with my troop and loved it. The creator was Jen Groatman, and she said her girls loved them.
In her message she said. "Just wanted to share what I am giving to my girls at their Christmas party. These are the fun patches they have earned from Sept to now and I try to do something fun to put it on. Last year I put them on a stocking and filled it with goodies. This year is and headband with a 5 below gift card." 
Now a few of my idea for you…
Christmas Sun Catcher Craft
Of course this didn't come from anyone, but a idea I have used a number of times. I would always have these on hand in our craft drawers for different holidays. It is a great added filler to any party – Sun Catchers, this was one I used from Amazon because you get 24 in the set. I have a multi-level troop so buying in bulk is important to me. 
Click here to check out these Christmas Sun Catchers
Need More Games?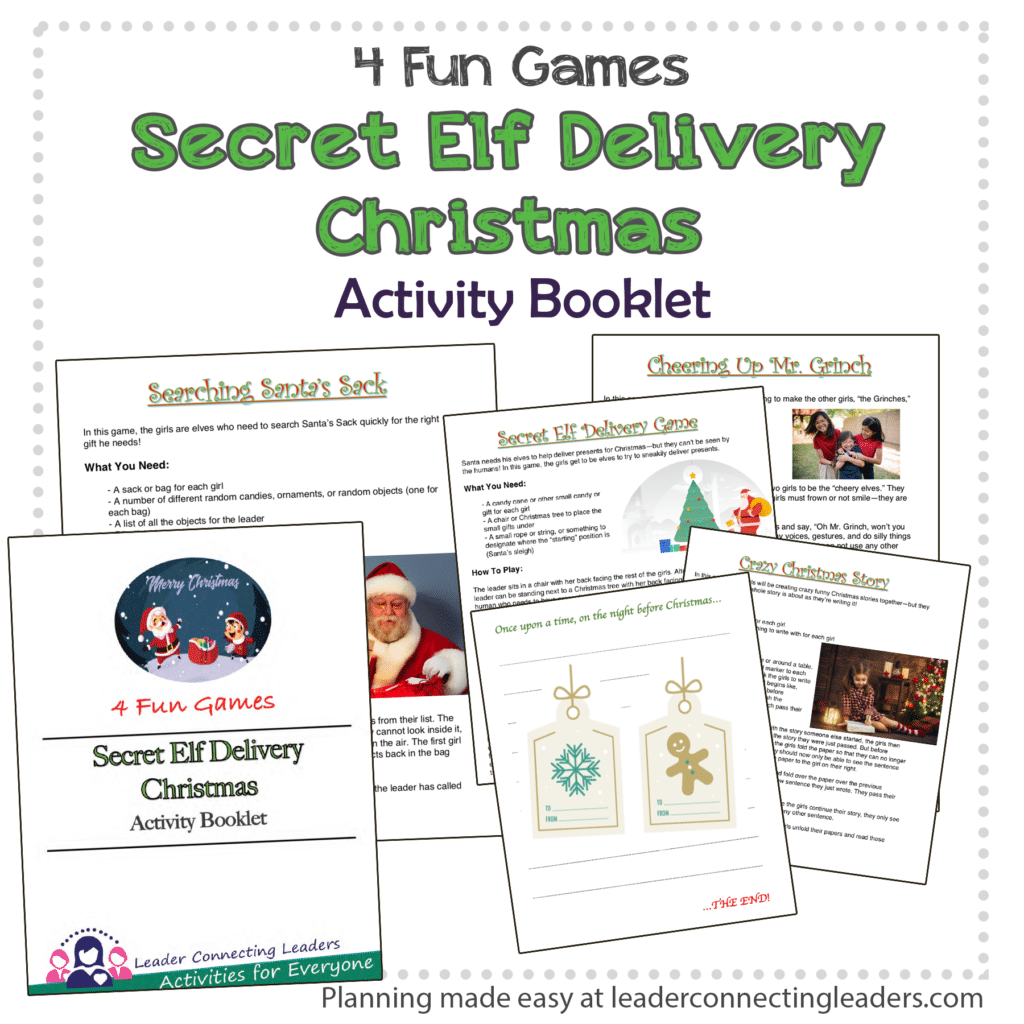 Santa loves spreading Christmas Cheer and so do his elves. In this activity booklet become Santa's elves and help search Santa's sack, deliver packages, spread Christmas cheer to the less cheery, and together write a Christmas story to share with family and friends to continue passing on the amazing Christmas Cheer Santa and his elves do every year! All you need to do is print and gather the supplies and your party is ready to go. Get your booklet here.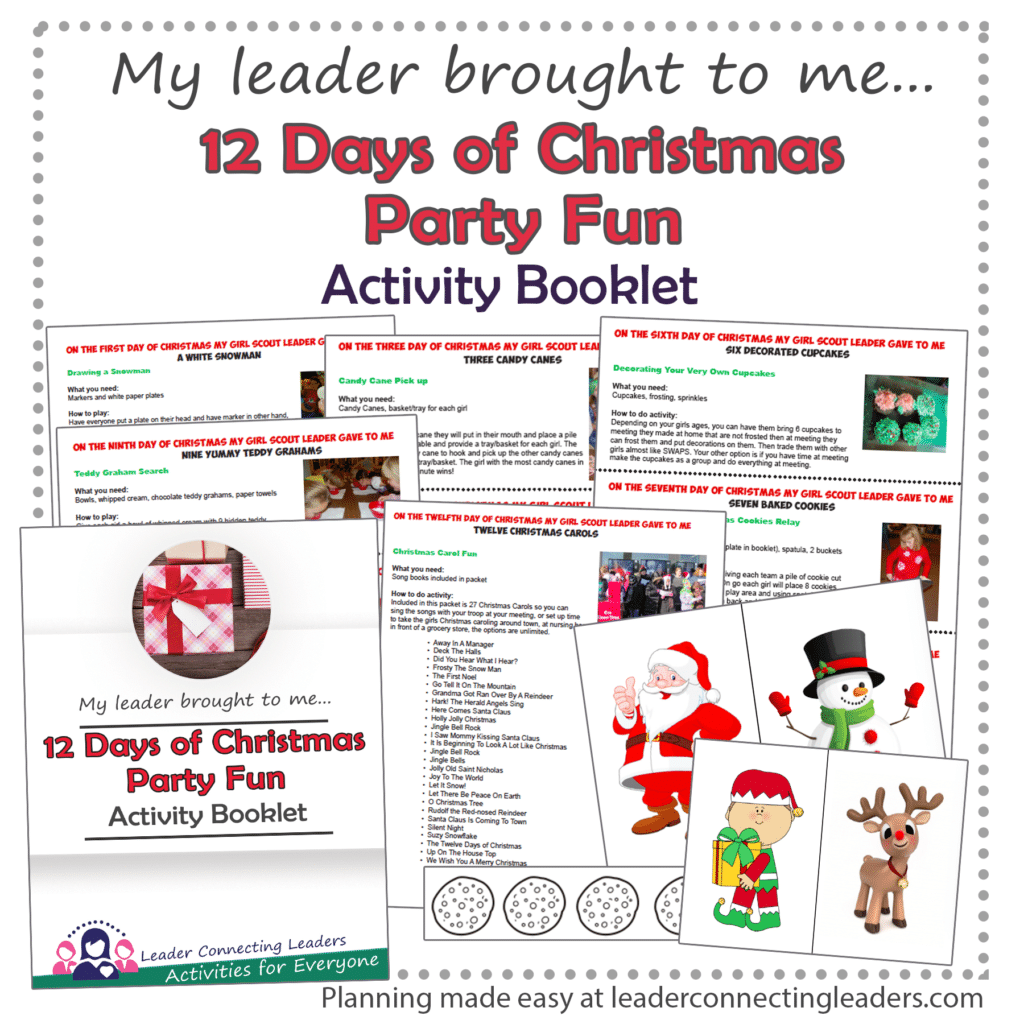 To continue on with the theme of the 12 days of Christmas use the 12 days of Christmas my leader brought to me activity booklet. Using the popular song 12 days of Christmas, each part of the song has a game or activity to go with it. For example  "On the First Day Of Christmas my leader gave to me…Three Candy Canes" and it is adaptable to every grade level so great for multi-level troops.
Plan your troops Christmas party with ease with the included 12 activities, a section with everything you need for each activity, and any additional templates required. All you need to do is print and gather the supplies and your party is ready to go. Get your booklet here.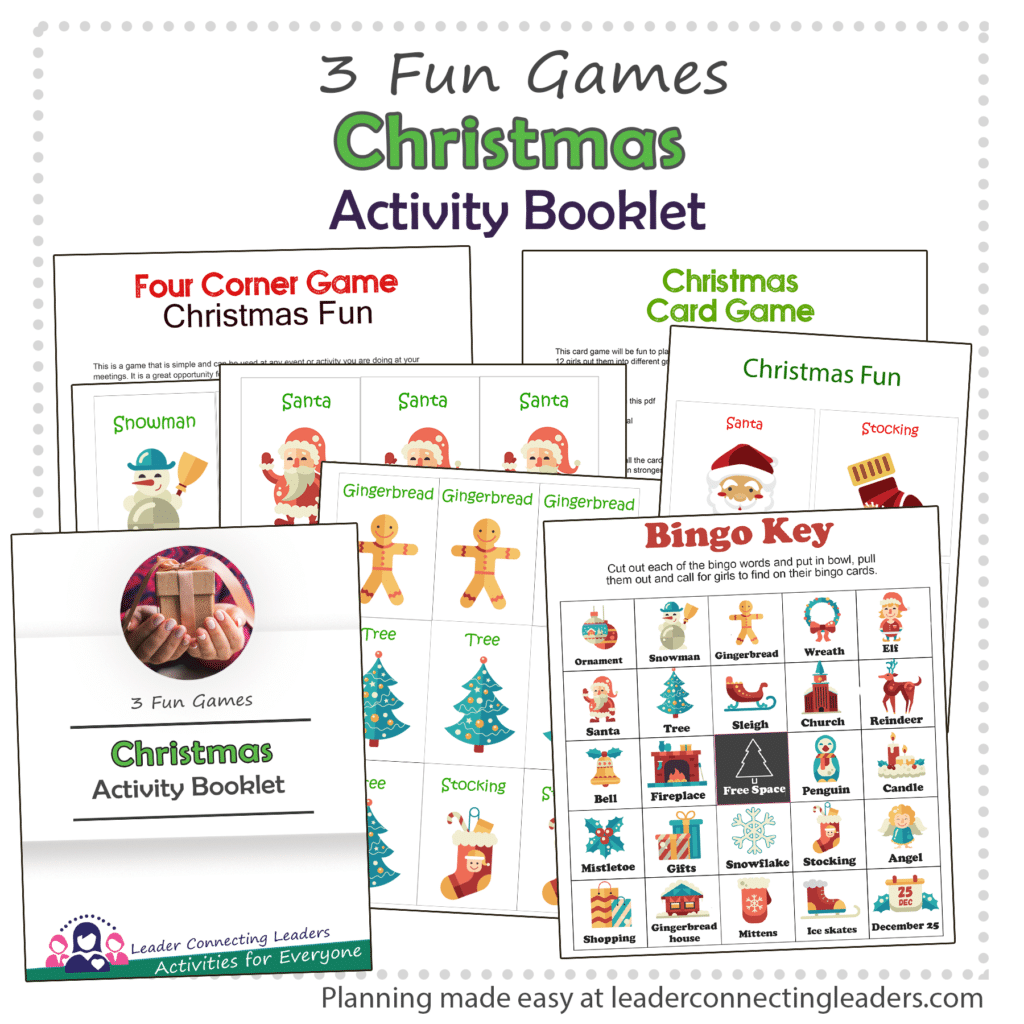 This activity booklet has 3 very fun games all focused on Christmas. First play the 4 corner game which will have your girls running from one corner to the next, while laughing and getting to know each other.  Then compete against one another to match 4 fall cards and be the fastest to win. Lastly play a game of Christmas bingo with 24 different images/words related to Christmas. Start playing with your troop now!
Do you need more for your party? 
From one leader to another….Have a wonderful Holiday season with your Troop and Families.
Enjoy every minute being a leader and continue to inspire your girls!
Purchase this wonderful illustrated book from Amazon.