Christmas is a special time to enjoy as a family. It's a moment when the whole family is together to have a few laughs, spend time with the kids, and, ultimately, have a good time with loved ones.
But with the uncertainty of the pandemic, many families are choosing to stay home for the holidays. So what Christmas games can you do as a family from the safety of your own home? Here we share some ideas of Christmas games to do as a family that are fun for everyone to play — even over Zoom with your scout troop or extended family.
Christmas Heads Up!
To play Christmas Heads Up, print out these printable cards and have someone cut out each of the prompts. Players will pick a prompt and hold it to their foreheads without looking, and other people in the family will act out the prompts without speaking. See who can guess the most prompts the fastest! Christmas Heads Up is a great game to play with kids of all ages, and can be made extra fun by creating teams and seeing which team can guess all the prompts the fastest.
Download Christmas Heads Up here.
Christmas Storytellers
Christmas Storyteller is another fun game to enjoy during this festive season, especially for kids. Have them sit around forming a big circle on the floor or at a round table. One of the kids then starts a story with a single sentence, the next person repeats the story before adding theirs. It goes on like that until someone forgets part of the story. The game continues again until you have your last man standing who can repeat the story without missing a line.
You can also play Christmas storyteller via zoom. It's a fun and entertaining way to spend time with extended family from the safety of home!
Christmas Mayhem
Christmas Mayhem is a fun and unique Christmas game to play with your family if you love to have fun and laugh together. To play, print out these prompts and separate them into a red and green pile. Have a player select one prompt from each pile then choose a helper "elf" to assist them with acting out the scene. Once everyone's had a turn to play, have the whole family vote on their favorite scene!
Download Christmas Mayhem here.
Santa Says
We're closing out this list with a fan favorite — Santa Says. It's fun and easy to play with your little ones, just have one kid acts as 'Santa', and the other acts as elves. Santa then stands in front of the elves and commands them to carry out some activities. Santa must start by saying "Santa Says" before saying their command. The rule is if Santa doesn't start with "Santa says" before passing the instruction and the elf goes on to perform the activity, that player is out of the game.
The game continues until one elf is remaining — that elf then acts as the next Santa! 

These 4 fun games are great to enjoy with kids (and the rest of the family) this Christmas. If you're feeling stressed out by the hustle and bustle of the Christmas season — I can't blame you! If you want more fun ideas here is 40 other great Christmas Games to try with your troop.
Need More Games?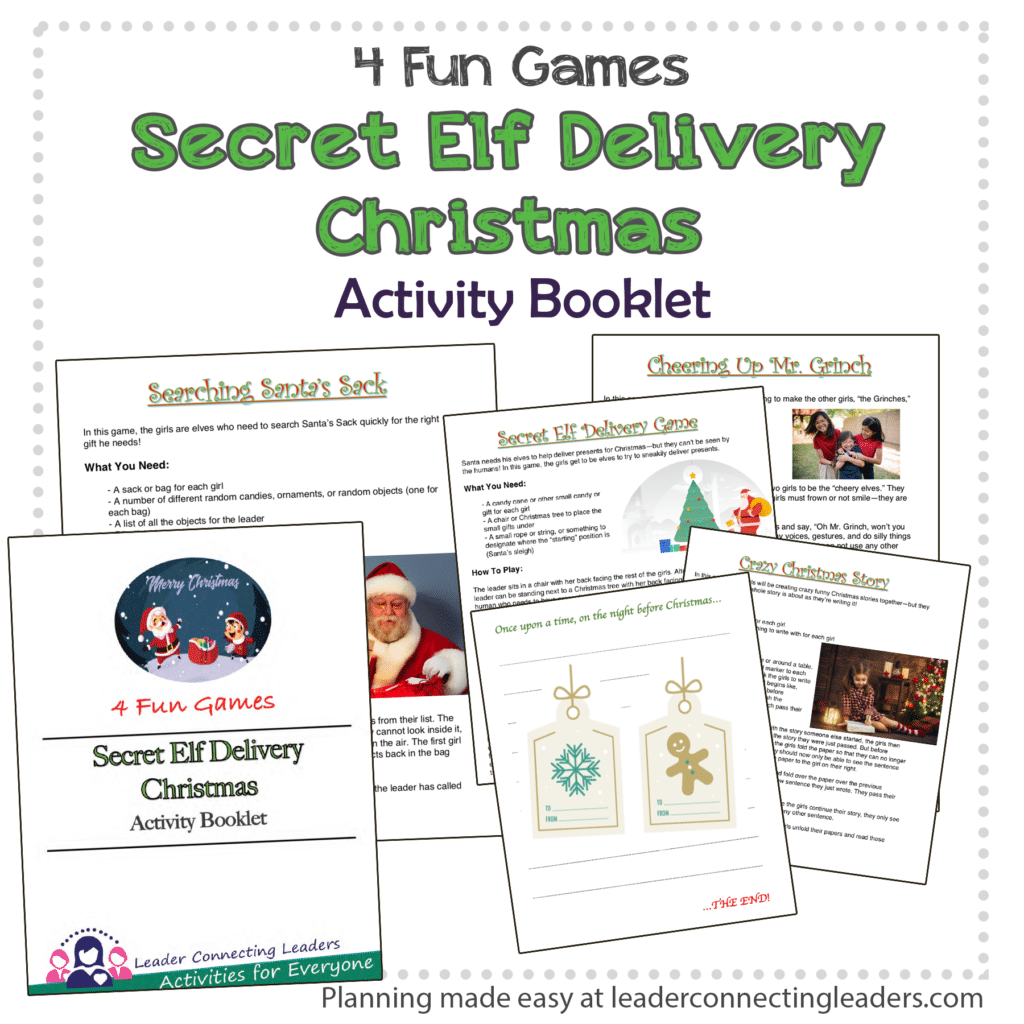 Santa loves spreading Christmas Cheer and so do his elves. In this activity booklet become Santa's elves and help search Santa's sack, deliver packages, spread Christmas cheer to the less cheery, and together write a Christmas story to share with family and friends to continue passing on the amazing Christmas Cheer Santa and his elves do every year! All you need to do is print and gather the supplies and your party is ready to go. Get your booklet here.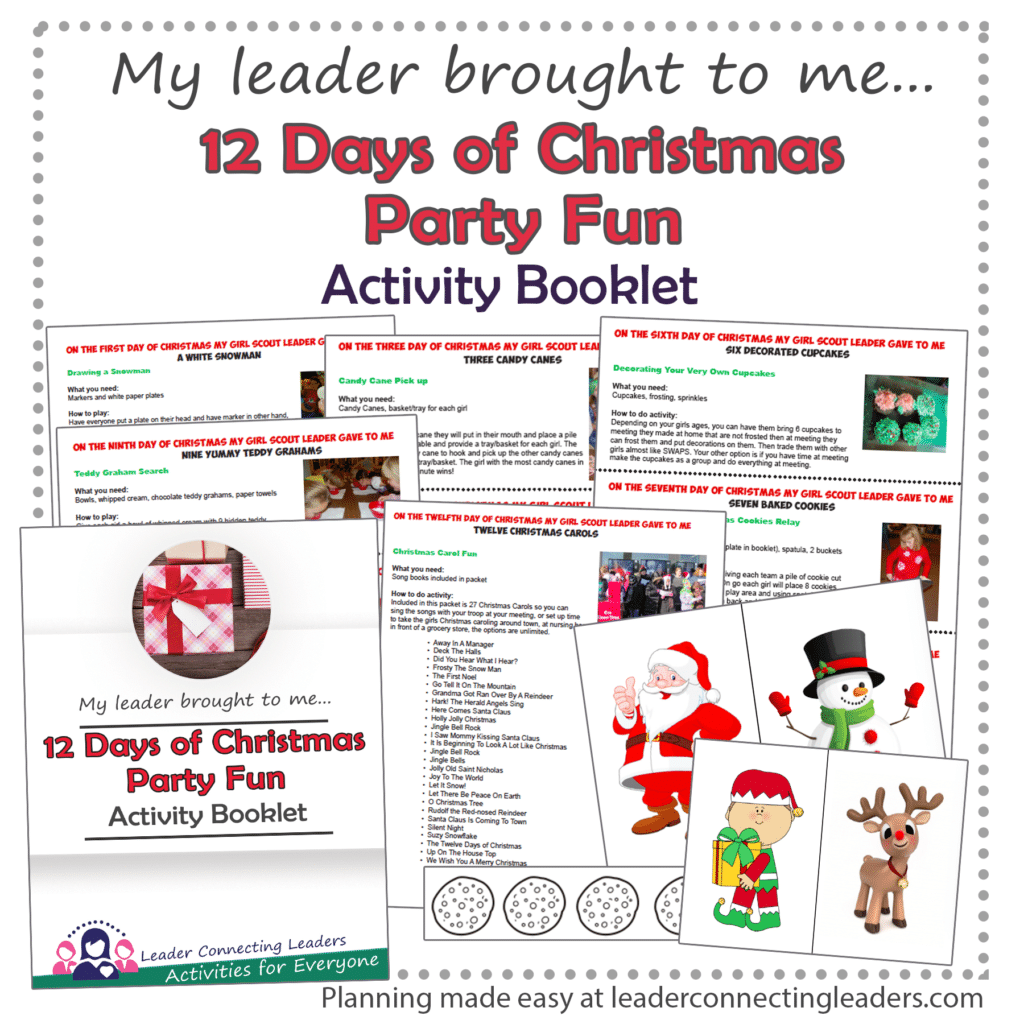 To continue on with the theme of the 12 days of Christmas use the 12 days of Christmas my leader brought to me activity booklet. Using the popular song 12 days of Christmas, each part of the song has a game or activity to go with it. For example "On the First Day Of Christmas my leader gave to me…Three Candy Canes" and it is adaptable to every grade level so great for multi-level troops.
Plan your troops Christmas party with ease with the included 12 activities, a section with everything you need for each activity, and any additional templates required. All you need to do is print and gather the supplies and your party is ready to go. Get your booklet here.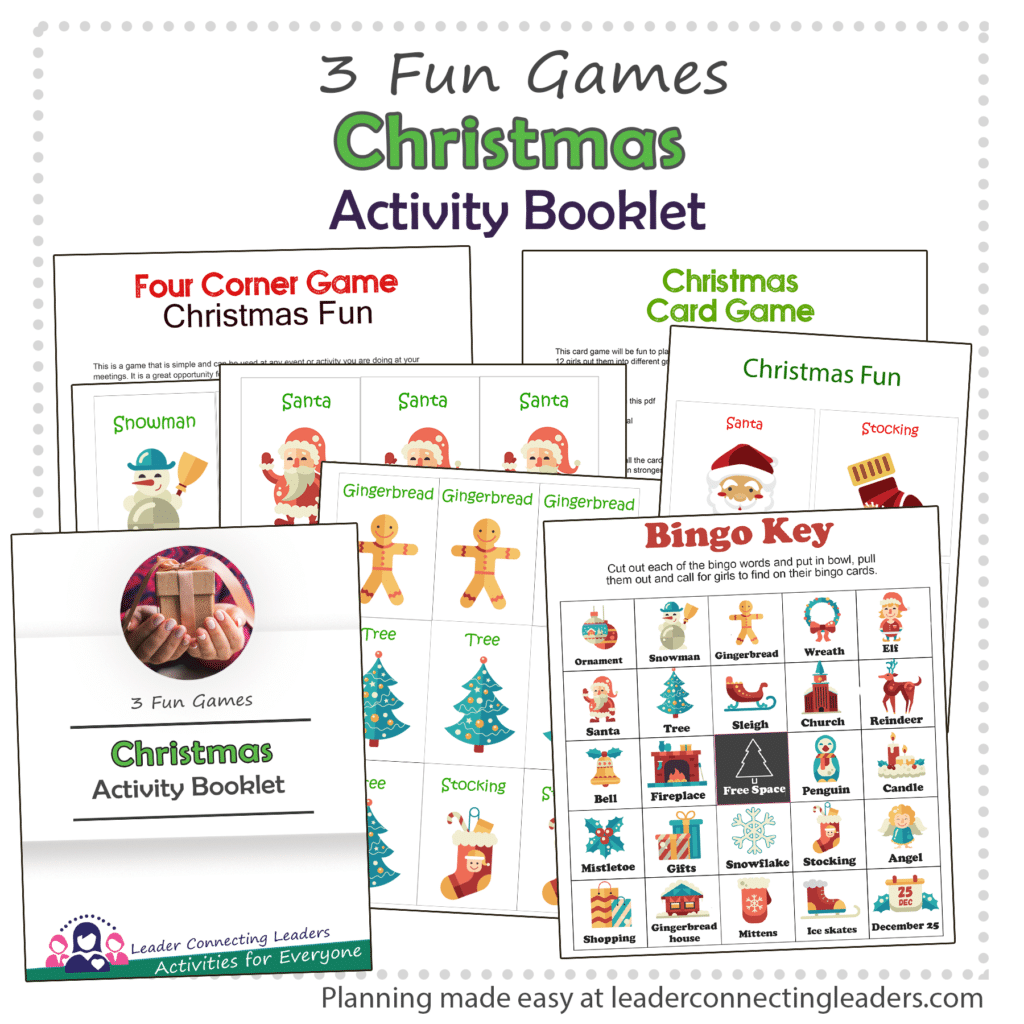 This activity booklet has 3 very fun games all focused on Christmas. First play the 4 corner game which will have your girls running from one corner to the next, while laughing and getting to know each other. Then compete against one another to match 4 fall cards and be the fastest to win. Lastly play a game of Christmas bingo with 24 different images/words related to Christmas. Start playing with your troop now!
Do you need more for your party?
From one leader to another….Have a wonderful Holiday season with your Troop and Families.
Enjoy every minute being a leader and continue to inspire your girls!