Being a Girl Scout leader is all about making the world a better place. Each new Girl Scout year, troop leaders start with their Girl Scout network and move on to carry out the Girl Scout promise in their community and around the world! As a leader, I am super passionate about helping other leaders accomplish these goals.
While the Girl Scouts of the USA organization and your local Girl Scout council have a lot of resources for leaders, sometimes you can use a bit more help, especially during the holidays, when you and your girls are much busier than usual.
I have a lot of booklets of Girl Scout activities for troop leaders on my site, and today I wanted to share 3 seasonal booklets full of Girl Scout activities that will make your life easier AND create memorable moments for your troop. The best part is, they're all in the $5 range!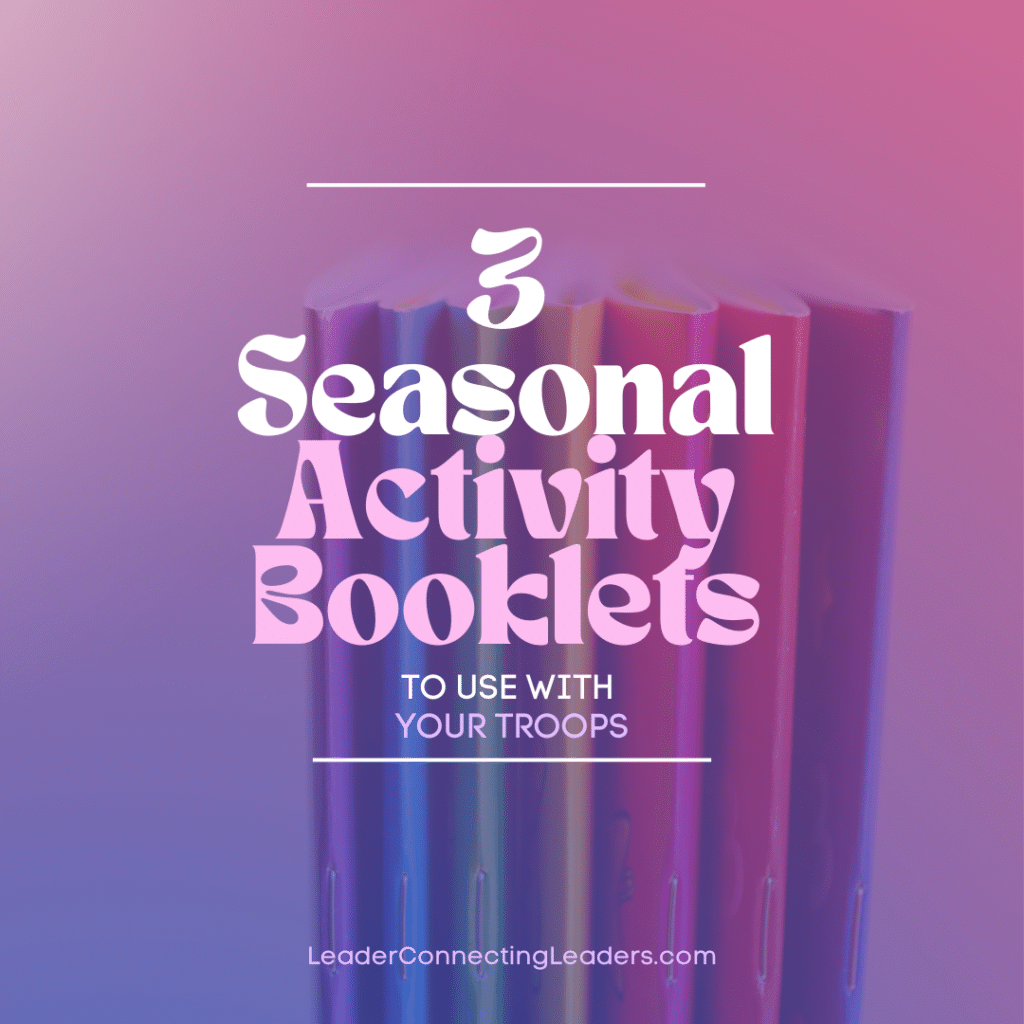 This activity booklet of Girl Scout activities has 3 very fun games all focused on Fall & Autumn.
Corner Game
This is a game that is simple and a great opportunity for girls at any grade level to burn off some energy before jumping into badge work, or you can save it for the end of the meeting before sending them home with their parents. The girls will be running from one corner to the next, while laughing and getting to know each other. You will find your girls will want to play this game over and over again.
Fall Fun Card Game
Girls will compete against each other to match their 4 cards. This game is for 4 to 12 girls per set of cards. You can add more by printing more copies. This game comes with 3 game variations. The girls will have a blast trying to be the fastest at matching their 4 cards before anyone else does. If girls can't read, no problem! There are pictures on every card.
Fall Bingo Game
There are 24 different images/words related to fall in this bingo game. This download comes with 24 Bingo cards with the bingo key to cut out and call out words. For younger girls that can't read, you can use the images as indicators of what to mark off their cards.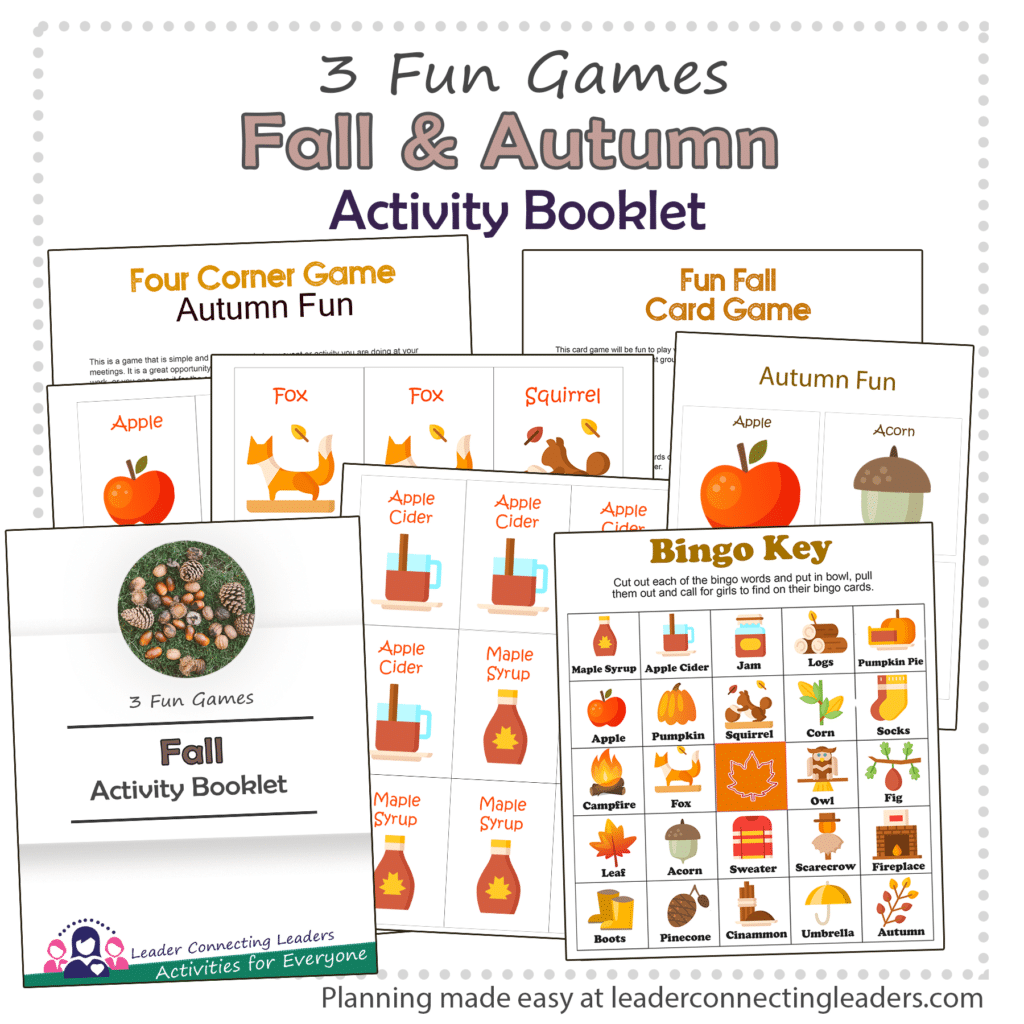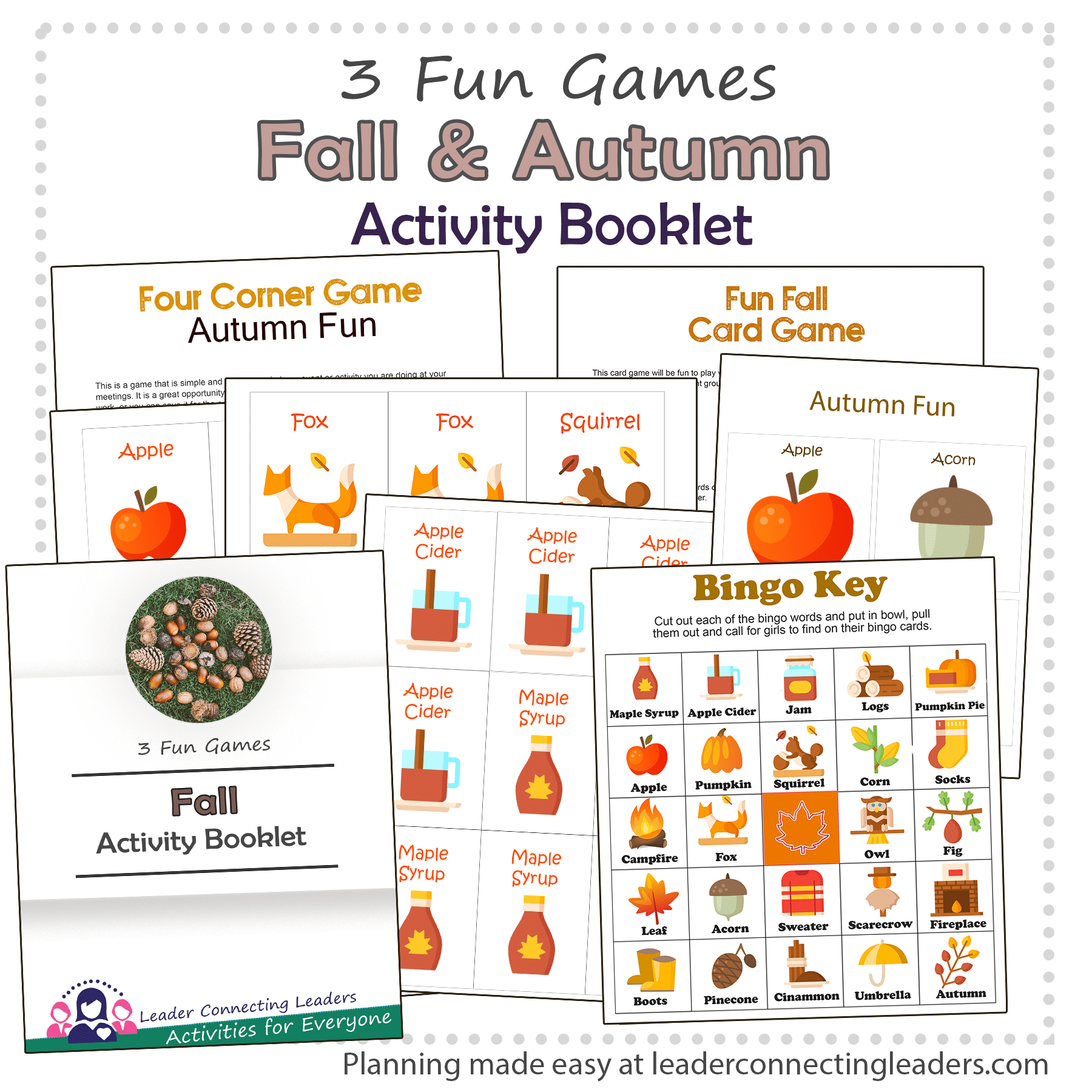 This activity booklet is the Thanksgiving equivalent to the Fall Bingo, Card, and 4 Corner Game Activity Booklet. It has all the same activities, but they are Thanksgiving-themed rather than fall-themed.
Special occasions like Thanksgiving can be tough to come up with creative ideas for, especially if you're running low on adult volunteers due to travel. This activity pack can be a great activity guide for Girl Scout members of any age level. Give your cookie captains a break by playing these fun games together!
If you'd like to fill even more time, you can ask your scouts how they celebrate Thanksgiving with their families, including the delicious recipes their families cook, whether or not their families play games together, special traditions like taking a family picture for social media, whether their families speak English or a foreign language, and who their role models in their families are. This can also help you learn about your individual girl scouts' daily lives and where they come from!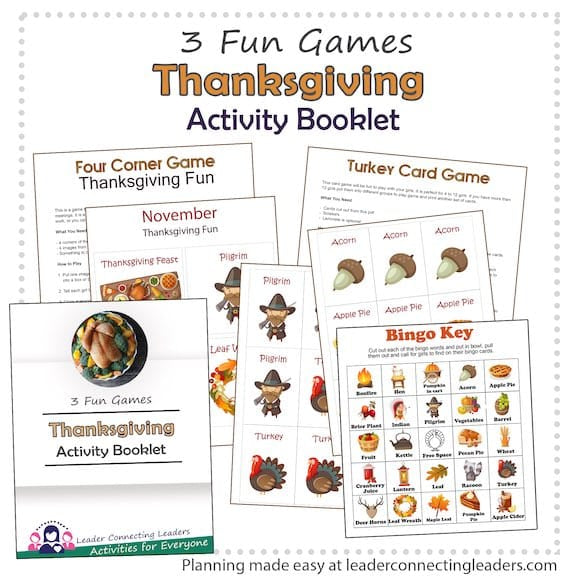 This is an activity booklet you can use for a fun Christmas Party with your Troop. Using the popular song "12 days of Christmas," each part of the song has a game or activity to go with it. The song has been changed. For example, one part says, "On the First Day Of Christmas my Girl Scout Leader Gave to Me…Three Candy Canes." It is adaptable for grades K-12, so it is great for multi-level troops.
Plan your troop's Christmas party with ease with the included 12 activities, a section with everything you need for each activity, and any additional templates required for the activities. All you need to do is print and gather the supplies and your troop Christmas party is ready to go!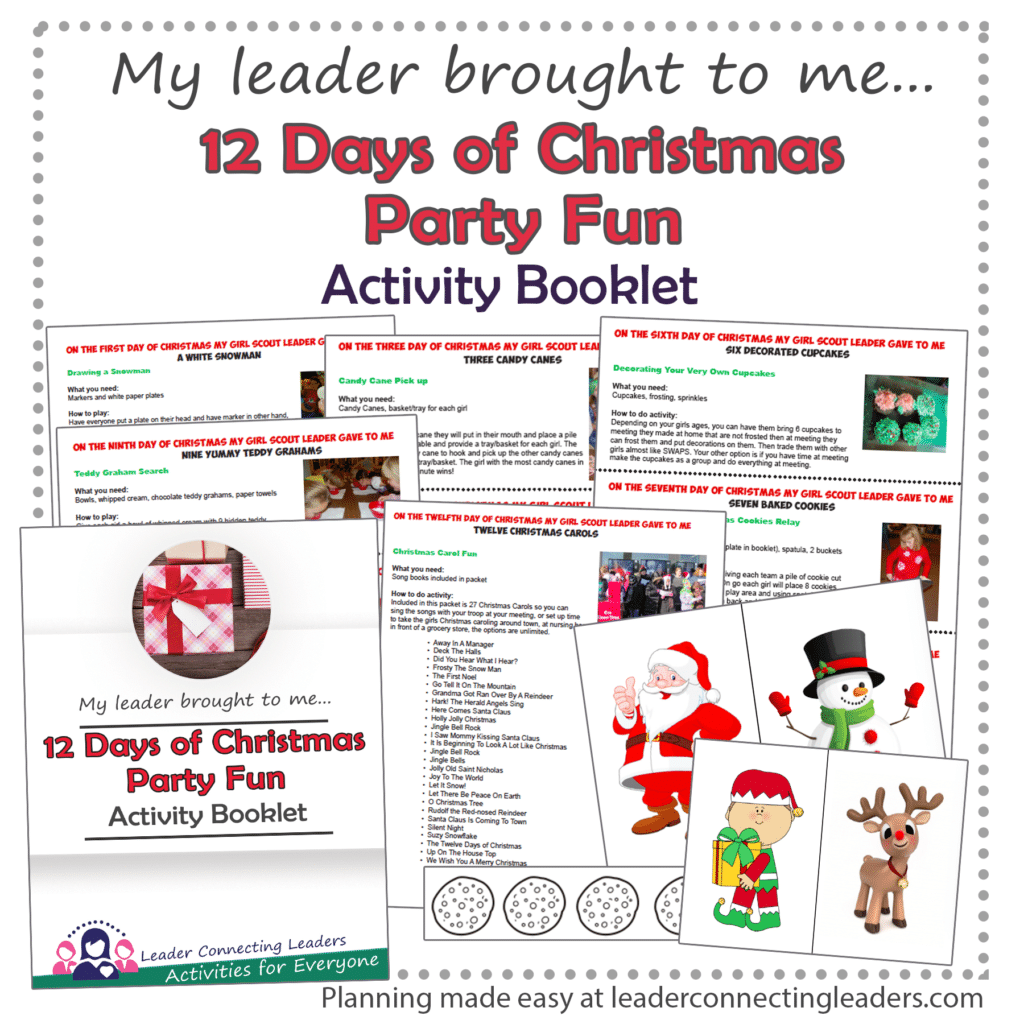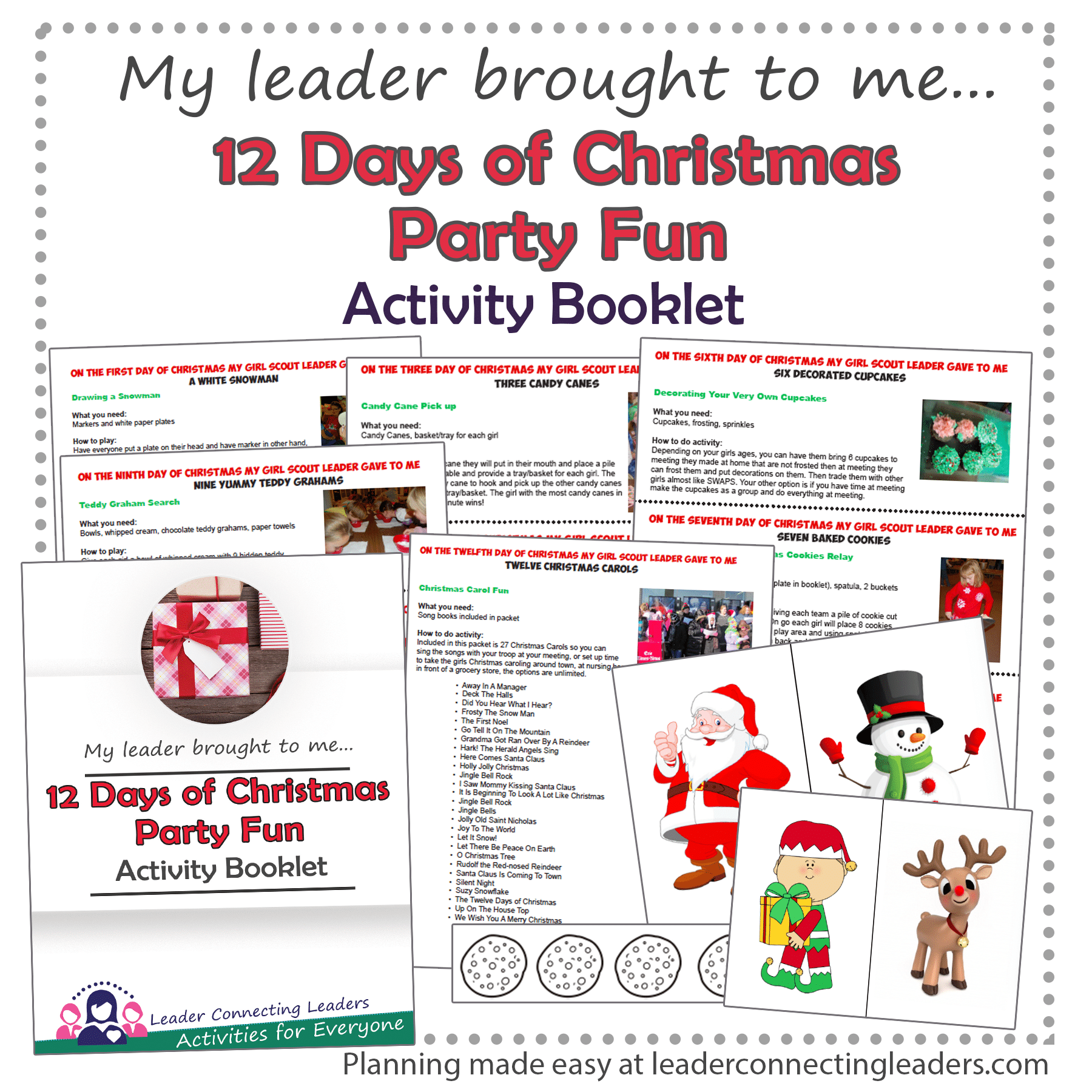 Whether you're starting a new troop this year or trying to boost your people skills with the same girl scouts, it will be great to try some new adventures together. My hope is that these online resources will help every scout, from a new member to your most experienced member, let loose and have some holiday fun together!
Enjoy every minute being a leader and continue to inspire your girls!