With the holidays right around the corner I have gotten a few request for ideas of what to get as gifts for co-leaders, other leaders, parents and even girls in your troops. Well I don't know about all you leaders out there, but my favorite place to find unique gifts that are perfect for leaders like us is Etsy.  I find myself shopping for others and 2 or 3 things for myself end up in the cart.
So with that said this post is the 12 days of Christmas gift guide some of these are great for your other leaders in your troop, for your girls, or if you are doing the shopping why not buy one for yourself as well.
12 Days Of Christmas Gifts For Leaders
On the first day of Christmas I'm gifting a bracelet
This is a great gift for leaders and girls. The image shows with saying  "She believed she COULD so she did", which I think is great for girls and leaders. But this can be customized to say whatever you want it to say and you can pick different metal color as well. The fact you can customize the wording makes it a great gift even for multi-level troops.

On the second day of Christmas I'm gifting a t-shirt
When it comes to being a leader, we are all dedicated sometimes all we ever do is scouting right? That is why this gift is great for all the amazing leaders out there. We EAT, SLEEP, SCOUT, and REPEAT.  You can get this in a variety of colors and its also unisex so even the dads will love this one if they are right into the program as well.  If you have girls who feel the same again another great gift for the girls in your troop as well.

On the third day of Christmas I'm gifting a inspirational key chain
What leader does not love key chains? This one is another one of those easy to customize gifts. For the leader you could keep it like the sample with LOVE LEAD INSPIRE and the troop number. For your teenagers driving now in your troop you could write something else like BELIEVE IN YOURSELF with the their names or leave troop number. You can also pick a charm to go with it, maybe their birthstone or maybe favorite color.

On the fourth day of Christmas I'm gifting a troop ornament
What leader wouldn't want to display their troop and girls names on their tree at Christmas. Once again you can customize this to be whatever you like. If you want all your girls names on it go for it, troop number, choose the shape and size, color that goes inside as well. This could be something you give to each girl, to each family, to your other leaders, or to yourself of course!

On the fifth day of Christmas I'm gifting a super hero frame
This is for my nerdy leaders out there. It is great for girls too because it allows for complete customization! In this frame you get 12 mini super hero figures. You can have any text at the top, bottom and to describe the superheroes. You can have a comic, white or colored backing. So this really will be unique based on what you want to say about your leaders or This girls.

On the sixth day of Christmas I'm gifting a personalized coffee cup
This gift is great for the coffee lovers. This is a customized coffee cup that you can have written message on it. The decal goes on a coffee cup that will save you 10 cents every time you go to Star Bucks and fill it.

On the seventh day of Christmas I'm gifting a pillow case
This is a personalized pillow case that your leaders are sure to love. You can customize with name and troop. The words around the outer edge are all part of the GS law and are great reminders of what a difference you make in your girls lives each and every day. You

On the eighth day of Christmas I'm gifting a scout leader picture
If you are short on time and don't have time to get something mailed to your home this is a great digital download that you can then print and frame yourself to give as gifts. The image can be customized to meet your needs.

On the ninth day of Christmas I'm gifting a charm necklace
This is a completely customized necklace from choosing the metal, choosing the writing, choosing the gem in the flower. This is great for any age girl and any leaders.
On the tenth day of Christmas I'm gifting a Coffee Mug
This is a cute mug sure to impress any coffee loving leader out there!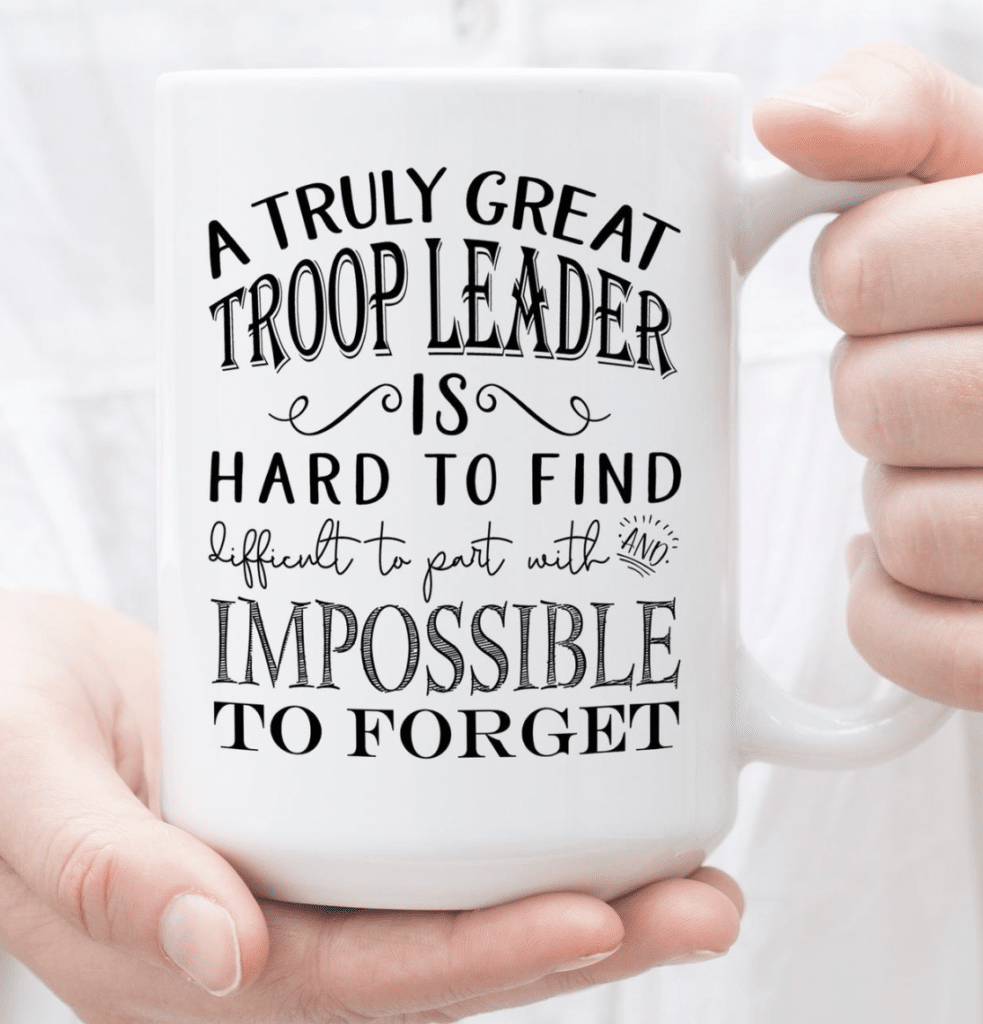 On the eleventh day of Christmas I'm gifting a personalized necklace
This is one of my favorite gifts on this list of 12. I would have a hard time deciding what gem to put in the middle. You can customize each one with a troop number or maybe its for the moms of your girls put Mom of a Scout and name of girl below. You can pick a gem to go in middle. There is a pearl for Juliette and other options for each level of scouting. This is a great gift for everyone connected to your troop.

On the twelfth day of Christmas I'm gifting a leader ornament
This is a great ornament for the leaders in your troop. You can customize the hair color and put a short message below the leader with the year. If you love the ornament check the other products from this seller they offer scouting girl options as well if you want to get one for your girls.

Need More Games?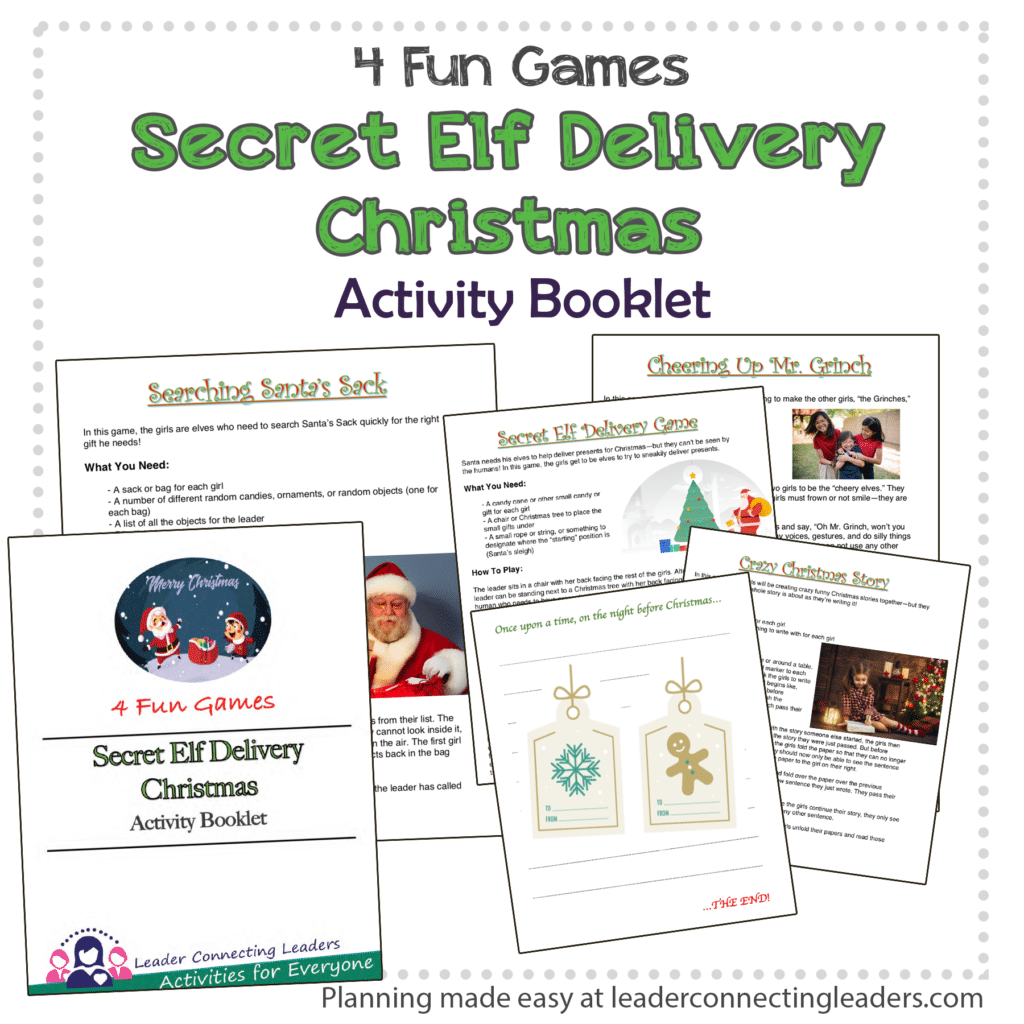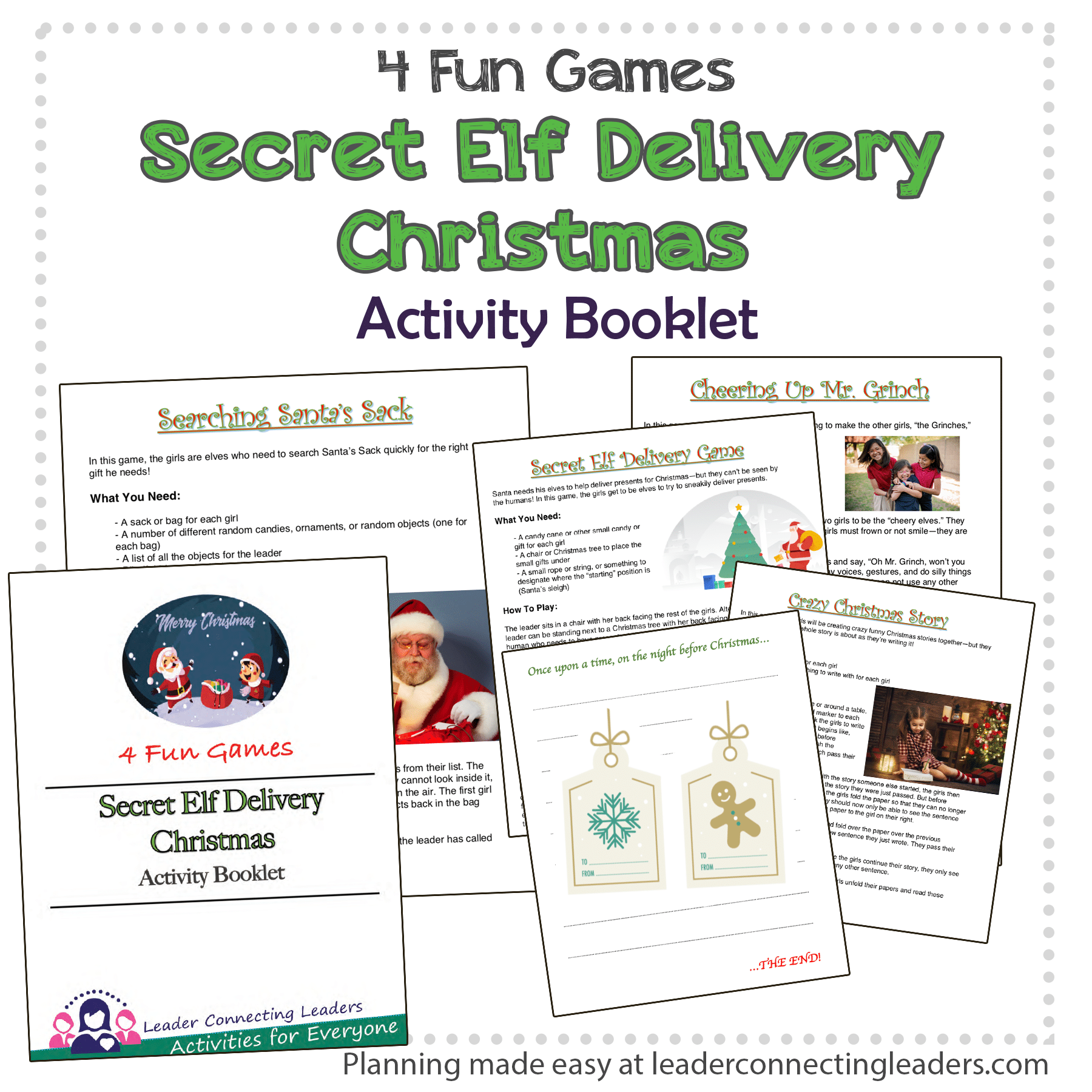 Santa loves spreading Christmas Cheer and so do his elves. In this activity booklet become Santa's elves and help search Santa's sack, deliver packages, spread Christmas cheer to the less cheery, and together write a Christmas story to share with family and friends to continue passing on the amazing Christmas Cheer Santa and his elves do every year! All you need to do is print and gather the supplies and your party is ready to go. Get your booklet here.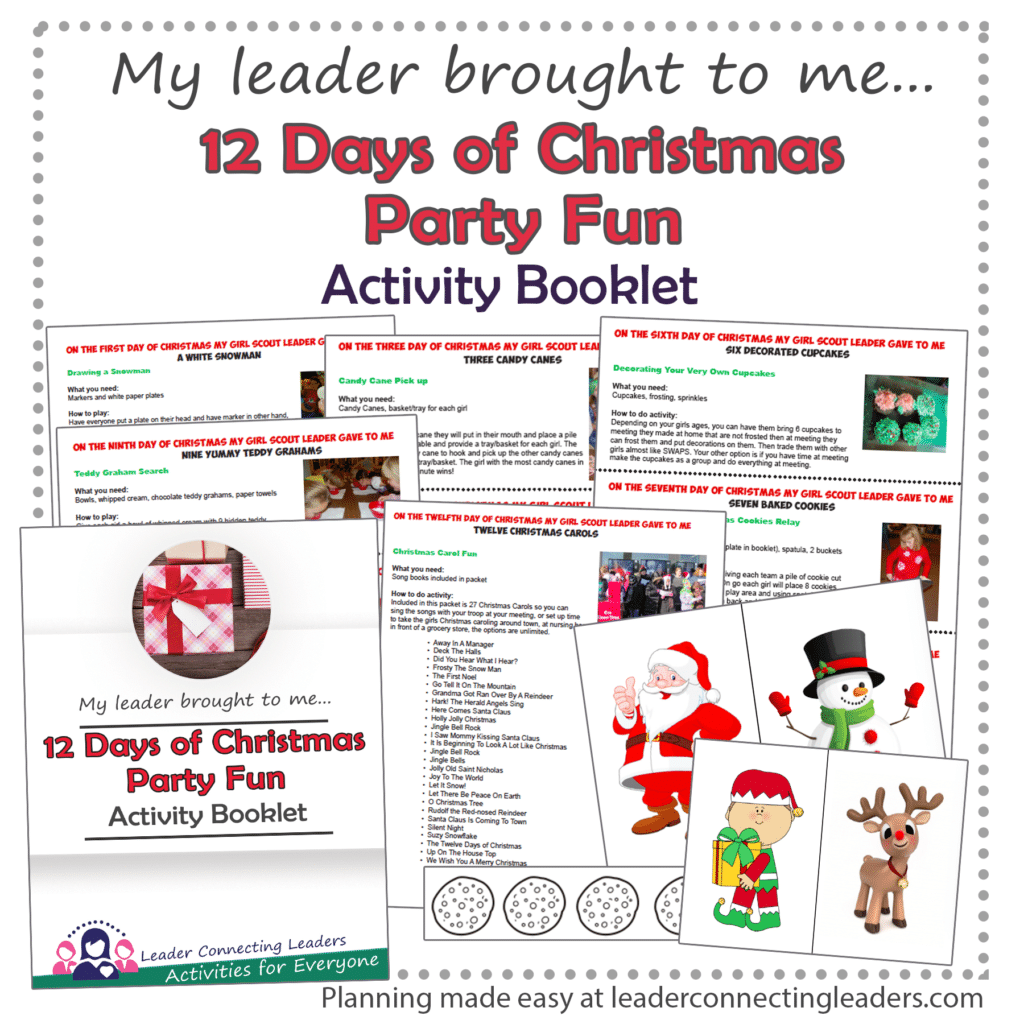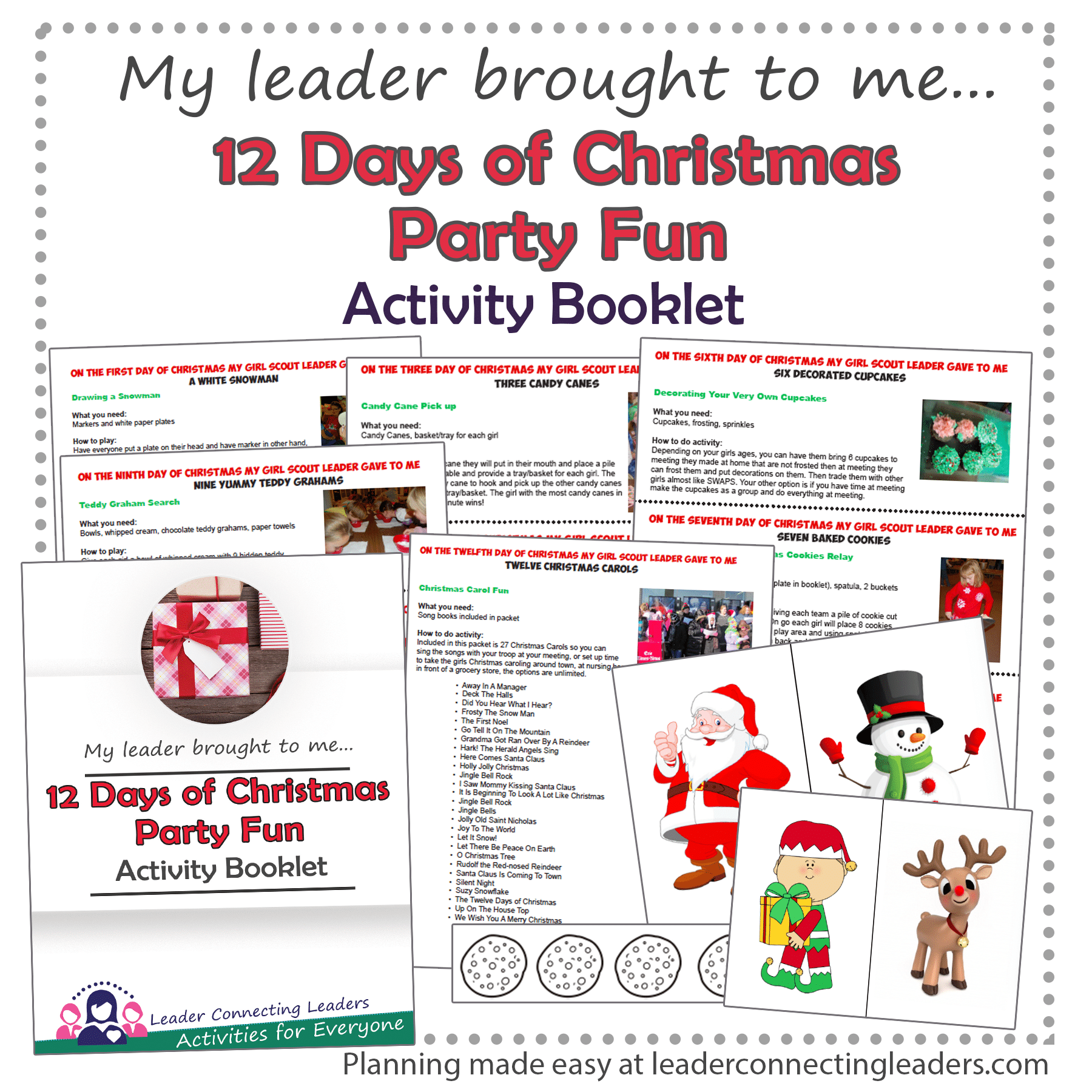 To continue on with the theme of the 12 days of Christmas use the 12 days of Christmas my leader brought to me activity booklet. Using the popular song 12 days of Christmas, each part of the song has a game or activity to go with it. For example  "On the First Day Of Christmas my leader gave to me…Three Candy Canes" and it is adaptable to every grade level so great for multi-level troops.
Plan your troops Christmas party with ease with the included 12 activities, a section with everything you need for each activity, and any additional templates required. All you need to do is print and gather the supplies and your party is ready to go. Get your booklet here.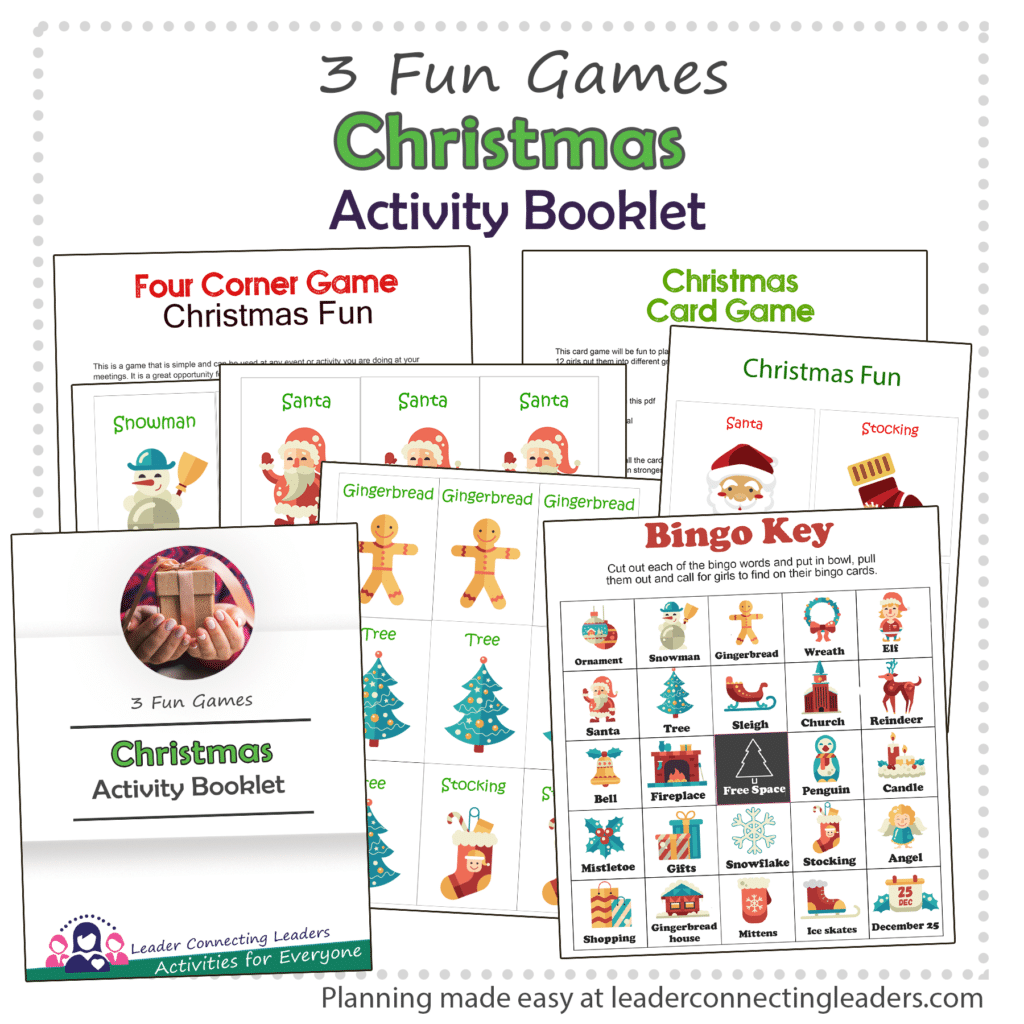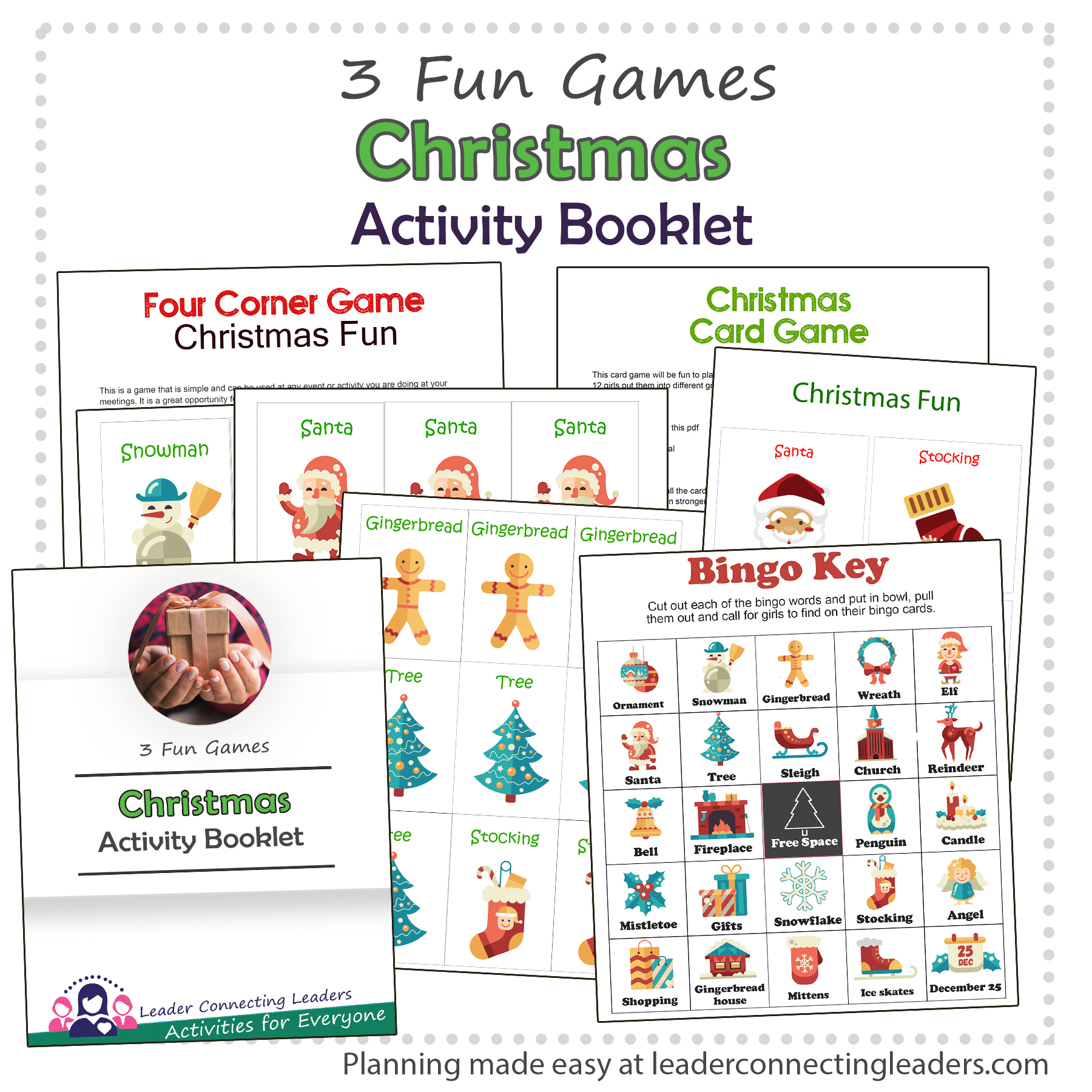 This activity booklet has 3 very fun games all focused on Christmas. First play the 4 corner game which will have your girls running from one corner to the next, while laughing and getting to know each other.  Then compete against one another to match 4 fall cards and be the fastest to win. Lastly play a game of Christmas bingo with 24 different images/words related to Christmas. Start playing with your troop now!
Do you need more for your party? 
From one leader to another….Have a wonderful Holiday season with your Troop and Families.
Enjoy every minute being a leader and continue to inspire your girls!
Purchase this wonderful illustrated book from Amazon.