New Year's Eve parties are always fun at any age. The anticipation, of a whole new year beginning, full of adventure and excitement. A fun way to celebrate is to plan a party that your troop can enjoy. You can plan your party for the actual night or have a party at an earlier time. If you have a pajama party with your girls you can do the countdown along with the ball dropping in NYC. If you have it earlier you can have a countdown to 12:00 (noon). You can get a video of the ball dropping and celebrate with that countdown. Below I have a few ideas to help your party be fun and memorable.

Balloon Drop
Prior to the party, fill netting or plastic tablecloths, with inflated balloons. Place the netting close to the top of the ceiling, where it can't be reached by excited party guests. At the stroke of 12 (noon or midnight) release the balloons and let the excitement begin.
Here is a video of a balloon drop we attended last year to give you a idea of how it works….
Ringing In The New Year
We all know that you can't have a New Year's Eve Party without some fun supplies like party hats, confetti, party poppers, silly string, glow necklaces, noise makers, etc. It all depends on how much clean up you want when the party is over. You can save money and let the girls make their own hats and noisemakers to make them their own unique creations.
Use some of the ideas below for making your own noise makers.

Bottle Noise Makers: You will need empty water bottles,for each girl, with the labels removed. Fill the bottles with jingle bells, buttons, ribbons, beads, confetti or anything else you can think to go inside the bottle. Replace cap and decorate using markers, stickers, sequins, etc.

Bracelet Noise Makers: You will need a pipe cleaner or bracelet wire for each girl. Have a variety of beads and jingle bells to place on the wire. As you know you can get beads to write out the year so you can keep is as a reminder of the party. This noise maker is nice because you can make noise without actual holding anything.
New Year Conversation Starters
Using the conversation starter cards above and have each girl pick a card and sit in circle and take turns answering the card they picked. You can have the girls pass the cards around circle so everyone gets a chance to answer all the cards.
Countdown Bags
Countdown bags are a cute idea for the younger girls. If your party starts at 10:00 and your celebrating at 12:00 have a paper bag with a clock drawn on the front for 10:00, 10:30, 11:00, 11:30 and 12:00. Prior to the party fill each bag with different small toys, candies, etc. The anticipation of waiting to see what's in the bag and actually watching the time get closer is exciting. If you don't want to make the labels check out this digital download to use for your countdown.
Bubble Wrap Stomp
Another great idea for a New Years Eve party with your troop is getting rolls of bubble wrap lay them out on the floor and have your girls run around and pop all the bubbles. Play some fun music to dance to while listening to all the bubbles pop.
Here is a quick video of my kid popping bubbles with other kids at a New Years Eve Party!
Wishing Wall or Well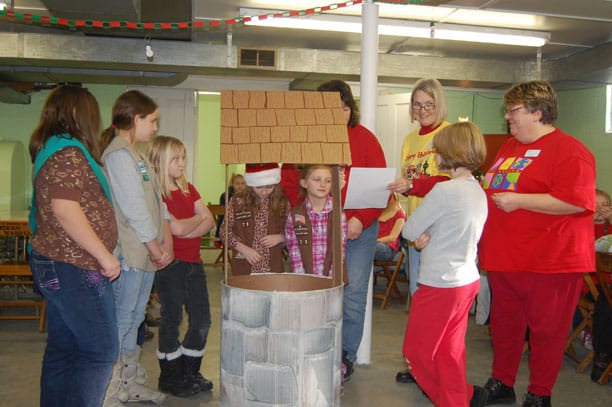 Kids and adults can be involved with the Wishing Wall. You will need sticky notes or drawing paper, pens, pencils, crayons or markers. You ask each person to write down or draw what their wishes are for the new year. You place each wish or picture on a designated wall or area and leave them up during the party so everyone can see them. You can also let the girls talk about what they wish for if you would like to. We actually made a wishing well for a ceremony and then had for our New Year party. Have girls share their wish and put in wishing well. When the party is over everyone take their wishes or drawings home so they have a reminder of what they wished for and can look back at it throughout the year.
New Year Something New Fun Patch
Instead of the typical New Year Party patch how about looking at it as a new year a new experience. "I feel the start of something new" fun patch would be a great addition to the back of your girls vest or put on their book bags. The wishes and dreams the girls shared in the wishing well could easily be the new thing they plan to start in the new year.
Do you need more ideas? Check out other ideas I collected on my New Year's Eve Idea Pinterest board
Here are some more great games to get your girls up and moving at your New Year's Eve Party:
I hope this gives you a few useful ideas you can use if you have a New Year's Eve Celebration. HAPPY NEW YEAR!

---
Beyond This Party…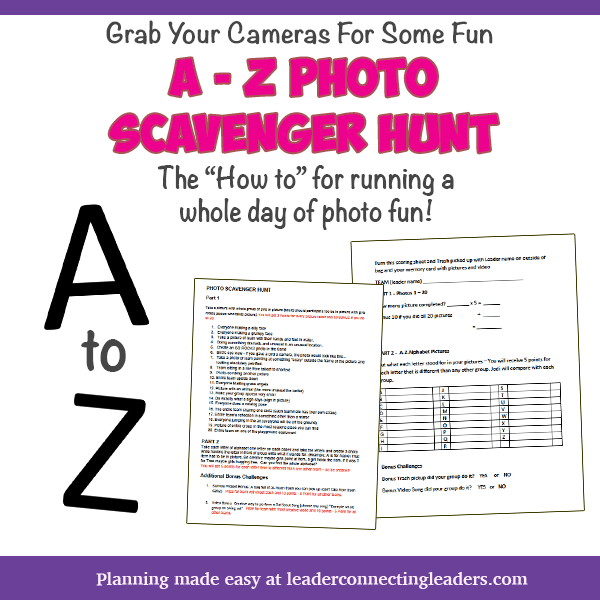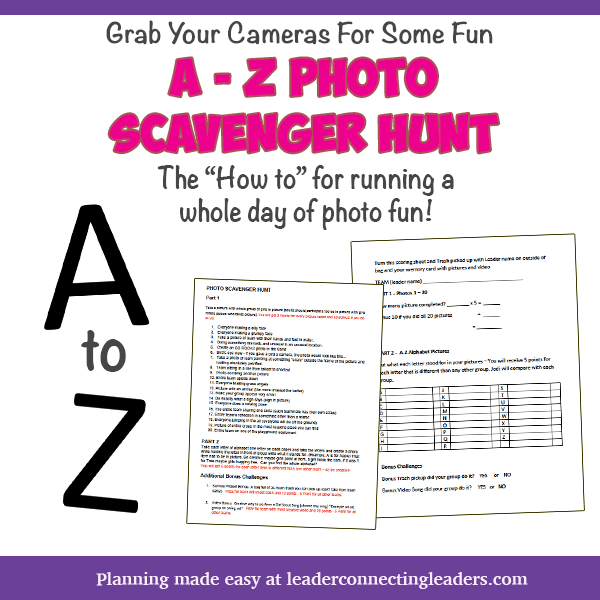 Photo Scavenger Hunt – Planned Day Event:Use these directions to run your very own Photo Scavenger hunt from beginning to end no planning necessary. Just follow the steps and your good to go  Get your planned event now.