As a new leader one of the first things you probably heard was who started the GS organization. Her name was Juliette Gordon Low. Over the years as a leader I always tried to teach my girls more and more fun, interesting and important facts about her. Of course always trying to be fun and exciting.
I want to share 25 ideas that I think your girls will love.  Bookmark this page for reference, and share with other leaders.
Learn more about her life and celebrate Founders Day on Oct. 31.
Juliette Gordon Low Games
Service Projects in Memory of Juliette Gordon Low
First Baby Born Service Project
This is something I did with my troop a few years back. Just like you will sometimes see the first baby born in the new year will win a prize. We did the first baby girl born at our local hospital on October 31st. This child would be sharing Juliette Gordon Lows birthday. We collected baby supplies and made several gift baskets. We also included a Daisy journey book and a cute outfit that said "Future Daisy Girl Scout". We asked the hospital to let us know who was first born, and ask them if they would be interested in receiving our gift baskets.  We ended up with two large baskets and 3 bags full of baby supplies to donate! After the mom and baby came home from the hospital, we made arrangements to take all the baby baskets to their home. The mom was so excited and the girls felt great getting to deliver the gifts to the mom and baby.

Birthday in a Bag: Put together bags with everything you need to have a party. Sometimes circumstances prevent people from being able to celebrate their birthdays. A "Birthday in a Bag" kit can help others feel special on their birthdays.  Once your kits are made, donate them to local shelters or food pantries. If you are interested in knowing what to put in a birthday bag and see how another troop also earned the Considerate and Caring Petal.

Juliette Gordon Low Crafts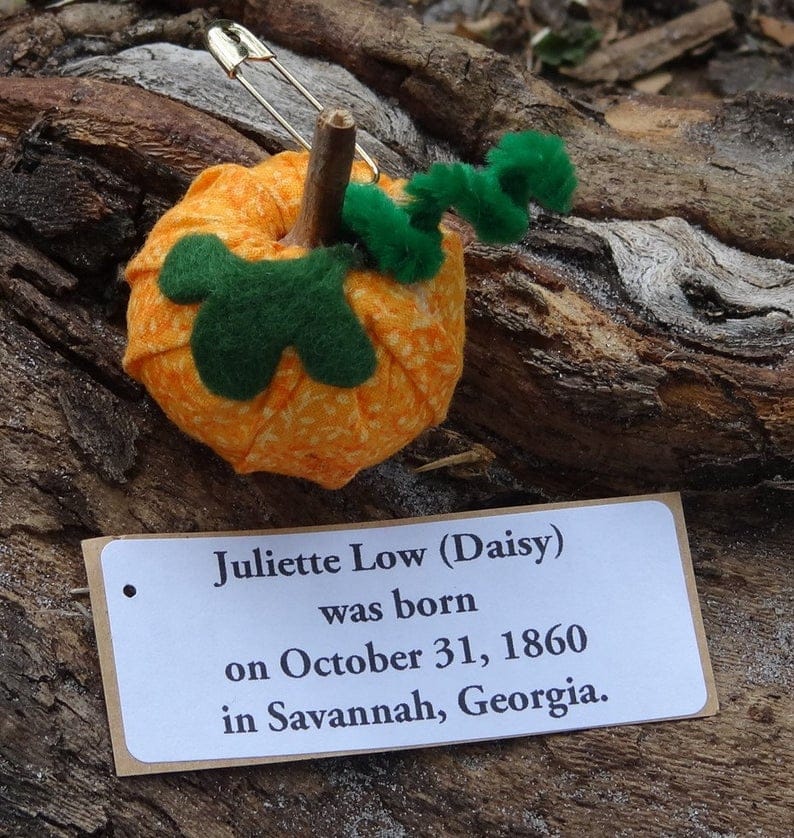 Juliette Gordon Low Founder Birthday Hats – These kits are the perfect celebration of Juliette. Juliette forged her own path and lived life to the fullest. She is the perfect role model for girls and scouts everywhere!

Juliette Gordon Low Activities
Here come the Girl Scout: Read the story of Juliette to girls. This book tells the amazing, all-true story of the visionary founder.
Juliette Gordon Low Poster Activity: This activity is great for everyone that wants to learn more about Juliette Gordon Low. The activity includes 15 fun facts about her with 15 corresponding pictures. Cut out all the facts and images and have girls connect the image to the fact and display on a poster board.  How much do the girls know about her, see how many they can figure out on their own. Have your girls share this poster with other girls and tell them everything they know about her.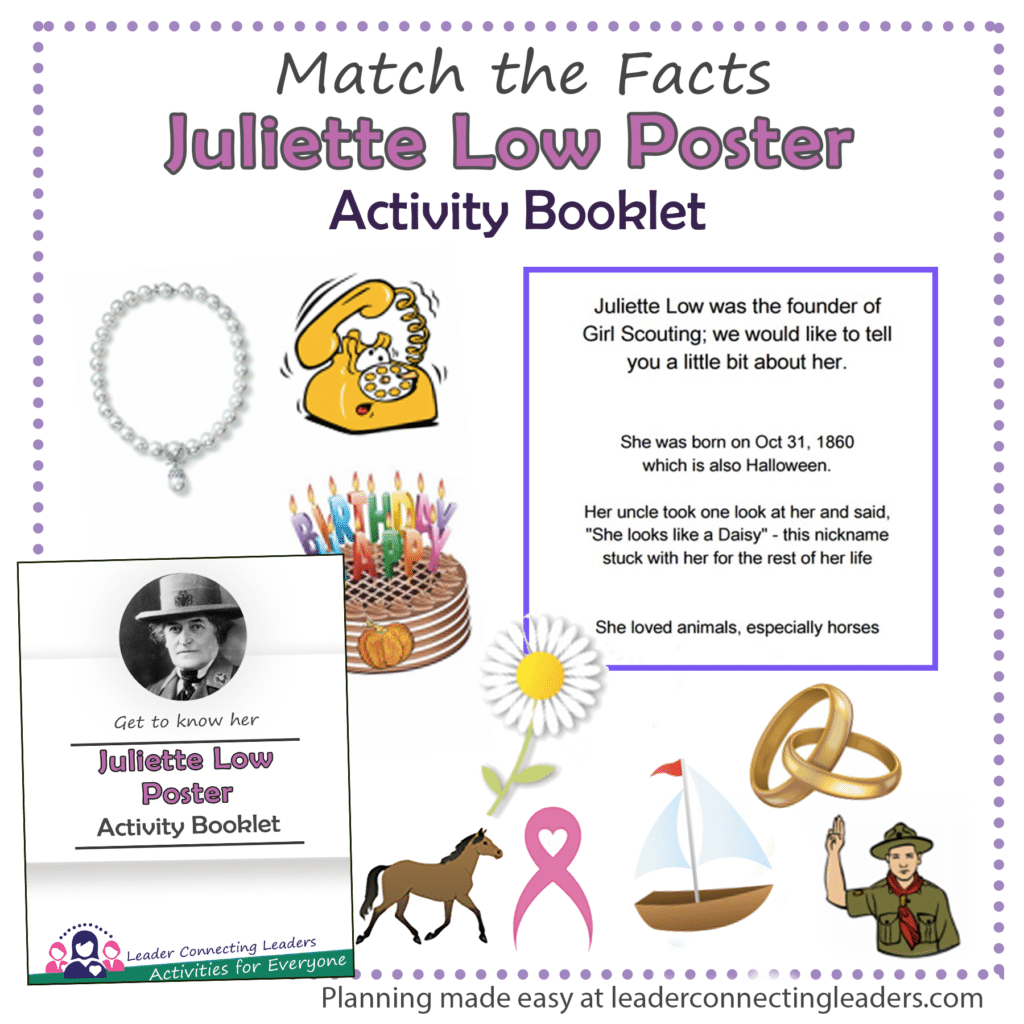 Flat Juliette as a PenPal program: Check out more about this penpal program and a pile of other penpal ideas and where to find a troop penpal.
Have a Tea Party with your girls: In honor of Juliette Low's love of tea parties, you can host a mother/daughter tea party, complete with hats, gloves, and teatime etiquette. Serve sandwiches, punch in fancy cups and listen to classical music as you sip!
Juliette Gordon Low Biography Bag: Create your own bag of trinkets that represent Juliette's life. This is a great way to teach your girls about Juliette.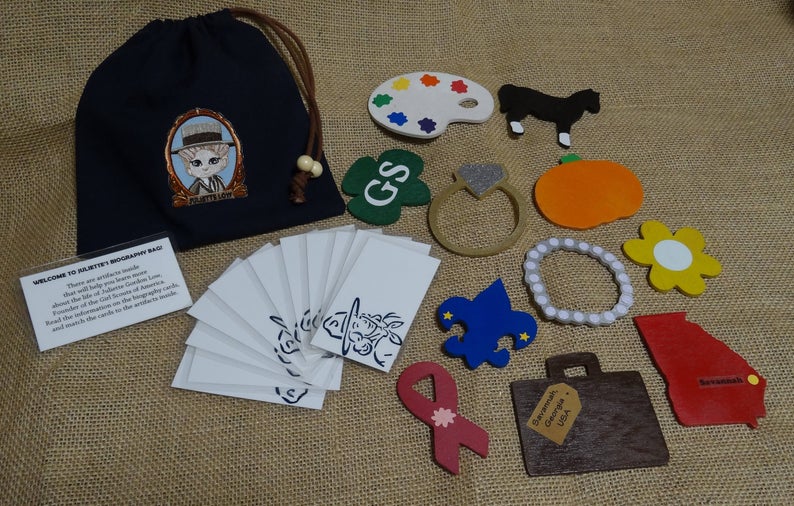 Juliette Gordon Low Travel Trunk: This activity is really cool the girls will get to decorate and put together a trunk that they will fill with things all about Juliette. UPDATE OCTOBER 2020: This product was removed from ETSY however the idea is still great so leaving on here because if you purchase the trunk you can add all the trinkets yourself.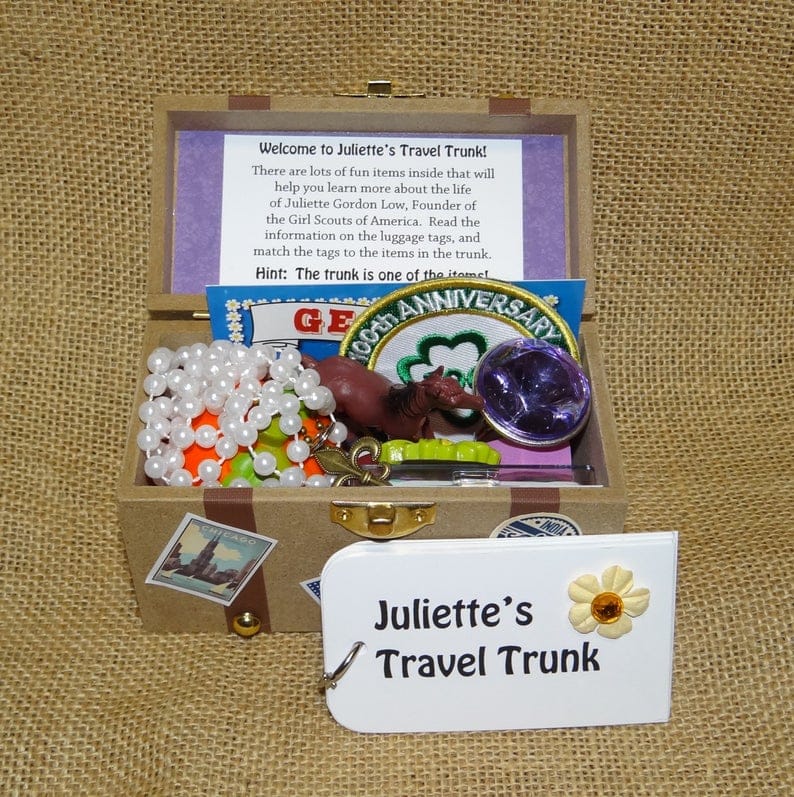 Juliette Gordon Low video: short 1-minute video on how she started our organization
Juliette Gordon Low

Fun Patch Ideas
Year in the Life of Juliette: This comes from a council New Hampshire and Vermont. You can do a challenge each month and collect the circle patch set to put on the back of your vest. Celebrate our founder Juliette Gordon Low with our Year in the Life of Juliette Patch Program!
Fun Patch idea from Makingfriends.com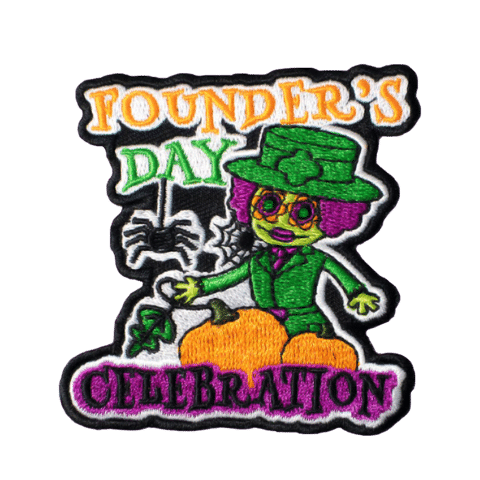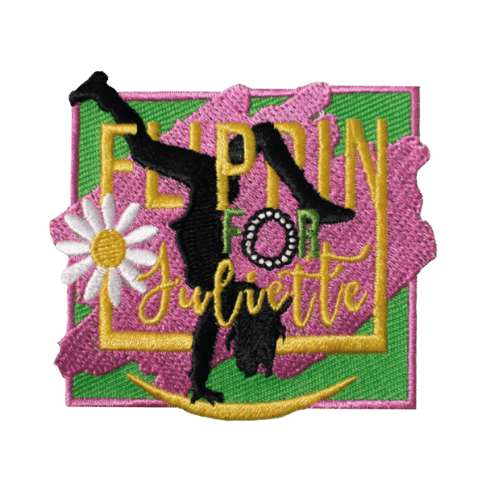 Search For More Ideas
Do you still need more ideas? If so here is a few great places to get started with your search.
Song to Sing About Juliette Gordon Low
Juliette Gordon Low Song
tune:Twinkle, Twinkle Little Star
Chorus:
Juliette, Juliette Gordon Low
Founded the Girl Scouts long ago
From Savannah she did roam
But she always called it home
Married a man named Willy Low
And off to England they did go.
There she met Lord Baden-Powell
Starting the Boy Scouts was his goal
When she came back to the USA
She called her cousin right away
She Founded the Girl Scouts in 1912,
Served her country, served it well
(Chorus)
Girl Scouts she came here to start
And I thank her from my heart.
Thank you, thank you,
Daisy Low For starting the Girl Scouts long ago!
---
Other Fall Ideas To Save For Later
12+ amazing resources to help you plan and organize your troop + FREE Kaper Chart Download
One thing we all know as leaders we need all the help we can get to make the program fun, educational, and to help build the girl leaders of tomorrow. This post is packed full with ideas for:
Kaper Chart ideas plus a free download
How to organize your troop
Collaboration Ideas
Badge Planning Resources
World Thinking Day
Cookie Season Support
Extra Fun For Meetings
How to make your troop unique
Ceremony Ideas
Enjoy every minute being a leader and continue to inspire your girls!